FEB. 24: SOUTH ASIAN SHOWDOWN 2018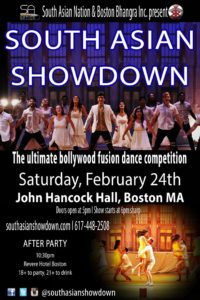 If you want to see some of the most competitive dance teams in North America, don't miss South Asian Showdown! This competition is the first of its kind in New England with Bollywood vs South Asian Fusion teams! These different dance forms makeup some of the most popular dance forms in India. John Hancock Hall in Boston hosts the event. The concept of Showdown is to pit the best dance teams from each South Asian genre against one another to see who wins! South Asian Fusion is a conglomeration of all South Asian dance and any other dance form that the team chooses to use. Hindi-Film/Bollywood is the dance form originating from the Bollywood film industry in Mumbai. Bring these dance forms together and there is an explosion of stunning dance on stage! This experience will demonstrate just how talented and unique South Asian dance truly is as it attracts teams from all over North America vying for the crown. Teams from Massachusetts, Rhode Island, Connecticut, New York, New Jersey, Maryland, and California will show the Boston audience some of the best dances they have seen all year This is the ninth year for this fun and unique competition! Last year's event sold out one week before the competition! For tickets to this exciting 3+ hours event visit www.southasianshowdown.com
FEB. 24 (Dorchester) & FEB. 25 (Roxbury): "REVELATIONS" CELEBRATION COMMUNITY WORKSHOP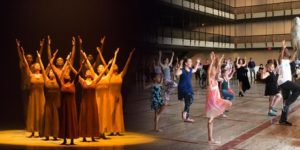 Celebrity Series of Boston, in recognition of the 50th Anniversary of the Alvin Ailey American Dance Theater company's 1968 Boston debut, presents two FREE public events for participants of all ages and abilities. Located in Dorchester on Feb. 24 and Roxbury on Feb. 25, this event provides a chance for anyone to come and learn as well as perform the choreography from Alvin Ailey's iconic masterwork, "Revelations." Classes will be led by two master teachers and accompanied by a musician from the Alvin Ailey American Dance Theater. The performance schedule of the company's much anticipated return to Boston for its 50th Anniversary will be March 22-25. For more information visit www.celebrityseries.org
 MARCH 9 (7pm) & MARCH 11 (3pm): GATHERING LIGHT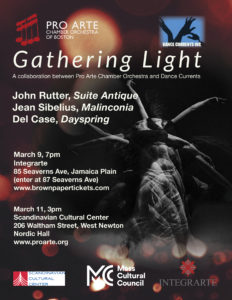 Dance Currents Inc. and Pro Arte Chamber Orchestra of Boston presents, on March 9th at Integrarte, 85 Seaverns Ave. (Enter at 87 Seaverns Ave.) in Boston…and on March 11th at The Scandinavian Cultural Center, 206 Waltham St. in Newton, this concert of dance and music. The program opens with "Santons", a dance choreographed by Kathy Hassinger, Artistic Director of Dance Currents Inc., set to John Rutter's "Suite Antique" played live by Pro Arte (Rebecca Plummer, piano, Steve Laven, cello and Sue-Ellen Hershman Tcherepnin, flute). The dance is about the little saints or santons, clay figurines made in Provence that depict French villagers rushing to the light of the nativity. Made during the French Revolution when the churches were closed, the people used the red clay of their own land, a way to reinvent their religious icons. The second piece on the program is the hauntingly beautiful "Malinconia" by Jean Sibelius performed by Steve Laven, cellist and Rebecca Plummer,pianist. The evening closes with "Dayspring," a dance set to music by the same name composed by Wheaton College professor of music, Dr. Delvyn Case. Performers Todd Brunel, clarinet, and Rebecca Plummer, piano, will play the music live. According to Dr. Case, "Dayspring" is a musical depiction of the challenge of holding onto hope despite living in a broken world. This ten minute piece is a musical expansion of that infinitesimal moment just before the sun appears above the horizon – that split second when the beauty of what we see reminds us of the possibility that hope and peace may be within our grasp." The dancers, Lauren Previte, Avery Saulnier de Reyes, Meredith Wells, Jennifer Passios, Kirsten Glaser, and Mitzi Eppley are professional dancers and teachers in the Boston Area. Tickets are available for March 9th (look under Gathering Light) at www.brownpapertickets.com and for March 11th (look under Salon Series) at www.proarte.org
MARCH 9 – APRIL 7: PARTS IN SUITE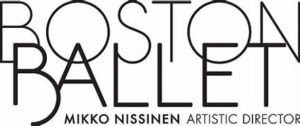 Boston Ballet's spring season opens at the Boston Opera House, 539 Washington St. with a program of works by three of today's most prolific choreographers. These are William Forsythe, Justin Peck, and Jorma Elo. The program begins with Elo's "Bach Cello Suites"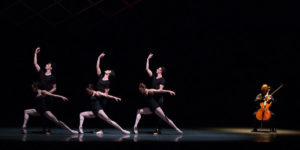 which is performed by 10 dancers and is accompanied by cellist Sergey Antonov, winner of the prestigious Tchaikovsky Competition in Moscow in 2007. This ballet is a true Boston Ballet creation with set design by Artistic Director Mikko Nissinen, costume design by Charles Heightchew, and lighting design by John CuffIn. This is followed by New York City Ballet Resident Choreographer, Justin Peck's first work performed by Boston Ballet, called "In Creases".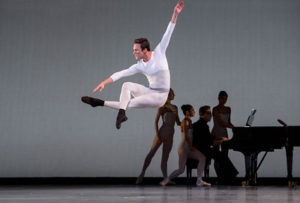 This ballet premiered in 2012 by the New York City Ballet. Accompanied by two pianists onstage performing Philip Glass' Four Movements for Two Pianos, eight dancers,showcase Peck's trademark ability to create unique, geometric patterns of corps de ballet movement. Appointed resident choreographer of New York City Ballet in 2014, Peck has choreographed for films with Vogue, Nowness, the Guggenheim Museum, and most recently, with the rock band, The National. Rounding out the evening is Forsythe's "Pas/Parts 2016″.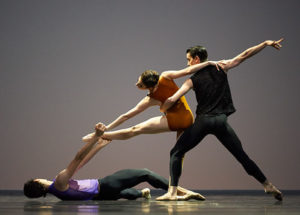 This work adds another of his ballets to the Company's repertoire and marks the second year of Boston Ballet's partnership with the world-renowned choreographer. Forsythe originally choreographed Pas/Parts for the Paris Opera Ballet in 1999 and revised it in 2016 for San Francisco Ballet. With an ensemble of 14 dancers performing to an electronic score by frequent Forsythe collaborator Thom Willems, Pas/Parts 2016 consists of 20 sections of brilliantly detailed and daring solos, duets, trios, quartets, and ensemble movements. Considered to be one of the most relevant artists in the world, Forsythe has produced an outstanding body of work that continues to be commissioned by the world's most prestigious companies. Boston Ballet established a five-year partnership with Forsythe in 2016 and currently has six of his works in the repertoire, including his full-length Artifact, which kicked off the collaboration. For tickets to this exciting evening of innovative dance go to www.bostonballet.org
MARCH 15 – APRIL 8: ROMEO AND JULIET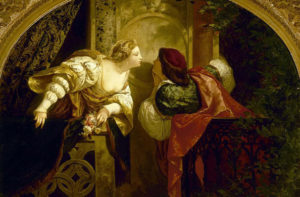 Boston Ballet presents John Cranko's Romeo & Juliet at the Boston Opera House, 539 Washington Street. Inspired by William Shakespeare's timeless tale of young love and family rivalry. it is set to Sergei Prokofiev's dramatic score and performed by the Boston Ballet Orchestra, led by guest conductors Gavriel Heine (Mar 15–25) and Mischa Santora (Mar 29–Apr 8).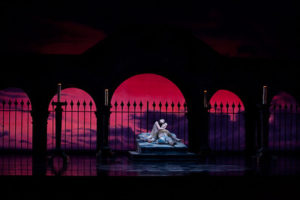 Lavish sets and costumes by internationally-acclaimed German stage designer Jürgen Rose provide the backdrop to the drama. New to Boston audiences, these original designs are from the 1962 Stuttgart Ballet production which marked the first time Cranko and Rose worked together. Stated Anna Kisselgoff of The New York Times, "Cranko's Romeo & Juliet has been praised as arguably the best dance treatment, at least in the West, of Prokofiev's celebrated ballet score." "Cranko's choreography perfectly matches Shakespeare's epic romantic tale with Prokofiev's luscious score," said Artistic Director Mikko Nissinen. "Through elaborate and complex choreography including gorgeous and intimate pas de deux for the two star-crossed lovers, this ballet showcases the artistry of the Company through their dancing and acting."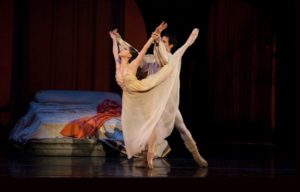 Cranko was a champion of the narrative ballet with his easy-to-follow stories, colorful characters, and use of dance as a representation of life. His most popular works include Romeo & Juliet, The Taming of the Shrew, and Onegin, all of which are in Boston Ballet's repertoire. For tickets to this exquisitely beautiful production, visit www.bostonballet.org
MARCH 22 – 25: ALVIN AILEY AMERICAN DANCE THEATER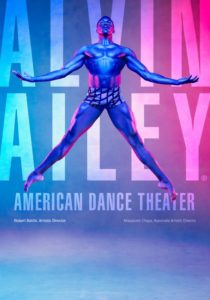 The Alvin Ailey American Dance Theater celebrates its 50th Anniversary of performances in Boston. Formed ten years prior, The Ailey Company first performed in Boston in 1968 when the Executive Director or the then Celebrity Series, Walter Pierce, took a chance offering a single night engagement at Boston's John Hancock Hall. The dynamic, emerging, African-American dance company proved to be an immediate success with their Boston debut which has now resulted in a 50-year relationship with the city of Boston. Through the following decades of brilliant performances and educational outreach, the partnership between Celebrity Series and Alvin Ailey American Dance Theater has created a deep and lasting impact with the Greater Boston Community as a whole. Mr. Ailey and his dancers often connected with local artists as well as with educators by visiting, notably, the Elma Lewis School of Fine Arts along with several public schools. As well as cultivating a significant presence in Boston, the Ailey Company has become a revered American treasure and also a cultural ambassador to the world. Thus, this anniversary, marked by a 50 year relationship with the Ailey Company, is a celebratory milestone for the performing arts in the city. The Boch Center Wang Theater at 270 Tremont St. in Boston's Theatre District hosts these exciting 5 performances.    Under the direction of Robert Battle since 2011,  the company's renowned performances are spectacularly choreographed, filled with African American inspiration and integrated with ballet and jazz. The evenings of dance include some premieres and some old favorites.                 Ailey star, Jamar Roberts' will present his first world premiere for the Company, where he has danced since 2002. It is called….MEMBERS DON'T GET WEARY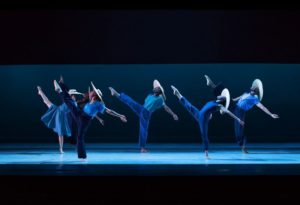 Alvin Ailey American Dance Theater in Jamar Roberts' "Members Don't Get Weary". Photo by Paul Kolnik  Roberts calls the work "a response to the current social landscape in America," that "takes an abstract look into the notion of 'having the blues.'" Set to legendary jazz saxophonist/composer John Coltrane's "Dear Lord" (1965) and "Olé" (1961), with a title inspired by a black spiritual, Roberts says the work was created to be "in line with Mr. Ailey's vision."     Another world premiere composed for the Ailey Company is by Spanish choreographer Gustavo Ramírez Sansano and is titled VICTORIA ("Victory").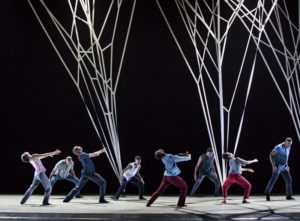 Alvin Ailey American Dance Theater in Gustavo Ramírez Sansano's Victoria. Photo by Paul Kolnik.   The dance is set to an adaptation of Beethoven's Seventh Symphony by award-winning composer Michael Gordon, and is both vital and of-the-moment.                                                            Additionally, Ailey Artistic Director Robert Battle features a Boston Premiere of MASS.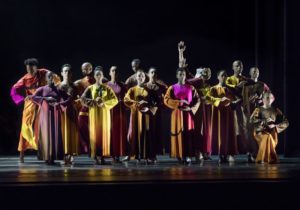 Alvin Ailey American Dance Theater in Robert Battle's Mass. Photo by Paul Kolnik  This dance, commissioned originally for The Julliard School,features a score by Battle's frequent collaborator John Mackeye. It is an ensemble work that gives physical life to a haunting score and showcases Battle's signature ritualistic choreography.                                                                                   Another all new production honors modern dance pioneer Talley Beatty,.STACK-UP,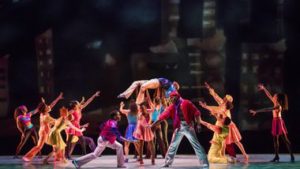 Alvin Ailey American Dance Theater in Talley Beatty's Stack-Up. Photo by Paul Kolnik        is set in a crowded disco amidst the urban landscape that surrounds it. With a background of vibrant 1970s beats by Earth, Wind & Fire, Grover Washington Jr., Fearless Four, and Alphonze Mouzon it is inspired by Los Angeles and the lives of its disparate inhabitants. The dance reflects the "emotional traffic" of a community where people live "stacked up." Beatty has a Boston connection as he was a frequent teacher at the Elma Lewis School of Fine Arts. His Talley Beatty Company was acquired by the school to become its first professional performing arts group in residence.                                                                            Tony Award-winning choreographer Twyla Tharp contributed THE GOLDEN SECTION.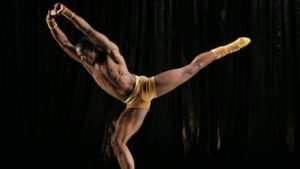 AAADT's Jamar Roberts in Twyla Tharp's The Golden Section. Photo by Paul Kolnik  It is a sizzling ensemble work filled with breathtaking leaps, finely-honed partnering and explosive joy set to a propulsive score by David Byrne.                                                                                                      In 2008 Artistic Director Robert Battle brought this premiere piece to Boston. ELLA celebrates the centenary year of jazz legend Ella Fitzgerald's birth. It is a tour-de-force duet set to Fitzgerald's virtuosic scatting in the song "Airmail Special."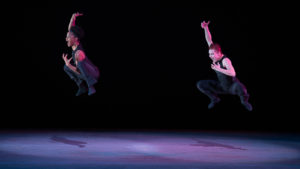 Jacquelin Harris and Megan Jakel in Robert Battle's Ella. Photo by Christopher Duggan ELLA will be presented on the day of the company's final performance in Boston along with two other works by Battle: MASS (described above); and IN/SIDE, which is a gripping and most stunning solo set to Nina Simone's "Wild is the Wind" in which a  man is forced to deal with his own struggles.                                                                       Although different performances are scheduled on various performance dates, all will be punctuated by the masterpiece, choreographic composition, REVELATIONS (1960).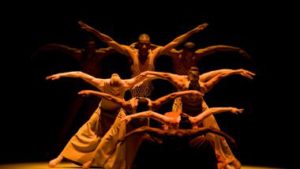 AAADT in Alvin Ailey's "Revelations". Photo by Nan Melville This dance, created by Ailey, highlights the company's dynamic repertoire. Integrating African-American spirituals, song-sermons, gospel songs and holy blues, Alvin Ailey's "REVELATIONS" fervently explores the places of deepest grief and holiest joy situated in our soul. Boston audiences return annually to experience REVELATIONS, cheering, singing along and dancing in their seats.                         So…. Decisions!….Decisions!….Although diverse, each performance offers an extraordinary variety and all will be beyond memorable. For a performance schedule along with obtaining tickets for anyone of these amazing, celebratory Boston performances, visit www.celebrityseries.org