ONGOING EVENTS OR ESTABLISHMENTS ARE LISTED AT THE BOTTOM
FEB. 24 (Dorchester) & FEB. 25 (Roxbury): "REVELATIONS" CELEBRATION COMMUNITY WORKSHOP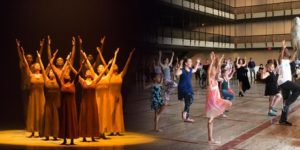 Celebrity Series of Boston, in recognition of the 50th Anniversary of the Alvin Ailey American Dance Theater company's 1968 Boston debut, presents two FREE public events for participants of all ages and abilities. Located in Dorchester on Feb. 24 and Roxbury on Feb. 25, this event provides a chance for anyone to come and learn as well as perform the choreography from Alvin Ailey's iconic masterwork, "Revelations." Classes will be led by two master teachers and accompanied by a musician from the Alvin Ailey American Dance Theater. The performance schedule of the company's much anticipated return to Boston for its 50th Anniversary will be March 22-25. For more information visit www.celebrityseries.org
MARCH 3: MFA LATE NITES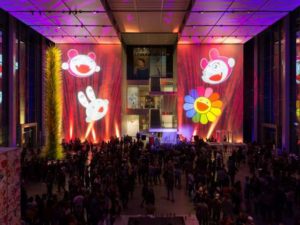 View of Shapiro Family Courtyard during the October 2017 Late Nites party.  image courtesy of Michael Blanchard Photograph  The Museum of Fine Arts, Boston (MFA), hosts a new MFA Late Nites party from 8 pm – 2 am. This will be the last after hours chance to see Takashi Murakami: Lineage of Eccentrics before the exhibition closes April 1. The evening will feature programming, music and performances in partnership with local organizations and artists. Dance the night away in the Shapiro Family Courtyard as a local DJ lineup curated by DJ Dayglow keeps the electronic and pop music pumping. Also, the Linde Wing for Contemporary Art comes to life with HipStory bringing more DJs and live music performances by STL GOLD, Haasan Barclay and others. Art collective duo MSHR will offer an immersive, light-sound-scape virtual reality experience throughout the night. Other activities include performances by Urbanity Dance and Lilit Hartunian along with Spotlight Talks hosted by featured artists, guiding guests through the (un)expected families exhibition. Guests looking for a quiet space to unwind can head to the new M.C. Escher: Infinite Dimensions exhibition to tackle tricky, tessellated puzzles by Somerville design studio Nervous System, or try sketching live models in Seeking Stillness. Late Night Bites will be offered in the Shapiro Family Courtyard and Sharf Visitor Center, from 8 pm to midnight, while pizza and soft pretzels will be served in the Beer Hall located in the Garden Cafeteria. Even more snacks and drinks will be available at Taste Café. Even the Murakami Shop will be open with tempting limited-edition merchandise from Takashi Murakami's studio, Kaikai Kiki on sale. And too there will be the infinitely delightful, Escher-inspired products at the Escher Pop-up Shop. Advance tickets can be purchased online for $15, while day-of tickets are $20 at the door. For more information go to www.mfa.org
MARCH 4 (2:45 pm):SIP AND SWIRL WITH "STEVE"
            Wash away your winter blues with some bubbly and Broadway at Zeitgeist Stage's event. The tasting event is held in the Plaza Theater lobby at the Boston Center for the Arts, 539 Tremont St in Boston's South End. The matinee performance of Mark Gerrard's wickedly funny comedy is being preceded by this fun, pre-show sparkling wine tasting. Led by the master sommeliers of The Urban Grape, Prosecco, Cava, and Champagne will be served, along with light bites and a lively discussion of what defines these different varieties. Tickets to the tasting are $25. But, following the tasting, guests may continue the party with a performance of "Steve." Tickets to the performance are additional. The matinee performance ends by 5:45 PM, so you may be home in time for the Oscars later that evening! SIP AND SWIRL is a 21+ event, while the play is not.) Tickets to this special event are available at www.bostontheatrescene.com/season/Sip-and-Swirl-with-Steve/
MARCH 5: AMERICAN REPERTORY THEATER ANNUAL GALA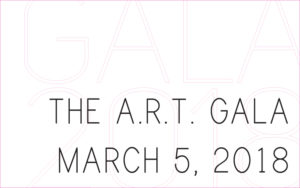 The Boch Center Wang Theatre at 270 Tremont Street in Boston will host the annual fundraiser for the American Repertory Theater. This gala fund raiser begins at 6PM with a cocktail party, followed by dinner created by The Catered Affair. Guests may participate in a live auction and will be treated to an artistic program featuring a special sneak peek performance by members of the cast of A.R.T.'s upcoming world premiere production of Jagged Little Pill, a new musical based on Alanis Morrisette's iconic album. Jagged Little Pill is directed by A.R.T.'s Terrie and Bradly Bloom along with Artistic Director Diane Paulus (Waitress). The book for the production is by Diablo Cody (Juno) and orchestrations are by Tom Kitt (Next to Normal). at 7PM. The evening also includes the presentation of the A.R.T. Angel Award to A.R.T. Trustee Paul Buttenwieser, whose has provided a deep commitment to expanding the boundaries of theater and enriching the region's cultural offerings as well as championing A.R.T. for more than three decades by providing critical support for some of the A.R.T.'s most celebrated artists and productions. He has been a leading supporter of numerous Greater Boston arts institutions and is the founder of Family-to-Family Project, an agency that works to prevent and reverse family homelessness in Massachusetts. Under the leadership of gala co-chairs Ann & Graham Gund and Jerry Jordan, this evening of great dining and entertainment will hopefully build on the success of last year's gala, which raised a record of nearly $1.3 million in support of the ART's mission to expand the boundaries of theater.Individual supporter tickets to the gala begin at $1,000. Full and half-table sponsorship packages, as well as corporate sponsorship opportunities, are also available. For more information and to obtain tickets visit www.americanrepertorytheater.org/2018gala
MARCH 14 – 18: BOSTON FLOWER & GARDEN SHOW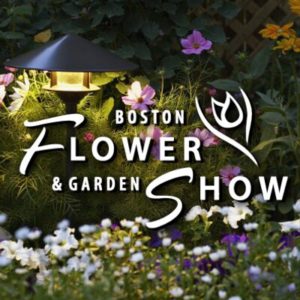 The Seaport World Trace Center at 200 Seaport Blvd. in Boston again host the annual Boston Flower & Garden Show. This years theme is, "Savor Spring". Filled with colorful, life-sized gardens, intricate floral arrangements, informative lectures and demonstrations along with exciting special events that incorporate elements of the popular food gardening trend, it is a perfect day out for the flower and garden enthusiast in your life. The Show is always about inspiring, educating and motivating the region's gardeners. Whether for curb appeal, backyard, kitchen, indoor, rooftop or community gardens, this is where New England's green lovers go to discover new ideas while having fun with family and friends. Designers, exhibitors and marketplace vendors will whet your appetite and provide a preview of Spring. For more information and to obtain tickets for this year's Boston Flower & Garden Show, visit www.BostonFlowerShow.com
MARCH 17 (2:00 – 4:00pm): REVELS SPRING SING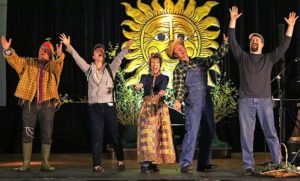 Come sing with us as we celebrate the greening of another year! Revels annual family celebration of the Vernal Equinox is hosted at the Belmont-Watertown United Methodist Church at 80 Mt. Auburn St. in Watertown. Wave goodbye to winter and be surrounded by budding forsythia and sprigs of green at this joyful event filled with music, songs and mumming fit for the season! This year's Spring Sing celebrates "The Birds and the Trees". Expect traditional songs from England, Ireland and America with a few little twists, and some Irish tunes in honor of St. Patrick's Day. Revels music director Megan Henderson leads the festivities which include lots of communal singing, a seriously funny mummers play (a traditional form of entertainment from England and Northern Ireland, linked with primitive ceremonies held to mark important stages in the agricultural year). Additionally there will be a visit from that ancient harbinger of spring,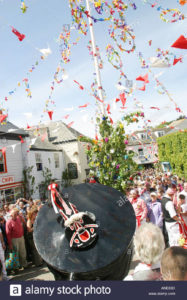 the Padstow 'Obby 'Oss (pictured), all the way from Cornwall, England! Song leader extraordinaire David Coffin will be on hand, leading songs with our talented Spring Sing Band along with the Rvels Alumni Youth Chorus and other musical guests. Cookies and cider will also be served. For tickets tothis unique and fun-filled family event visit www.revels.org/springsing
APRIL 7: COMMONWEALTH SHAKESPEARE COMPANY'S ANNUAL GALA
The Taj Boston at 15 Arlington Street in Boston is the site for this exciting benefit event. Commencing at 6pm with a reception and Silent Auction, the evening continues at 7:30pm with a sumptuous, gourmet, Seated Dinner. This is followed at 9:00pm to Midnight with Dancing. Gala Co-Chairs are Ricardo Rodriguez and Michael Kelley. For more information and to obtain tickets visit www.commshakes.org
ONGOING…..THE GINGER MAN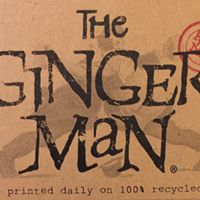 This establishment so befits Boston's Colonial style. It is located at 148 State Street, a short distance from the historic State House, the seat of liberty, and is the perfect place to experience a traditional Public House. One can easily envision. in this warm environment, that the likes of our forefathers would have chosen to come in and enjoy some camaraderie around a tankard or two while solving the young nation's issues. It is the perfect place to enjoy libations, excellent and tasty light bar fare and conversation in a comfortable environment. For beer aficionados, The Ginger Man surpasses the competition with an outstanding menu of close to 200 beers offered daily. Imported from across town and from around the world, the beer offerings change so frequently a beer menu is printed daily. But beer is not always for everyone's taste…thus The Ginger Man offers approximately 100 whiskeys as well as an ample array of Specialty spirits. Not to be overlooked, there are some delightful wines, hard ciders and classic cocktails available. Recognizing the daunting challenge of so many choices, guests may decide to sample a number of Beers or Whiskeys via tasting Flights. A must do, to accompany one's selection of beverage, is to order one of their famous, salted, warm pretzels accompanied by the bar cheese dip. After a long day at work or a long day touring the city, The Ginger Man is the perfect place to unwind. For more information go to www.gingerman-com
ONGOING: MASSIMINO"S CUCINA ITALIANA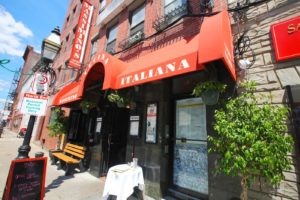 You don't have to travel to Italy to experience true Italian cuisine in a warm, Italian family atmosphere. If you are on the way to the USS Constitution or the Bunker Hill Monument, Massimino's is a slight hop off the Freedom Trail at 207 Endicott St. in Boston. The late, Massimino D'Amore's vision and hard work is what has made Massimino's what it is today. Opening on September 29, 1989, Massimino engaged his family to build this popular, neighborhood restaurant.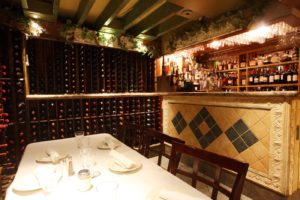 Utilizing traditional family recipes, he passed them and this North End legacy onto his son, Paul, his son-in-law, Paolo and Mario Mejia. Like sitting down to your own family's table, the staff at Massimino are ever present to accommodate you. In the tradition of an old-world European family restaurant, whether you like it extra spicy, super simple, Gluten Free, or Vegetarian, they will make a dish anyway you would like it. Guests are greeted with warm bread and the perfectly seasoned, fragrant olive oil. The tender pasta and delicious pastry are all hand made, and, they even make some of their own wines.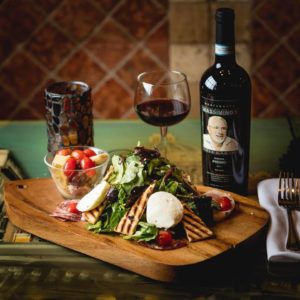 Confused as to what to order…ask your waiter, like Zach, who can enthusiastically describe, with mouthwatering detail from personal experience, numerous menu items. Situated close to the TD Bank Garden, reservations may be a preferred option on event nights. They can readily accommodate Groups, children and any special celebration. They also provide Take Out Delivery and Catering Services. For more information visit www.massiminosboston.com
EVERY THIRD SATURDAY of the MONTH (10 am-12 pm): FREE FAMILY ARTS DAY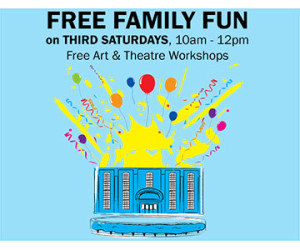 The Arsenal Cener for the Arts at 321 Arsenal ST. in Watertown hosts a FREE open house where kids and their parents can come and experiment with paint, paper, collage, performance, and movement. This is a great opportunity to super charge ones imagination and create a special masterpiece! Different projects and games are offered in each class. The program is perfect for families to explore together their artistic side. This program is made possible through the generous support of The Ramsey McCluskey Family Foundation, Moses Kimball Fund, Belmont Savings Bank, and the Highland Street Foundation. For more information go to www.arsenalarts.org
ONGOING: THE SKYWALK


Located on the 50th floor of the Prudential Center at 800 Boylston St. sits the Skywalk, New England's only observatory offering breathtaking views of Boston and beyond. This amazing panorama is accompanied by an audio tour serving as a guide to all visitors. It describes to guests what they are seeing on the landscape below that spreads out for 80 miles on a clear day. Additionally, the Skywalk, listed as one of the leading places to visit in Boston, also boasts the Dreams of Freedom Museum. The site is owned and operated by Select Restaurants, Inc. which also owns and operates Top of the Hub Restaurant, located just above the Skywalk on the 52nd floor. This attraction has just received a major overhaul and is the city's only educational experience dedicated to Boston's rich history of immigration. It offers a virtual passport through time. Trunks of immigrants who passed into the country almost 100 years ago sit clustered together with numerous personal items and documents that they brought with them in their journey to America. There has been added a station where guests can test their knowledge of American history and government to see if they could pass the citizenship test.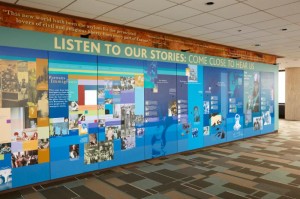 The 'Whispering Wall" invites guests to draw close and listen to the stories of immigrants and debates on policy. There is also a rap video that highlights the restrictions surrounding entering this country. The exhibits are rife with interactive media that cultivates awareness regarding the unified experience of thousands of immigrants who, over the past four centuries, made Boston their home. The Skywalk Theater's Dreams of Freedom provide four continuous looped videos. These start with The Boston Story, an exceptional video tour of immigration in Boston from colonial days to the present. That is followed by Children of the World / Boston, an uplifting video montage featuring photographs by Randi Freundlich of Boston children from diverse homelands set to the sounds of a children's chorus singing "America The Beautiful." Next in turn showing is Wings Over Boston, the Skywalk's spectacular aerial video tour of Boston and Cambridge. Concluded in the series is This Is Boston, a stunning time-lapse look at Boston from Faneuil Hall to Fenway Park. From the original Puritan settlers to the current ethnic rainbow of persons from throughout the world and everyone who came in between they all have the same story. They came to find freedom and opportunities and in doing so they built communities, became citizens and made Boston what it is today. Boston is currently home to someone from every country on the planet. Using the interactive world map where a touch of a country or Island reveals how many emigrated from there confirming the statistics. While touring the exhibits, the reality of leaving family behind with only a few possessions in hand, coupled with family portraits, combined with interviews from immigrants expressing what they had to do to make the journey to becoming American aides in obtaining a better understanding and appreciation surrounding the process. Then, witnessing the positive impact made by Boston based immigrants who were or became scholars, activists, artists, lawmakers, builders, athletes and inventors, ultimately impacting the world for the better, further gives enlightenment to what it means to come to America. Significant quotations relating to immigration from noted leaders such as Thomas Paine, Franklin Delano Roosevelt, John F. Kennedy, Martin Luther King Jr., Jimmy Carter and Boston Mayor Martin J. Walsh (the son of immigrant parents) line the walls. A visit to the Skywalk is suitable for all ages. Additionally, The Dreams of Freedom museum exhibits were designed to meet Massachusetts curriculum standards. As a class trip adventure, it is age appropriate for elementary, middle, and high school students. For more information, visit www.skywallkboston.com
BOSTON DUCK TOURS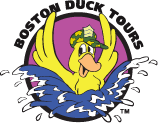 Quack! Quack! It's fun to get your "Quack" On when riding on one of Boston Duck Tours special vehicles. Taking a tour on one of these land/ amphibious transports has become one of Boston's world famous activities.The company's colorful fleet of 28 amphibious vehicles carry annually over 600,000 guests. Under the careful manipulation of their well trained and coast guard certified drivers, they traverse Boston's city streets pointing out historical and other noted spots of interest.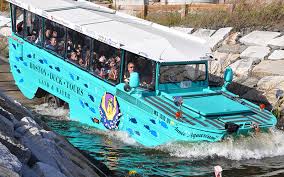 Then they excitingly plunge into the Charles River for an unprecedented view of the Boston and Cambridge skylines. The hour and twenty minute adventure is as fun for locals as it is for visitors to Boston. See what makes Boston a city of Freedom, Fun and Firsts aboard Boston's most popular tour! Boston Duck Tours leave from the Prudential Center, the Museum of Science and the New England Aquarium. Duck Tours has also now launched the first GPS activated, multi-lingual tour to give the ultimate guest experience for the many foreign visitors who visit the city. Persons who speak German, Spanish, French, Italian, Portuguese (Brazilian dialect), Japanese, Mandarin, Cantonese and Korean are now able to experience a fun and fact filled hour and twenty minute adventure through the city streets of Boston and into the Charles River. There are over 50 points of interest (on land and water) that can be triggered during the 80-minute tour. Guests that want one of these new tours may just make a request when purchasing tickets as there is always, at least one of the 3 vehicles leaving at any given time that have the translation system on board. These DUCKs have GPS technology built into them, which triggers information on the next historic site based upon the location of the vehicle. The same technology is used on city and water tours in international cities, such as Amsterdam, London, Singapore and Christchurch, New Zealand. Guests are given free souvenir ear buds to experience all that Boston has to offer in their native language. For more information go to www.BostonDuckTours.com
ONGOING: RESTORATION RESOURCES

   Restoration Resources showroom is located at 1946 Washington St, (at Thorndike Street in Boston's South End). This is a fun, hidden gem for serious shoppers or tourists alike. The store has a superior and expansive collection of one of a kind and hard to find antique treasures that customers can buy for a gift, home, garden, restaurant, or building of any type…. OR…. rent to use as props for an event. The knowledgeable expert of architectural salvage is owner, Bill Raymer. He and his talented design and construction team seasoned love to share how one can re-purpose salvaged relics in new and creative ways. The business is committed to rescue and recycle building materials, while preserving a part of history and valuable resources that are no longer available. The dramatic retail showroom is rich with Boston architectural history, and includes a separate event room. Both are available for customers to rent as a unique venue for a variety of occasions. The visually interesting locations within the retail store, as well as throughout the entire 4 story antique building can be rented as set locations for photo shoots, fashion shows, tv series, movies etc. Bill Raymer and his business have appeared on national broadcast and cable television programs including Emmy award winning WGBH programs, "This Old House," and "Ask This Old House," ABC's/Channel 5's local Chronicle, and cable networks NECN and HGTV. At the same time, Restoration Resources has received media recognition in more than 25 publications, including Better Homes and Garden, Old House Interiors, Old House Journal, the Boston Globe, Boston Magazine, and New England Home magazine. For more information visit www.restorationresources.com
FIRST FRIDAY EVENTS ARE BACK AT THE ICA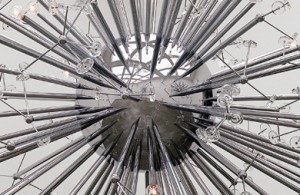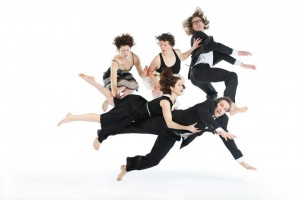 The Institute of Contemporary Art/Boston (ICA) announced a year-long partnership with Citizens Bank Foundation in support of ICA First Fridays. The First Fridays artist program is a monthly evening art event at the museum which brings over 60 artists a year—the majority from Greater Boston—to perform or present their work at the museum. "More than 10,000 people a year experience the ICA through First Fridays and its innovative programming, including live bands, dance performances, projects by visual artists, and an exciting roster of DJs. With support from the Citizens Bank Foundation, First Fridays builds community through the arts, and enlivens the museum, the Seaport neighborhood and our city with public culture and the art of our times," said Jill Medvedow, Ellen Matilda Poss Director of the ICA John Andress, ICA Public Programs Manager, who works with the artists featured at First Fridays stated,  "It's important that more corporations invest in the ICA and other arts organizations to help ensure the long-term vitality of the local arts scene here in Boston."  First Fridays takes place on the first Friday of the month from 5pm to 10pm.  Events are free for ICA members and $15 for non-members. For a complete schedule for  ICA"s First Fridays can be found at www.icaboston.org.
ONGOING: URBAN ADVENTOURS     

See Boston by bicycle!   This venue offers bicycle tours and rentals providing an up close and personal view of Boston. A tour is offered daily at 10am plus they offer a range of rentals from 8am to 6pm daily. Private tours and/or bike delivery can be arranged by contacting them directly at www.urbanadventours.com.
ONGOING (Sundays 10am-4pm): SOWA VINTAGE MARKET

         Located inside a heated brick warehouse in the SoWa Gallery District of Boston's South End at 460 C Harrison Ave., the SoWas Vintage Market is open every Sunday year-round. The market has 3 rooms, with 30 vendors that feature curated collections of vintage and antique fashions, jewelry, art, furnishings and other objects. There is also fresh vintage and designer merchandise to tempt the most discriminating couture. Winner of the 2013 "Best Antiques, Boston's A- List", SoWa Vintage Market makes a perfect Sunday outing in the South End. After visiting SoWa Vintage Market, just a two minute walk takes one to the world famous, Bobby's From Boston (used vintage clothing for men), the SoWa Artist's Studios (many open Sundays),  Mohr & McPherson's International Gallery and Cafe as well as other popular South End hot spots. For more information go to www.sowavintagemarket.com.
ONGOING: CAMBRIDGE HISTORICAL TOURS

     Come and stroll through one of the most historical neighborhoods with costumed characters who look as if they just stepped out of a Dickens' novel. This is not a ho-hum history class. It is a fascinating and often hysterically funny way to take in many of the engaging facts from nearly 400 years of Harvard history. Some captivating and bizarre secrets about America's classiest and oldest institution of higher learning are shared. Important tales regarding the rebellious pig roasts or the mystery of why John Harvard's foot is yellowish won't get you into Harvard but you'll have some of the "goods' on the fine institution of learning. The rhetoric will satisfy the most ardent history buff and entertain the most restless child alike. The professional guides/storytellers have no loyalties to Harvard University and thus will graciously "hang the school's dirty laundry out in public" for a totally objective and very amusing perspective. Tours last just over an hour but it is a wonderful way to gain an overview of the area as visitors are escorted to the Harvard Lampoon, the Widener Memorial Library and the John Harvard Statute to mention just a few. Private tours are available with advanced notice. The tour is just $15 for adults, $12 for students/seniors, youths 9 – 13, $7, while kids 8 & under are FREE. Discounts are available, so please ask if you qualify! The tour is also available in Spanish, French, and Italian. Tour goers meet by the Visitor Information kiosk at the Harvard Square T Stop. Guides are readily visible as they are usually the only ones in hoop skirts and top hats! Tours leave every hour on the hour from 10AM to 4PM daily. For more information go to www.cambridgehistoricaltours.org
ONGOING: HARVARD SQUARE GHOST TOURS

Halloween or not, Ghosts rarely take a holiday! In this case a nighttime stroll through Harvard Square, the Harvard University Campus, (which always turns up some restless souls) and then on to the Cambridge Burying Yard (to stir up some specters) provides some truly unique entertainment.. Every Thursday through Sunday at 7:30 pm the professional storytellers chill your bones for 90 minutes with tales of gruesome murders and mysterious deaths interspersed with lots of "spirited" fun. This is a ghost friendly tour so should be appropriate for kids, 7 and above, but parents should be discerning. Admission is $15 for adults, $12 for students'/seniors, and $7 for kids 7-12. The tour meets in front of the Visitor Information kiosk at the Harvard Square MBTA Station. Reservations are strongly recommended and tickets purchased in advance may be discounted. For reservations and more information visit www.cambridgehistoricaltours.org.
ONGOING: HARVARD SQUARE PUB CRAWL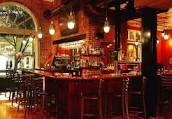 Cambridge Historical Tours offers this two hour trek for the 21+ crowd. Led by a professional storyteller, drinker and host, they will share historical trivia about each of four bars and raise their glass to give some of the bawdiest toasts drawn from New England's past 200 years of beer making and drinking. Along with the beer each pub will provide some typical old New England type appetizer such as hush-puppies or oysters. This is a fun event to share with family, friends or coworkers. Eat, drink and be merry…for tomorrow we have to go back to work…so its good to get a little bit rowdy with some chap in a top hat or lady in a hoop skirt. The Pub Crawl goes to John Harvard's, The First Printer, The Red House and Upstairs On the Square. Each one completely diverse from the other with different tales, different beers and different grand culinary fare. This activity is available only on Tuesdays at 5:30 pm.   Reservations are required. Tickets are $49 per person. For dinner and drinks add $9 per person. For more information go to www.cambridgehistoricaltours.org or call 617-520-4030.
 ONGOING: BOSTON CHOCOLATE TOURS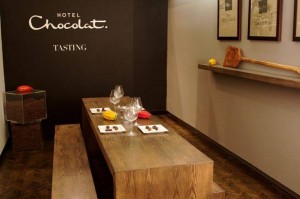 Release your inner "chocoholic"! Boston Chocolate Tours has walking tours scheduled all over town taking guest to selected areas finest chocolate emporiums for sampling, of course. Tours are an ample 2 1/2 hours and are filled with confections as well as local history. Looking for a unique way to experience chocolate? Get a private chocolate tour of various Boston neighborhoods, learn to make champagnes truffles with a group of your friends or learn the art of chocolate tasting (with and without wine) at your home or in a venue of your choice. Periodic workshops are announced to hone your skills in preparing the delectable treat. For a schedule off up and coming Chocolate events and the famous CupCake Crawls go to www.chocolatetours.com.