THE INSTITUTE OF CONTEMPORARY ART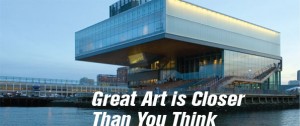 *Current exhibitions are noted under ART on this website*          The ICA is located at 100 Northern Avenue on Boston's waterfront in the area known as the Seaport District. It is a short walk from downtown, easily accessible by public transportation, and just two blocks from major highways. A ICA parking lot is adjacent to the museum and there is metered and lot parking near by.
HOURS: 10am to 5pm on Tuesday, Wednesday, Saturday and Sunday. It is open until 9pm on Thursday and Fridays. CLOSED on Mondays except on the National Holidays of Martin Luther King Jr. Day, Presidents' Day, Patriot's Day, Memorial Day, Labor Day, and Columbus Day.                                                                                                                                                    CLOSED: Independence Day, Thanksgiving, Christmas, and New Year's Day.
ADMISSION:  Adults $15 ,Seniors $13,Students $10
Members and youth 17 and under FREE
 FREE for all every Thursday from 5 to 9 pm during ICA Free Thursday Nights FREE for families (up to 2 adults accompanied by children 12 and under) on the last Saturday of each month (except December). The first Friday of every month, the ICA is open to First Fridays ticket-holders only from 5 to 10 PM. Admission to First Fridays is free for members/$15 for nonmembers and includes gallery access. This event is 21+. 
Additional discounted rates:  American Federation of Teachers: $8,  Blue Star Families: FREE Memorial Day to Labor Day
With EBT (Electronic Benefit Transfer): FREE for one person –MTA (Massachusetts Teachers Association): $8     Discounts apply to general admission and listed events only, not ticketed performances or events. 

Coat/Bag Check:The ICA requires visitors to check backpacks of any size, shopping bags, and bags 11 x 14 inches (28 x 35.5 cm) or larger. To avoid a lengthy wait in the checkroom line, we recommend that visitors not bring such items. The museum reserves the right to refuse other items and is not responsible for items held by the checkroom.
Accessibility:   The ICA is fully wheelchair accessible. A limited number of wheelchairs are available in the lobby free of charge. Wheelchair seating and assistive-listening devices are available in the Barbara Lee Family Foundation Theater; please call the Box Office in advance to make a request at 617-478-3103. If you need further assistance, including sign language interpretation, please contact the Box Office at least two weeks prior to program. The ICA does not discriminate on the basis of disability with regard to admission, access, or employment.                         Visiting with small children: Strollers are permitted throughout the museum. There are changing tables in both the women's and men's restrooms on the first and fourth floors.
BOX OFFICE: Tickets to any ICA performance, film, or program can be purchased in person at the Holly and David Bruce Visitor Center during regular museum hours, one hour prior to program, or by phone at 617-478-3103 during regular museum hours. A $3 per-ticket processing fee will be added to phone and online orders for nonmembers. Tickets are not available for purchase online on the day of an event, but may be purchased by phone or in person. PLEASE NOTE: no refunds or exchanges. For More Information visit www.ica.org.
PEABODY ESSEX MUSEUM
*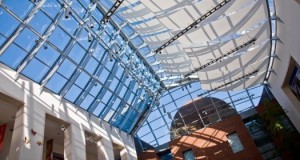 Current exhibitions are noted under ART on this website*    
The PEM is located at East India Square, 161 Essex Street in Salem, MA.                              HOURS: Tuesday-Sunday, 10 am until 5 pm and open the third Thursday of every month from 10 am-9:30 pm.*Closed on Mondays ……except on the National Holidays of Labor Day, Columbus Day and Veterans Day.    CLOSED: Thanksgiving, Christmas, and New Year's Day.
ADMISSION: Adults $20, seniors (65+) $18, students With ID  $12
Youth (16 and under) and Salem, Mass. residents (with ID) admitted Free*.
*Does not apply to youth in student/tour groups   For late nights, $12 after 5 pm.  There is a surcharge for special exhibitions as well as Yin Yu Tang: A Chinese House (timed tickets). (A fee applies to online sales.)      Members admitted free to all sites and special exhibitions.
Blue Star Museums:    This summer, PEM joins more than 1,800 museums nationwide to offer free admission to military personnel and their families. The Blue Star Museums program runs from Memorial Day (May 27, 2013) through Labor Day (September 2, 2013) and is available to active-duty members of the Army, Navy, Air Force, Marines, Coast Guard, National Guard and Reserve. Military personnel – and up to five family members – gain free museum admission with their military ID. A complete list of participating museums is available at www.arts.gov/bluestarmuseums.                  FOR MORE INFORMATION go to www.pem.org.

MUSEUM OF FINE ARTS, BOSTON                           * Current exhibitions are noted under ART on this website.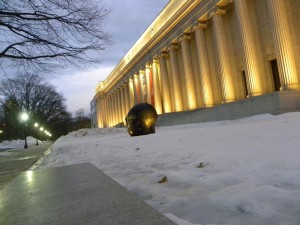 Located at 465 Huntington Avenue (Avenue of the Arts) in Boston. It is highly accessible by MBTA and has outdoor and garaged parking for a fee. *Bravo guests receive free parking after 5 pm.
HOURS:  :Monday and Tuesday: 10 am – 4:45 pm    Wednesday through Friday: 10 am – 9:45 pm                       Saturday and Sunday: 10 am – 4:45 pm
HOLIDAYS & CLOSINGS:  The museum is closed New Year's Day, Patriot's Day (third Monday in April), Independence Day (July 4), Thanksgiving and Christmas Day.
ADMISSION:      Adults…$25    Seniors(65+)..$23      Students(18+)….$23    Age 6 and under…..Free               Age 7 – 17…Free after 3 pm, weekends, Boston School holidays…other wise…$10                                      Members are Free
The MFA boasts several destination restaurants:                                                                   Bravo: $$$ Located in the upper level galleria, Linde Family Wing for Contemporary Art, this upscale restaurant is nestled among the grand masters of art and design and offers a variety of dining venues from Restaurant Associates that are inspired by seasonally inspired and locally grown fish, meat and produce. A full bar plus wine and beer is available. Reservations are strongly recommended and may be made through www.OpenTable.com or by calling 617-369-3474.  Parking in the museum's garage is complimentary after 5 pm. The Saturday and Sunday brunches have been hailed as top destination brunches in Boston.                                                                          New American Cafe: $$ Located in the Ruth and Carl J. Shapiro Family Courtyard this casual-contemporary restaurant boasts a variety of hot and cold small plates, signature entrees and salads, hand-crafted soups, decadent desserts and dishes from the Americas prepared using fresh, local ingredients. The cafe also offers a unique selection of regional American wines, microbrews, gourmet teas and espresso.                                                                                                           Taste: $ This modest cafe and wine bar is located at Level 1, Linde Family Wing for Contemporary Art and offers light food and a selection of wines, coffee and espresso.                                      Garden Cafeteria: $ This family-friendly option features gourmet specialty panini, freshly made soups, salads and deserts and is located at the Courtyard Level, Linde Family Wing for Contemporary Art.     FOR MORE INFORMATION  go to www.mfa.org.
DeCORDOVA SCULPTURE PARK & MUSEUM 
51 Sandy Pond Rd. In Lincoln, MA  
HOURS: Winter (October through May) Wednesday – Friday (10am – 4pm)
Saturday & Sunday (10am – 5pm)
Summer (June through September) Every Day (10am – 5pm)
HOLIDAYS: Museum is open 10am -5pm Easter, Memorial Day, Labor Day, Columbus Day, Veteran's Day
Museum is closed: New Year's Day, Martin Luther Kind Day,
President's Day, Patriot's Day, Independence Day, Thanksgiving, Christmas Day
ADMISSION: Adults: $14; Seniors: $12; Students: $10; Children under 12, Free*
(*Limit 5 children per adult, each additional child $8)     Members, Lincoln Residents, and active duty military free. On first Wednesdays, admission is free. There are no group visits on Free Wednesdays.                                                                                                                               Discounts on Adult Admissions:
$2 discount with MTA membership card
$2 discount with ZipCar membership card
$1 admission with current EBT card
Free admission + 10% off at deCordova Store last Thursday of each month with current WBUR membership card
Free admissions to all cyclists who pedal to de Cordova
Personal care attendants and aides assisting visitors in wheelchairs are admitted to deCordova's campus free of charge.
deCordova's Museum, Store, School, and Café are all wheelchair accessible; however, a portion of the Dewey Family Gallery in the Museum does not allow close viewing opportunities for people in wheelchairs.
 ***Please note that there are several areas in the Sculpture Park that are not fully accessible due to landscape features and site-specific installations.
PARKING:
 Two accessible parking spots are located outside the Museum's front entrance,
with a ramp leading to the building. Additional accessible spots are located
directly across from the entrance to the Store.
Wheelchairs:Free manual wheelchairs are available at the front desk of the Museum on a first-come, first-served basis; reservations are not accepted. Please return all wheelchairs to the front desk before leaving. Please call 781.259.8355 for more information.
FOR MORE INFORMATION: visit online at www.info@decordova.org.
ISABELLA STEWART GARDNER MUSEUM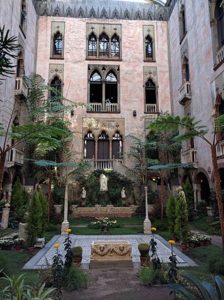 The garden courtyard in October      Located at 25 Evans Way this fascinating museum was built from the ground up in Boston out of new materials, incorporating numerous architectural fragments from European Gothic and Renaissance structures. Isabella Stewart Gardner opened the museum in 1903, She was an American art collector, philanthropist, and patron of the arts. Its collection is housed in a building designed to emulate a 15th-century Venetian palace, drawing particular inspiration from the Venetian Palazzo Barbaro. When Gardner died in 1924, her will created an endowment of $1 million and outlined stipulations for the support of the museum, including the charge that her collection be permanently exhibited "for the education and enjoyment of the public forever" according to her aesthetic vision and intent. Designated a Boston Landmark In 2013, the Gardner Museum is much admired for the intimate atmosphere in which its works of art are displayed and for its flower-filled courtyard. Most of the art pieces are unlabeled, and the generally low lighting is more akin to a private house than a modern art museum.
ADMISSION:  Adults-$15 | Seniors-$12 | Students-$5
PARKING: A limited number of free and metered spots are available near the Museum. Also discounted parking at the next-door Simmons School of Management Garage and the lots at the Museum of Fine Arts are within walking distance. HOURS: Open 11 am to 5 pm except Thursdays until 9 pm...Closed on Tuesdays as well as New Year's Day, Patriots' Day (April 16, 2018), Saturday, May 6 at 3pm, Independence Day, Thanksgiving, Christmas Eve at 3 pm, and Christmas Day  OPEN:: Martin Luther King, Jr. Day, Presidents' Day, Easter, Memorial Day, Labor Day, Columbus Day, and Veterans Day         FOR MORE INFORMATION visit : www.gardnermuseum.org
MUSEUM OF SCIENCE, BOSTON at 1 Science Park in Boston.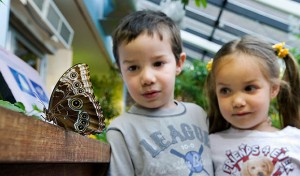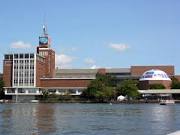 The Museum of Science is certainly impressive! Within the Museum of Science you'll find a planetarium, an IMAX movie theater, and a two-story Van de Graaf generator capable of producing 2.5 million volts of electricity. Children love the interactive discovery center, live animal exhibit and the dinosaur exhibit with fossils and life-size models. These and the hundreds of other exhibits make this museum one of Boston's top attractions.
Admission:
| TICKET | Adult (12+) | Senior (60+) | Child (3 – 11) | Members (all ages)* |
| --- | --- | --- | --- | --- |
| Exhibit Halls | $25.00 | $21.00 | $20.00 | FREE |
| Mugar Omni Theater | $10.00 | $9.00 | $8.00 | $5.00 |
| Charles Hayden Planetarium | $10.00 | $9.00 | $8.00 | $5.00 |
| ADD-ON TICKET | Adult (12+) | Senior (60+) | Child (3 – 11) | Members (all ages)* |
| --- | --- | --- | --- | --- |
| +  Mugar Omni Theater | + $6.00 | + $6.00 | + $6.00 | + $5.00 |
| +  Charles Hayden Planetarium | + $6.00 | + $6.00 | + $6.00 | + $5.00 |
| +  Butterfly Garden (requires Exhibit Halls admission) | + $6.00 | + $6.00 | + $6.00 | + $5.00 |
| +  4-D Theater (requires Exhibit Halls admission) | + $6.00 | + $6.00 | + $6.00 | + $5.00 |
DINING INCLUDES: Riverview Café
The Museum's constellation of eateries offers spectacular views of Boston, Cambridge, and the Charles River, along with a wide selection of dining options by Wolfgang Puck Catering. You'll find this bright, airy space on the first floor, right across from the Museum Store.
+ Food Stations (all open at 11am
Taqueria Mexican Kitchen
Burritos. Quesdillas. Taco Salad.
The Grill
Burgers. Kid Favorites.
Puck's
Pizza. Pasta. Salads. Soups.
Salad Bar
Salad. Antipasti.
Grab & Go
Sandwiches. Salads. Beverages.
Starbucks | Ice Cream Coffee. Pastries. Snacks. Dippin' Dots
Parking:  Time graduated but Spend 6+ hours and it will cost $20  HOURS vary so go to www.mos.org.
BOSTON CHILDREN'S MUSEUM  308 Congress Street in Boston 617-426-6500 *Any special events and exhibitions will posted under EVENTS/FESTIVALS/BENEFITS.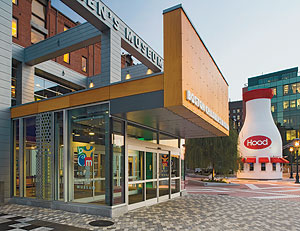 . This non-profit, private, educational institution has, for 100 years, been recognized internationally as a pacesetter for children's exhibitions, educational programs and curriculum. The museums collection boasts over 50,00 items and exhibits are designed for the whole family and focus on science, culture, environmental awareness, health & fitness and the arts. Programs and activities that address many of these areas are frequently scheduled. Children under 16 must be accompanied by a parent.             HOURS: Saturday-Thursday 10am-5pm Fridays 10am-9pm……The Museum is closed Thanksgiving and Christmas, closing at 3pm on Christmas Eve and New Years Eve. The Museum opens at noon on New Year's Day.                      
ADMISSION: Adults: $17, Children (1-15): $17,       * Target Fridays: $1 from 5pm to 9pm          For more information visit www.bostonchildrensmuseum.org.

DREAMS OF FREEDOM MUSEUM AT THE SKYWALK



Located on the 50th floor of the Prudential Center at 800 Boylston St. sits the Skywalk, New England's only observatory offering breathtaking views of Boston and beyond. This amazing panorama is accompanied by an audio tour serving as a guide to all visitors. It describes to guests what they are seeing on the landscape below that spreads out for 80 miles on a clear day. Additionally, the Skywalk, listed as one of the leading places to visit in Boston, also boasts the Dreams of Freedom Museum. The site is owned and operated by Select Restaurants, Inc. which also owns and operates Top of the Hub Restaurant, located just above the Skywalk on the 52nd floor. This attraction has just received a major overhaul and is the city's only educational experience dedicated to Boston's rich history of immigration. It offers a virtual passport through time. Trunks of immigrants who passed into the country almost 100 years ago sit clustered together with numerous personal items and documents that they brought with them in their journey to America. There has been added a station where guests can test their knowledge of American history and government to see if they could pass the citizenship test. The 'Whispering Wall" invites guests to draw close and listen to the stories of immigrants and debates on policy. There is also a rap video that highlights the restrictions surrounding entering this country. The exhibits are rife with interactive media that cultivates awareness regarding the unified experience of thousands of immigrants who, over the past four centuries, made Boston their home. The Skywalk Theater's Dreams of Freedom provide four continuous looped videos. These start with The Boston Story, an exceptional video tour of immigration in Boston from colonial days to the present. That is followed by Children of the World / Boston, an uplifting video montage featuring photographs by Randi Freundlich of Boston children from diverse homelands set to the sounds of a children's chorus singing "America The Beautiful." Next in turn showing is Wings Over Boston, the Skywalk's spectacular aerial video tour of Boston and Cambridge. Concluded in the series is This Is Boston, a stunning time-lapse look at Boston from Faneuil Hall to Fenway Park. From the original Puritan settlers to the current ethnic rainbow of persons from throughout the world and everyone who came in between they all have the same story. They came to find freedom and opportunities and in doing so they built communities, became citizens and made Boston what it is today. Boston is currently home to someone from every country on the planet. Using the interactive world map where a touch of a country or Island reveals how many emigrated from there confirming the statistics. While touring the exhibits, the reality of leaving family behind with only a few possessions in hand, coupled with family portraits, combined with interviews from immigrants expressing what they had to do to make the journey to becoming American aides in obtaining a better understanding and appreciation surrounding the process. Then, witnessing the positive impact made by Boston based immigrants who were or became scholars, activists, artists, lawmakers, builders, athletes and inventors, ultimately impacting the world for the better, further gives enlightenment to what it means to come to America. Significant quotations relating to immigration from noted leaders such as Thomas Paine, Franklin Delano Roosevelt, John F. Kennedy, Martin Luther King Jr., Jimmy Carter and Boston Mayor Martin J. Walsh (the son of immigrant parents) line the walls. A visit to the Skywalk is suitable for all ages. Additionally, The Dreams of Freedom museum exhibits were designed to meet Massachusetts curriculum standards. As a class trip adventure, it is age appropriate for elementary, middle, and high school students.
ADMISSION:  Adults $19.00   Senior (62 and over) $13.00  Students $13.00  Child (12 and under) $11.00
 HOURS: Generally it opens at 10am and closes at 8pm in the winter and 10 pm in the summer. The Skywalk does close for private functions. Please call ahead to confirm that they will be open on the day you arrive at. 617-859-0648
For more information, visit www.skywallkboston.com
ISABELLA STEWART GARDNER MUSEUM