PRODUCTIONS ARE INITIALLY LISTED CHRONOLOGICALLY BY 'OPENING  DATE'…WHEN THE OPENING IS PAST, THEY ARE THEN  MOVED DOWN THE LIST CHRONOLOGICALLY,.. INDICATING 'END DATE' BY THE NOTATION, "THROUGH"…AND THEN IS REMOVED WHEN SHOW HAS ENDED. SO EXPLORE AND MAKE PLANS………………………………..!
THROUGH SEPT. 23: THE BLACK CLOWN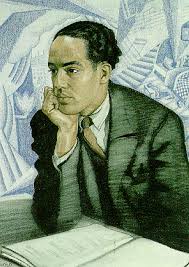 This is a sophisticated as well as intensely poignant interpretative history of the black man/woman in America. Through an energetic and abstract cacophony of truth, sadness, frustration and anger, the creators have wrapped up the production in a vaudevillian style with music (integrating opera, jazz, and several familiar spirituals), along with cleverly orchestrated lighting and silhouetted pantomime,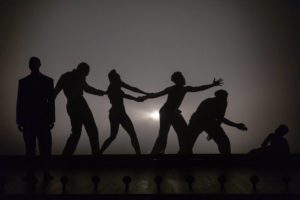 plus smart choreography.  Slavery in this country has been sadly earmarked since 1619. The  production number, "300 Years", allows the audience a passionately painful insight into the struggles of the black man through his years of slavery. Then, allegedly freed over 150 years ago by Abraham Lincoln,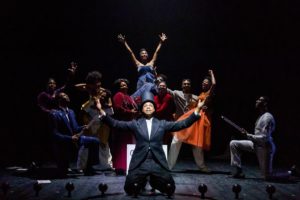 the sordid story moves on to a point of brief jubilation with the Emancipation Act. But this is wretchedly followed by a journey of loss, struggle and then overt persecution before The Black Clown can embrace the point of recognition…where he proudly exclaims…"I am a MAN!"  The award-winning American Repertory Theater (A.R.T.) at the Loeb Drama Center on Brattle St. in Cambridge has mounted this World premiere musical event. It is based on an adaptation by Davóne Tines and Michael Schachter of noted poet, Langston Hughes' poem called The Black Clown. They have eloquently brought to life on their stage Hughes' poem.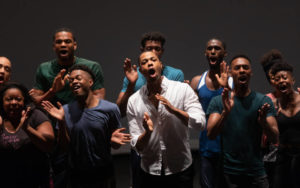 Tines soulfully begins reading the opening line…"You laugh / Because I'm poor and black and funny…"The reading then continues to be artfully interspersed thorough the musical time line. The accompanying music and orchestration are by Michael Schachter.
Directed by Zack Winokur (Run AMOC! Festival), the production features Davóne Tines (Crossing, Run AMOC! Festival at A.R.T.) in the title role as well as an impressive supporting cast consisting of Sumayya Ali (Natasha, Pierre & the Great Comet of 1812 at A.R.T.), Malcolm Armwonod (Motown the Musical National Tour), Daniel Bellomy ("The Deuce"), Dawn Bless (Gypsy at Porchlight Theater), LaVon Fisher-Wilson (Disney's Newsies on Broadway), Lindsey Hailes (The Lucky Ones at Ars Nova), Evan Tyrone Martin (Duke Ellington's Greatest Hits at Music Theater Works), Jhardon DiShon Milton (A Bronx Tale on Broadway), Amber Barbee Pickens (Cirque du Soleil's Paramour on Broadway), Jamar Williams (Burn All Night and Witness Uganda at A.R.T.), and Hailee Kaleem Wright (Hairspray with Jersey Shore Productions).  This  production successfully raises the conscience of the viewer. It highlights the Black man's resilience against America's legacy of oppression while hopefully fomenting a prompt for further examination into this heinous history on the part of all that see it. For tickets go to www.americanrepertorytheater.org
THROUGH SEPT. 23: TRUTH VALUES//ONE GIRL"S ROMP THROUGH M.I.T.'s MALE MATH MAZE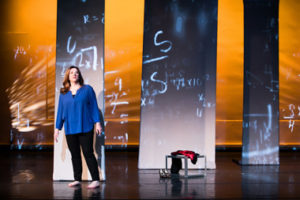 The Nora Theatre Company at the Central Square Theater at 450 Massachusetts Ave. in Cambridge presents the return of Gioia De Cari's one-woman show. After charming audiences nearly seven years ago and taking her story on the road, this self-proclaimed "Recovering Mathematician" recounts her adventures as a female PhD math student at MIT. Bewitched by the formal mathematical notion of Truth, she struggles with the clash of her personal reality in a world that is not binary. A humorous exploration of the world of elite mathematics, Truth Values speaks to the challenges women face in math and science at a time when, finally, people are listening. Tickets may be obtained at www.centralsquaretheater.org

SEPT. 25 – OCT. 7: JEKYLL & HYDE

The North Shore Music Theatre at 62 Dunham Rd. in Beverly presents this Gothic musical thriller. Based on Robert Louis Stevenson's novel, the show was conceived for the stage by Frank Wildhorn and Steve Cuden, with Book and Lyrics by Leslie Bricusse. Directed by Tony Award nominee, as well as Outer Critics Circle and Drama Desk Award-winner, Robert Cuccioli, the story surrounds London scientist Dr. Henry Jekyll. He creates a potion that turns him into a murderous alter ego dubbed Edward Hyde. As Hyde's violent rampage continues, Jekyll must figure out a way to stop the transformations before it results in deadly consequences for his fiancée Emma and a prostitute named Lucy, who has fallen for the doctor. The production is choreographed by Kelli Barclay with music direction by Milton Granger and features Frank Wildhorn's soaring score filled with such powerful and romantic songs as "This Is The Moment," "In His Eyes," "Someone Like You," and "A New Life." JEKYLL & HYDE is presented through special arrangement with Music Theatre International (MTI). The production features Constantine Maroulis. All authorized performance materials are also supplied by MTI. Tickets may be obtained at www.nsmt.org/jekyllandhyde
SEPT. 26 – NOV. 11 : MACBETH & EQUIVOCATION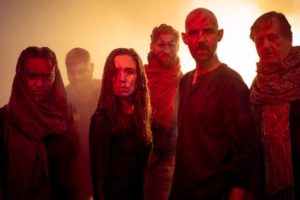 Actors' Shakespeare Project kicks off their 15th Season performing a rotating repertory of ​Macbeth and ​Equivocation at The Sanctuary in the United Parish church, 210 Harvard Street in Brookline. MACBETH by William Shakespeare is presented in a verse translation by Migdalia Cruz along with EQUIVOCATION by Bill Cain. MACBETH follows a man's descent into violent ambition, spurred on by love and the supernatural. Once a noble lord, Macbeth is drawn into betrayal and murder by a witch's prophecy. Lady Macbeth, his loving wife and ruthless partner, urges him forward. With a simple story, Shakespeare unravels the complexities of power and desire, creating a world without heroes. This world premiere of a new verse translation by playwright ​Migdalia Cruz​ is part of the Oregon Shakespeare Festival's Play on! Project, a national initiative engaging diverse playwright and dramaturg teams with the goal of broadening access for contemporary audiences. Approximately 80% of the original heightened language remains while obsolete words and complex phrases are adapted for contemporary understanding. ASP is excited to be a part of the national conversation around the power of Shakespeare's language and our relationship to his plays. ​Directed by Dawn Meredith Simmons, the cast features a number of IRNE award-winning actors that include ​Steven Barkhimer*​ (Duncan, Porter) and Maurice Parent* ​(Banquo) ​Nael Nacer*​ (Macbeth), ​Paige Clark* (Lady Macbeth), ​Ed Hoopman*​ (Macduff), ​Kai Tshikosi​ (Malcolm), ​Jade Guerra ​(Lady Macduff), ​Alex Cassillas ​(Ross), ​Trinidad Ramkissoon​ (Lennox) and ​Shanelle Villegas (Fleance). Additional roles are played by members of the ensemble. In ​EQUIVOCATION, local playwright ​Bill Cain​ transports audiences to 1605 London where the Playwright William "Shagspeare's" career is on the edge when the King commissions a play: the "true history" of the Gunpowder Plot. Forced to write a propaganda piece (with witches, the King demands), "Shagspeare" must face his own artistic motivations and learn what it means to write the truth in dangerous times. Directed by ​Christopher V. Edwards ​this regional premiere looks directly at the idea of speaking truth to power and how to avoid being a mouthpiece for a ​propagandist ​agenda that you don't agree with. How do you connect your life to your art and let it be your truth?" Resident Acting Company cast members include ​Steven Barkhimer*​ (Shagspeare) and Maurice Parent* ​(Robert Cecil) joined by  ​Nael Nacer* ​(Richard Burbage), Ed Hoopman* ​(Sharpe), ​Kai Tshikosi ​(Armin) and ​Kimberly Gaughan ​(Judith). Additional roles are played by members of the ensemble. Tickets may be obtained at ​www.actorsshakespeareproject.org 
SEPT. 27 – 30: MEET FRED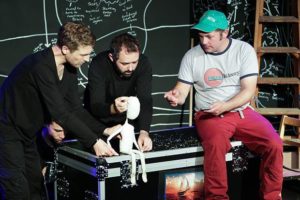 Puppet Showplace presents the Hijinx Theatre of Wales production of Meet Fred at the Boston Center for the Arts (BCA), Plaza Theatre, 539 Tremont St. in Boston's South End. Revealed at the 2016 Edinburgh Fringe Festival, this darkly comedic show, created by one of the world's leading inclusive theater companies, is a biting satire of the bureaucratic and social hurdles commonly faced by people with disabilities. Fred is a lovable puppet with an authentic British accent who just wants to get a job, meet a girl, and live a normal life like everyone else. Too bad the world wasn't built with Fred in mind. When a trip to the Unemployment Office goes awry, things begin to spiral out of control. Will Fred have to fire one of his puppeteers? Will he meet an untimely end? Is there really no one out there who can help!?! Fred is a table-top style puppet, skillfully animated by a team of 3 actor/puppeteers. The show explores the many parallels between the life of a puppet and the lives of the artists with disabilities who were part of the devising process. The interdependence that exists between Fred and his puppeteers mirrors the situation that many people who utilize social benefits and support services face in their everyday lives. The show walks a masterful line between witty entertainment and moving social commentary. Audiences around the world have fallen in love with the irascible Fred and his team of puppeteers. The show provokes laughter, rage, and empathy. Hijinx guarantees that one will never look at disability the same way again.Based in Cardiff, Wales, Hijinx has hit a nerve with Meet Fred, which received the Best Ensemble nod at the 2017 Wales Theatre Awards, prompting an in-demand touring schedule throughout Europe and into China. Now audiences across the pond will also have the opportunity to engage with Fred. The UK's totaltheatre.org.uk declared that "Fred's time has come," that Meet Fred is a must see "for humans and puppets everywhere." [Parental advisory: some material in Meet Fred may be inappropriate for children under 13. Contains strong language.] Tickets for this "… terrifically funny no-holds barred subversive satire"(Edinburgh Guide) may be obtained at www.BostonTheatreScene.com
SEPT. 28 – OCT. 13: DELICATE PARTICLE LOGIC

Flat Earth Theatre presents at the The Mosesian Center for the Arts, 321 Arsenal St. in Watertown Jennifer Blackmer's tale that seamlessly blends art and science as she depicts the untold stories of nuclear fission, both real and rumor. Directed by Betsy S. Goldman, the story surrounds physicist Lise Meitner, the woman who was herald to have stolen the bomb from the Nazis. She became a human enigma when she fled battle-ravaged Germany directly into obscurity. The war long over, she visits with the painter Edith Hahn, wife of chemist Otto Hahn. The two women reminisce, open up old wounds, and dissect the teeming worlds of possibility. Tickets may be obtained at www.flatearththeatre.com
SEPT. 28 – OCT. 28: SHERLOCK'S LAST CASE

      The Huntington Theatre Company at the Huntington Avenue Theatre at 264 Huntington Ave. in Boston. One of the Huntington's favorite directors Maria Aitken ("Alfred Hitchcock's The 39 Steps" at the Huntington and on Broadway; and Huntington's "Bedroom Farce") returns to Boston to revive Charles Marowitz's surprising and twisty trip to Baker Street, where legendary detective Sherlock Holmes and sidekick Dr. Watson again attempt to solve a perfect crime. This time, however, Sherlock's work is complicated by a threat on his life and the crumbling of longtime alliances. Tickets for this exciting show may be purchased at www.huntingtontheatre.org
THROUGH SEPT. 30: HANG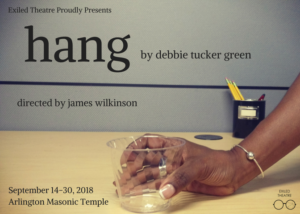 Exiled Theatre presents this New England Premiere by Debbie Tucker Green at the Arlington Masonic Temple, 19 Academy St. in Arlington. Directed by James Wilkinson, this poetic and darkly humorous take on suffering and human connection was first performed at the Royal Court Theatre in London in 2015 and surrounds an unnamed woman who is taken to an empty room in a government agency. Several years earlier she and her family experienced a shattering tragedy from which they have yet to recover. Now she has been brought in to answer a question that will have far reaching consequences as the pile-up of bureaucratic language begins to suffocate her and force her to fight for the right to be heard. The production features Angela Gunn, Angele Maraj and Imani Powell. Tickets to the show can be purchased online at www.exiledtheatre.com
THROUGH SEPT. 30: STRAIGHT WHITE MEN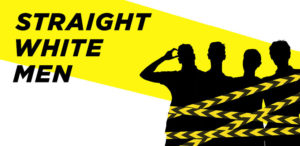 The New Repertory Theatre at the Mosessian Center for the Arts at 321Arsenal St. in Watertown opens their season with Young Jean Lee's biting comedy. Directed by Elaine Vaan Hogue, the story surrounds Ed and his sons as they are celebrating the holidays in their traditional style. As Jake and Drew sit around eating Chinese takeout, playing games, and pranking each other, it quickly becomes apparent that something is wrong with their brother Matt. A searing satirical comedy that fearlessly examines identity and privilege and throws into question the value of being straight white men. Tickets may be obtained at www.newrep.org
OCT. 4 – NOV. 4: PRIDE AND PREJUDICE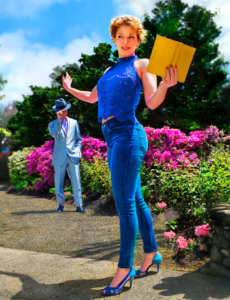 Trinity Repertory Theatre, located at 201 Washington St. in Providence, Rhode Island presents this clever Adaptation by Kate Hamill of Jane Austen's classic novel. In this thoroughly hilarious romance we follow the traditional treasured and ever so iconic, "will they or won't they" romance between Elizabeth Bennett and Mr. Darcy. Iin this effervescent and new comedic adaptation, directed by Birgitta Victorson, the play is infused with fresh vitality and hilarity. Mrs. Bennett is determined to find suitable husbands for her daughters, but can't quite get fiercely independent Elizabeth on board with her plans– at least not when it comes to the impossibly arrogant Mr. Darcy. At once both warmly familiar and surprisingly funny, the Bennett family's shenanigans have never felt so modern. Tickets may be obtained at www.trinityrep.com
OCT. 4 – NOV. 4: FRANKENSTEIN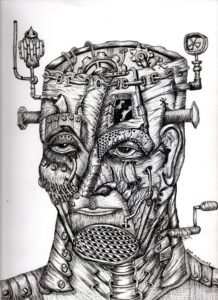 The Nora Theater Company and the Underground Railway Theatre presents this Catalyst Collaborative@MIT Production at the Central Square Theater,, 450 Massachusetts Ave. in Cambridge. Directed by David R. Gammons, this production was adapted by Nick Dear from the original novel by Mary Shelley. The story takes place in 18th century, Europe. Doctor Victor Frankenstein's creation – the Creature – is filled with childlike innocence, yet is cast out into society by his horror-struck creator. As he learns to survive and master the highest of human skills, he searches for his creator to make a deal. Commemorating the 200th anniversary of Mary Shelley's classic Gothic tale that created the science fiction genre, Frankenstein brings urgent concerns about scientific responsibility and the nature of good and evil. Tickets may be obtained at www.centralsquaretheater.org
  THROUGH OCT. 6: VICUNA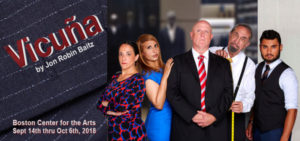 The IRNE award-winning Zeitgeist Stage Company opens their 18th and, sadly final season at the Plaza Black Box Theater in the Boston Center for the Arts at 539 Tremont St. in Boston's South End with this New England premiere by Jon Robin Baitz. In Vicuña, a tailor to the wealthy, powerful, and famous struggles to serve a very unusual client: a blustering real-estate tycoon and reality TV star who — to everyone's surprise — becomes a major party's nominee for president. As the election spins out of control, the Middle Eastern tailor and his Muslim apprentice are forced to examine their roles as confidants and image-makers for the candidate…and whether the right suit would really have the power to clinch the presidency. Tickets are available at www.BostonTheatreScene.com
THROUGH OCT. 7: THE NICETIES

      The Huntington Theatre Company at the Calderwood Pavilion in the Boston Center for the Arts at 539 Tremont St. in Boston's South End opens this season with the explosive new play by Brookline-born playwright Eleanor Burgess. The Huntington has encouraged Burgess for a few years, providing her first theater experiences as a Brookline H.S. student, and later naming her a Huntington Theatre Playwriting Fellow. THE NICETIES, set in spring 2016 when the characters in the play are beginning to sense the profound change that would come to the country with the 2016 presidential election, is a two-hander about black student Zoe and white professor Janine. Both are brilliant, both liberal but when they meet to discuss Zoe's term paper about the impact of slavery on the American Revolution, their academic debate about the merit and research of Zoe's work devolves from a war of words, into an incident that foments campus furor, garners national headlines, and threatens to ruin both their lives. It was developed in large part during Burgess' fellowship. States Artistic Director Peter DuBois, "Eleanor has created a work that does what the finest, best-written plays do – it demands engagement from an audience and practically compels them to talk about it afterwards." "Seeing this in the Wimberly is going to up the stakes for audiences and actors alike; I expect a crackling energy will be built at every single performance." Workshop showings of the play have been tense, sparking conversations about race, history and what's the truth behind what we teach? Directed by Kimberly Senior (DISGRACED on Broadway) tickets may be purchased at www.huntingtontheatre.org
THROUGH  OCT. 7: BEING EARNEST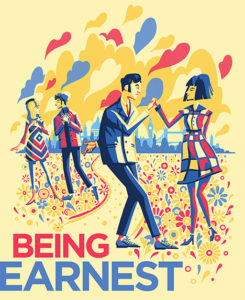 Multiple IRNE Award-winner as well as an Elliot Norton Award-recipient, director and choreographer, Ilyse Robbins, is proving herself to be the "King",.or should I more correctly say, "Queen Midas" of the theater with her creatively golden touch. Everything Ms. Robbins seems to lend her hand to turns out to be a shining success… and Greater Boston Stage at 395 Main St in Stoneham presentation of this delightful New Musical is no exception. With her uncanny ability to choose the perfect cast, and to recognize pitch perfect vocalists who also posses excellent acting abilities, the result is pure entertainment. Inspired by Oscar Wilde's classic comedy, The Importance of Being Earnest, five time Tony nominee, Paul Gordon has brilliantly adapted Wilde's original work, propelling it into the 1960's era, without compromising Wilde's notoriously clever dialogue. Gordon, along with Grammy and Emmy-nominated composer, Jay Gruska, have composed a wonderful mixed score of witty ballads, rock and 60's psychedelic songs with crisp, pertinent and very funny lyrics also by Gordon.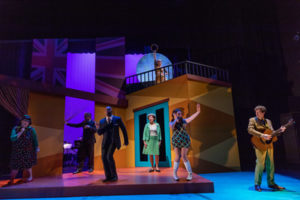 Cast: Photo credit: Nile Scott Studios  This East Coast Premiere boasts a fabulous, geometric and colorful set design by Nick Oberstein that takes the audience from London in a Carnaby Street flat to a garden in a country estate and also into the interior of the same. In 1965, times are changing fast. The sounds and colors are psychedelic and the skirts are getting shorter while the hair is growing longer, but it is still holds to Wilde's wild romantic comedy of mistaken identities.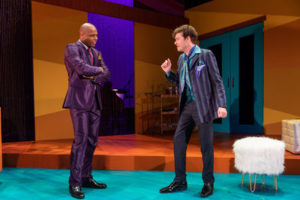 John (Jack)/ Earnest Worthing (Dave Heard*)Algernon Moncrieff (Michael Jennings Mahoney*)Photo credit: Nile Scott Studios The story opens in the London flat of Algernon Moncrieff (Michael Jennings Mahoney*), a ne'er-do-well and retrobate but on the society register. He is speaking with John (Jack) Worthing (Dave Heard*), who tells everyone his name is Earnest. He wants to marry Algernon's cousin, Gwendolen Fairfax (Sarah Coombs), who is madly in love with Jack because she thinks his name is Earnest.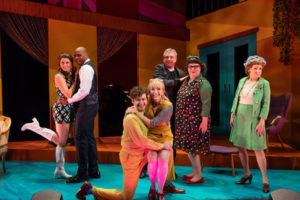 Cast: Photo credit/ Nile Scott Studios But her snooty mother, Lady Bracknell (Beth Gotha*) refuses to give her blessing when she finds out that Earnest, actually Jack, despite being wealthy does not know the origin of his family as he was foundling, discovered in a hand bag in a Kensington train station. Meanwhile, Cecily Cardew (Ephie Aardema*), Jack's 20 year old ward who resides in the country manor longs to shed herself of her tutor, Miss Prism (Kerry A. Dowling*) and enjoy "Bad Behavior" which happens when Algernon goes to the country house and pretends to be Jack's evil brother Earnest, that allegedly lives in London. The two, of course, fall in love.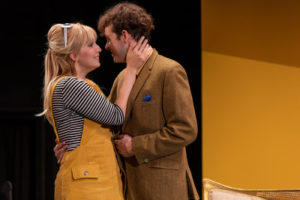 Ephie Aardema (Cecily), Michael Jennings Mahoney (Algernon): Photo credit: Nile Scott Studios And through all this mayhem is Lane, the London Butler; Rev. Chasuble, the country vicar; and Merriman, the country house man servant who are interchangeably performed by one of Boston's prominent actors, Will McGarrahan*. This production had it's World Premier at TheatreWorks in April of 2013, and offers an engaging choreographic mashup of The Freddie, The Frug, The Hitch-Hike, The Loco-motion, The Mashed Potato, The Shimmy, The Swim, and of course The Twist. At the opening of the 2nd act, it sported a blatant but very fun hint of Rowan & Martin's Laugh Inn…spotlighting cast members who would each respond with some of Wilde's clever, famous lines. Tickets for this bubbly bright, sparkling colorful, and joyously entertaining show may be obtained at  www.greaterbostonstage.org
THROUGH OCT. 7: HAMNET
    This is a remarkably entertaining and totally unique blend of great performance by child actor Ollie West, who was nominated for Best Actor Award by The Irish Times Theatre Awards, and the marvels of technological use in theater today.  It often seems like a magic act as the young Hamnet reaches across time, space and death to connect with the father he never knew.  ArtsEmerson brings Ireland's Dead Center to their stage at the Emerson Paramount Center in the Robert J. Orchard Stage at 559 Washington St. in Boston. William Shakespeare had one son…Hamnet. While William was away working in London, Hamnet died at 11 years old without ever knowing his famous father. How do our dreams impact our families? Do adults really have it all figured out? Or are we blind to what we could have done better until it's too late?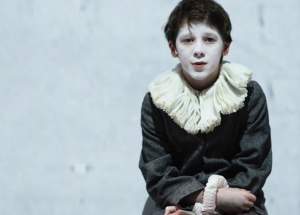 Ollie West as Hamnet In this tour-de-force performance, Hamnet confronts his father, Shakespeare, with what it means—and what it costs—to be great, and how living in the shadow of that greatness can keep one in the dark. In this moving, meticulous, multimedia wonder, ambition clashes with family responsibilities in a way that rivals the stakes of a great Shakespearean tragedy. "This fascinating production takes us into a child's view of the world, without any sentimentality,"stated The Guardian. Hamnet! received 5 Nominations that include Best Production, Best New Play, Best Director, Best Actor, and Best Set Design…at The Irish Times Theatre Awards. Tickets for this wonderfully fulfilling theatrical experience may be obtained at www.artsemerson.org
THROUGH OCT. 7: THE KISS OF THE SPIDERWOMAN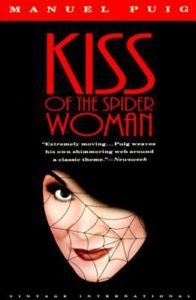 No one needs to be afraid of this "Spider Woman"!  In the artful hands of multi-IRNE-Award winning Director and Choreographer, Rachel Bertone, along with the Music Direction of multi-IRNE-Award-Winner,  Don Rodriguez, coupled with Scenic Designs by multi-IRNE-Award-Winner, Janie E. Howland, plus Costume Designs by IRNE Award-Winnng Marion Bertone and Lighting Designs by IRNE Award-Winnng Franklin Meissner, Jr., the Lyric Stage of Boston's production of the Tony® Award winner for Best Musical, Best Book of a Musical, and Best Original Score, is sheer entertainment perfection! Located at 140 Clarendon St in Boston, Lyrics season opener is based on the novel by Manuel Puig. It tells the story of two diverse cellmates struggling to survive in a corrupt and violent South American prison.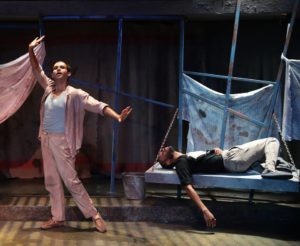 Molina (brilliantly performed by Eddy Cavazos) is an unabashed homosexual serving eight years for deviant behavior. To escape the insanity and horrors of prison life, he creates a fantasy world of repeated visions connected with his childhood memories of numerous 1940's films, starring 'Aurora', who he idolizes. But he is haunted by one frightening role Aurora played. That of a Spider Woman whose kiss means certain death.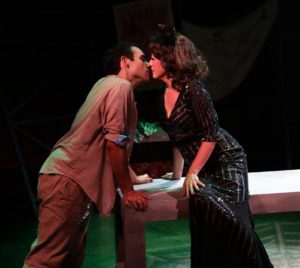 Lisa Yuen* portrays Aurora as well as the deadly Spider Woman.
Valentin (performed with equally stunning strength by Taavon Gamble*) is a tough Argentine revolutionary who undergoes repeated torture and longs for his love, Marta. Originally at intensely biased odds, this unlikely pair begin to bond in surprising ways. To support Valentin through some of his worst tortures, Molina begins sharing his movies. Thus Valentin becomes absorbed in similar fantasies. With book by Terrence McNally (Ragtime), the score by John Kander and lyrics by Fred Ebb (Chicago, Cabaret) is exquisitely rich and soulfully satisfying. The ensemble is spot on with their singing as well as some clever dancing. Special kudos should be made to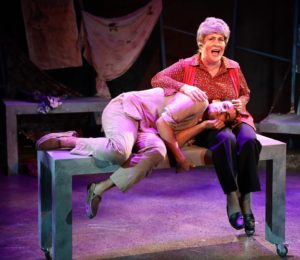 Johanna Carlisle-Zepeda*, as Molina's mother. She produced some wonderfully powerful vocals. Kiss of the Spider Woman revamps a harrowing tale of persecution into a dazzling spectacle that juxtaposes gritty realities with liberating fantasies. Tickets are available at www.lyricstage.com
THROUGH OCT. 7: NATIVE GARDENS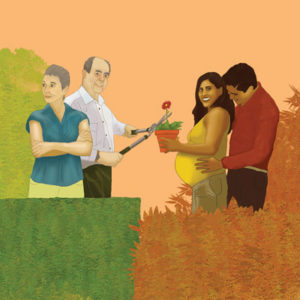 The Merrimack RepertoryTheatre at 50 East Merrimack Street in Lowell present Karen Zacarías' topical new comedy where good fences make good neighbors…or so these two couples thought. Directed by Giovanna Sardelli and featuring Navida Stein, Joel Colodner, Vivia Font, Gabriel Marin, Zach Gonzalez, and Jeomil Tovar, the story surrounds a millennial, Latinx couple who move in next door to a white, baby boomer couple. After some good-natured ribbing over gardening styles––traditional designs versus the Eco-friendlier native plants––the couples find themselves at odds over an unexpected property line dispute.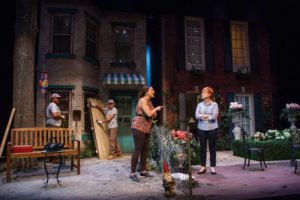 A dispute that explodes into a host of verbal jabs and blows over race, culture, privilege, and the meaning of neighborly behavior. Julia Brothers (Silent Sky) and Joel Colodner (A Christmas Carol) return to the MRT stage for this play that DC Theatre Scene called a "true breath of comic fresh air…a biting, perceptive, and ultimately hopeful send-up to our fraught relationships with those around us." For tickets visit www.mrt.org
OCT. 11 – 27: ALL MY SONS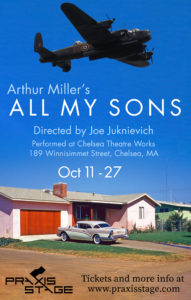 Praxis Stage at the Chelsea Theatre Works 189 Winnisimmet Street in Chelsea presents Arthur Miller's 1947 classic American drama. Directed by Joe Juknievich, the play surround Joe and Kathy who had two sons, Chris and Larry. Both sons went off to fight in World War II, but only Chris came back. Larry is listed as missing in action and still, after three years, Kate hangs onto the belief that Larry is still alive. Chris and Larry's fiancée, Ann Deever, have fallen in love. The couple are worried about getting Kate's blessing, because Kate still sees Ann as Larry's bride to be, but, also because Ann's Father Steve and Joe were involved in a scandal that resulted in Ann's father going to prison but not Joe. When Ann's brother George hears of the engagement he also turns against the couple. As more secrets are revealed this family begins to unravel. The cast consists of Robin Abrahams, Daniel Boudreau, Dominic Carter, Ryker Christensen, Scot Colford, Lucas Commons-Miller, Kayleigh Kane, Lorna Lowe, Sharon Mason and Casey Preston. Tickets for this brilliant piece of theater may be obtained at www.praxisstage.com
OCT. 11 – 21: THE TRAGIC ECSTASY OF GIRLHOOD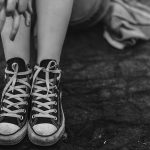 Boston Playwrights' Theatre at 949 Commonwealth Avenue in Boston presents Kira Rockwell's wise and discerning exploration of young women facing an all-too-common crisis. Directed by Leila Ghaemi the story follows five teenage girls in a Texas residential care facility that are not only forced to raise themselves in the shadow of the System, each must individually combat their grief in five different ways after the suicide of their housemate, Amber. This play is a BU New Play Initiative production that is produced by Boston Playwrights' Theatre and the Boston University College of Fine Arts School of Theatre. For tickets visit www.bostonplaywrights.org
OCT. 12 – 28: THE PECULIAR PATRIOT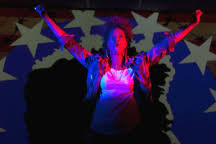 Arts Emerson presents at the Emerson Paramount Center's Jackie Liebergott Black Box Theatre at 559 Washington Street in Boston. Inspired by her decades-long work with prison populations, including those on the notorious Riker's Island, Liza Jessie Peterson's timely and urgent one-person show unpacks the human impact of mass incarceration in America. While being fearlessly funny, smart and provocative, The Peculiar Patriot traces the migration of systemic injustice from the plantation to the prison yard. Betsy LaQuanda Ross, Liza's narrator, is a self-proclaimed "peculiar patriot," who makes regular visits to penitentiaries to boost the morale of her incarcerated friends and family. Betsy is both victim and victor of this country's prison system and her story turns statistics into achingly relatable stories that have been drawn from the experience of more than 2.5 million people behind bars. Tickets may be obtained at www.artemerson.org
OCT. 13 ( 5pm and 8pm): BROADWAY @ THE HUNTINGTON// CHITA RIVERA with SETH RUDETSKY

The Huntington's Calderwood Pavilion at the Boston Center for the Arts / 527 Tremont Street presents 10 time Tony Award nominee and three-time Tony Award-winning actress, singer, and dancer Chita Rivera alongside music director and host Seth Rudetsky at the Calderwood Pavilion at the BCA. Produced by Mark Cortale Productions, the performance is the first in the new "Broadway @ the Huntington" series. The show is an unscripted mixture of music and intimate, behind-the-scenes tales of Ms. Rivera's career, prompted by questions from Mr. Rudetsky, who hosts "Seth's Big Fat Broadway" and "Seth Speaks" on Sirius/XM Satellite Radio's "On Broadway" channel. Ms. Rivera will perform hits from her vast musical theatre repertoire, which includes originating the roles of Anita in West Side Story (1957), Rose Grant in Bye Bye Birdie (1960), and Velma Kelly in Chicago (1975). She also has appeared in Broadway productions of Can-Can (1953), Bajour (1964), Merlin (1983), Jerry's Girls (1985), and Nine (2003), plus her autobiographical show, The Dancer's Life (2005). She most recently originated the role of Claire and was nominated for a Tony Award in the Kander-Ebb-McNally musical The Visit, which premiered on Broadway in 2015. Ms. Rivera also received the Lifetime Achievement Tony Award in 2018 and the Presidential Medal of Freedom from President Barack Obama in 2009. Mr. Rudetsky is an author of two novels (My Awesome/Awful Popularity Plan and the sequel The Rise and Fall of a Theater Geek) and three volumes of Seth's Broadway Diary. He co-wrote and co-starred in the musical-comedy spoof Disaster! on Broadway and in London's West End. He co-produced an all-star recording of "What the World Needs Now," which went to #1 on iTunes and raised $100,000 for victims of the Orlando Pulse nightclub shooting. "I'm delighted to welcome Chita Rivera, a true Broadway legend, to the Huntington," says Artistic Director Peter DuBois. "Her career spans the modern Broadway history, and she has created so many iconic roles in the musical canon. This show is a once-in-a-lifetime chance to hear theatre history from a woman who, quite literally, helped make it." Tickets may be obtained online at www.huntingtontheatre.org
OCT. 13 (3:30 & 7:30 pm): ONE FLEW OVER THE CUCKOO'S NEST

Theater UnCorked presents a Benefit Staged Reading of this classic play at Margaret Jewitt Hall, 11 Garden Street, in Cambridge. Directed by IRNE and Eliot Norton Award Winner Bobbie Steinbach and Produced by IRNE Award Winner Shana Dirik, the reading of Dale Wasserman's Tony Award-winning comic drama based on the novel by Ken Kesey will take audiences on an emotional roller coaster inside a mid-century mental institution as a roguish new inmate changes the lives of patients and staff while he is caught in a war of wills with the ward's nurse. The high stakes game of cat-and-mouse soon affects all of the ward's patients and leads to a showdown of shocking proportions. "Cuckoo's Nest is a truly challenging project, one that I'm thrilled to be taking on as Theater UnCorked's second outing," said Producing Artistic Director Shana Dirik. "The play tackles difficult social issues and iconic characters that are struggling with emotional turmoil, making it a powerful and meaningful piece of theater. The show's central focus on rebelliousness and anarchy in the face of oppression is especially relevant, as are issues surrounding care of the mentally ill. I look forward to collaborating with Bobbie Steinbach to bring to life both the humor and the pathos of these intricately written characters." Cuckoo's Nest will be lead by an all-female production team. "One Flew Over the Cuckoo's Nest" is presented by special arrangement with SAMUEL FRENCH, INC. Tickets can be purchased online at www.ticketstage.com
THROUGH OCT. 13: BETWEEN RIVERSIDE AND CRAZY  

  This production personifies everything that makes theater worth seeing. First class actors who believably become the characters they are portraying; meaningful dialogue that is frequently very funny yet stripped down honest and human; and a story style that artfully, subtly and seductively draws you into a multi layered plot that does not allow for a single moment of predictability . Speakeasy Stage in the Caderwood Pavilion at the Boston Center for the Arts, Tremont St. in Boston's South End presentation of playwright, screen writer and actor, Stephen Adly Guirgis' 2015 Pulitzer Prize-winning Drama is absolutely brilliant!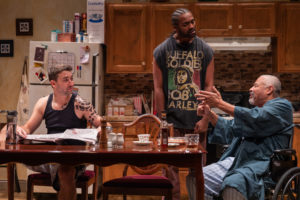 Alejandro Simoes, Stewart Evan Smith and Tyrees Allen: Photo Credit…Nile Scott Studios
Directed by Tiffany Nichole Greenen, it is a dark urban comedy that explores, with street-smart wit and disarming tenderness, the complex and political nature of justice, the tenaciousness of the ego, along with the grit it takes to move on. The story surrounds, "Pops" Washington (Tyrees Allen*), recently widowed and a retired NYC cop. Eight years prior, while off duty, he was shot by a white cop in what is being argued a racially motivated incident. He has since been engaged in holding out for a hefty settlement to compensate for his injuries. He precariously resides in one of Manhattan's last great rent-stabilized apartments where he allows a cast of outlandish characters to also live.Included is his son, Junior (Stewart Evan Smith) , who has a prison history and may be fencing stolen goods out of the apartment. Junior is joined by his outrageously witless girl friend Lulu (Octavia Chavez-Richmond) who allegedly is going to school and now states she is pregnant. Also, there is the ex-con and recovering drug addict, Oswaldo (Alejandro Simoes) who expresses an almost child-like fondness for "Pops"…calling him Dad. Each simple soul demonstrates multiple contradictions in their personas.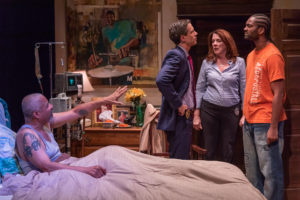 Tyrees Allen, Lewis D. Wheeler, Maureen Keiller and Stewart Evan Smith: Photo Credit…Nile Scott Studios When "Pop's" negotiations with the city begin to falter, introduced into the plot are Detective O' Connor (Maureen Keiller), "Pop's" former partner and her fiance, Lieutenant Caro (Lewis D. Wheeler* whose layered intentions begin to be revealed.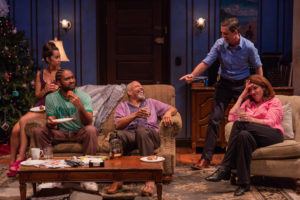 Octavia Chavez-Richmond, Stewart Evan Smith, Tyrees Allen, Lewis D. Wheeler and Maureen Keiller: Photo Credit…Nile Scott Studios Adding to the unpredictable complexities of life, the Church Lady (Celeste Olivia*) arrives to deliver Communion.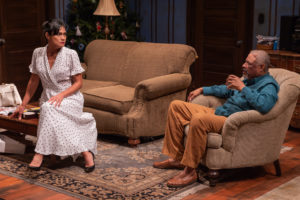 Celeste Oliva and Tyrees Allen: Photo Credit…Nile Scott Studios But, surprisingly delivers a whole lot more. Set in a fabulously complex and very real three room scenic design by Eric D. Diaz**, this show provides a rich theatrical and most extraordinarily enjoyable night at the theater. Tickets may be purchased at www.speakeasystage.com
OCT. 13 – NOV. 4: WE WILL NOT BE SILENT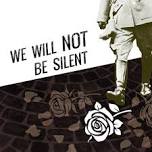 The New Repertory Theatre located at 321 Arsenal St. in the Mosesian Center for the Arts in Watertown presents David Meyers' provocative and timely new work that examines the role of ordinary people in extraordinary times. Directed by Jim Petosa, the story is based on true events. Risking everything to stand up for social justice, German college student Sophie Scholl courageously led the only major act of civil disobedience against Hitler and his fascist regime. Scholl's moral strength is tested while being interrogated for her crimes, leading her to question whether to save her own life or continue her righteous crusade. The cast features Sarah Oakes Muirhead* as Sophie Scholl, Conor Proft* as Hans Scholl and Tim Spears* as Kurt Grunwald. (* indicates member of Actors' Equity Association, the union of professional Actors and Stage Managers in the United States) Tickets may be obtained at www.newrep.org
OCT 17 – 28: THE PECULIAR PATRIOT

ArtsEmerson, at the Emerson Paramount Center in the Jackie Liebergott Black Box at 559 Washington St. in Boston presents this 90 minute, fearlessky clever and provocatively funny show. The Peculiar Patriot traces the migration of systemic injustice from the plantation to the prison yard by  s following Liza Jessie Peterson's narrator, "Betsy", who is both victim and victor of this country's prison system. Her story turns statistics into achingly relatable stories, drawn from the experience of more than 2.5 million people behind bars.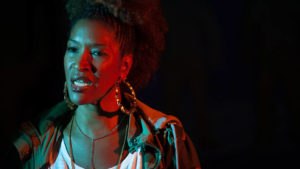 Ms. Peterson, who has taught kids at Rikers Island and was featured in Ava DuVernay's documentary 13th, plays the title character, LaQuanda Ross—nicknamed Betsy for her quilting. We accompany Betsy on a series of visits to see her friend Jo in prison. As Betsy sits in scenic designer, Maruti Evans's exquisite set which represents a surreal visitors' center at a correctional facility, the back wall flickers with Katherine Freer's black-and-white projections of Betsy riding a bus upstate or submitting to a search. She chats busily about friends that she and Jo have in common, sometimes describing her own two love interests, one, a man steeped in political action and the other just waking to his poetic nature. Through this production, Peterson illuminates what life in the U.S. is like now that mass incarceration has so handily disenfranchised some and enriched others. She offers facts and figures about the (real) trend of jails shifting towards video "visits." The production results in an intense takeaway of the sense of suffering that is built into this violent, malfunctioning, justice machine. For tickets to this rich, sweet and at times, surprisingly funny production, visit www.artsemerson.org
OCT. 17 – NOV. 11: MURDER FOR TWO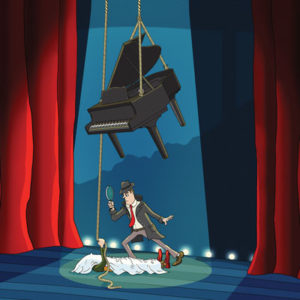 The Merrimack Repertory Theatre located in the Nancy L. Donahue Theatre, (In Liberty Hall, adjacent to the Lowell Memorial Auditorium) at 50 East Merrimack St. in Lowell presents this tale surrounding One murder…Two actors…. Six suspects…And one piano! Directed by JC Clementz with Book and Music by Joe Kinosian and Book and Lyrics by Kellen Blair, The New York Times called it an "ingenious miniature musical in the form of a snazzy vaudevillian double-act." Featuring co-writer Joe Kinosian, in the role he originated Off-Broadway, the story asks, who killed the great American novelist Arthur Whitney at his own surprise party? In this zany, whodunit, comedy musical, every guest has a motive. Was it the prima ballerina, the widow, the niece, the psychiatrist—or even the detective? Two actors play 13 roles—and the piano—in this entertaining homage to old-fashioned murder mysteries. Tickets may be purchased at www.mrt.org
OCT. 19 – NOV. 17: FUN HOME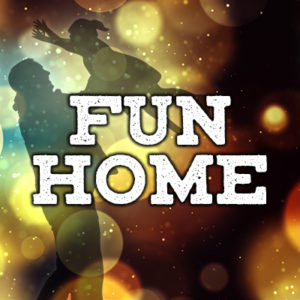 Speakeasy Stage Company at the Stanford Calderwood Pavilion in the Boston Center for the Arts, 539 Tremont St. in Boston's South End presents this winner of Five Tony Awards, including Best Musical! Directed by Paul Daigneault with Music Direction by Matthew Stern and Choreography by Sarah Crane, Fun Home is a heartbreaking and fiercely funny new show about seeing one's parents through grown-up eyes. Based on Alison Bechdel's best-selling memoir with Music by Jeanine Tesori and Book and Lyrics by Lisa Kron, this groundbreaking musical introduces us to Alison at three different ages, revealing memories that celebrate the curiosity of childhood and the complexities of family. Tickets for this memorable musical may be obtained at www.speakeasystage.com
OCT. 19 – NOV. 18:THE ROOMMATE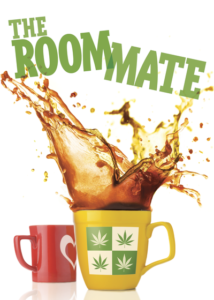 The Lyric Stage Company of Boston at 140 Clarendon Street presents Jen Silverman's subversive, absorbing comedy about what it takes to re-route your life – and then follows what happens when the wheels come off. Directed by Spiro Veloudos, the story surrounds Sharon, middle-aged and recently divorced, who needs a roommate to share her Iowa home. Robyn needs a place to hide and a chance to start over.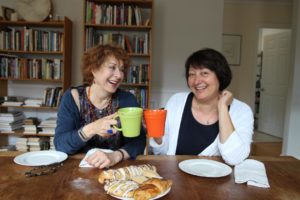 Paula Plum and Adrianne Krstansky  But as Sharon begins to uncover Robyn's secrets while sharing music, books, and an occasional toke, she discovers a deep-seated desire to transform her own life completely. "Deeply satisfying," stated the Boston Globe while Louisville.com commented, "Tugs at the heartstrings and tickles the funny bone." Tickets can be obtained at www.lyricstage.com
OCT. 23 – 28: ROCK OF AGES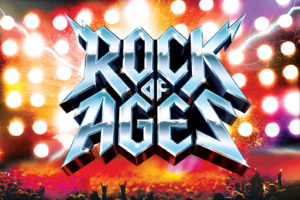 The Tenth Anniversary Tour comes to the stage of the Wang Theater (Boch Center) at 270 Tremont St. in Boston's Theater District. Rock of Ages is a jukebox musical that has been built around classic rock songs from the 1980s. It features music from Styx, Journey, Bon Jovi, Pat Benatar, Twisted Sister, Steve Perry, Poison and Europe, among other well-known rock bands. Set in 1987, the story surrounds an aspiring rocker named Drew Boley who works as a busboy in the Hollywood bar/club called the Bourbon Room. He falls in love with Sherrie Christian, who just arrived from Paola, Kansas, hoping to make it big in acting. A pair of German developers, decide to level the club owned by Dennis Dupree to introduce "clean living" into the area. Dennis calls rock star Stacee Jaxx and his band to play the band's last show in the club. But a protest arises to save the club and huge complexities ensue in everyone's life leaving the reality that "sometimes the dreams with which you enter are not always the dreams with which you leave, but they still rock". Tickets are on sale at www.bochcenter.org/buy/show-listing/rock-of-ages
OCT. 24 – 28: MEASURE FOR MEASURE

      ArtsEmerson presents at the Emerson Cutler Majestic Theatre at 219 Tremont St. in Boston's Theatre District Cheek by Jowl and the Pushkin Theatre presents this production of Shakespeare's political epic that collides with contemporary society, revealing truths of authority, love and justice. The stakes are high and the performances are mesmerizing as this theater company presents Shakespeare's tale in a ripped-from-the-headlines context that is as shocking as it is revelatory. Measure for Measure asks vital and unsettling questions about how we are governed and, in the process, unmasks the true nature of authority, love and justice. This production of Shakespeare's infamously complex play from London's Cheek by Jowl and Moscow's Pushkin Theatre has been hailed as, "a real thriller, piercing the heart of the entire audience''…and 'a shattering portrait of contemporary Russia' (Novaya Gazeta). Performed in Russian with English surtitles, this production is suggested for Ages 16+ as it includes depictions of violence and brief nudity. Tickets may be obtained at www.artsemerson.org
OCT. 25 (7:30): "BROTHER NAT: RISE. REVOLT. REDEMPTION"
  This concert is on stage at the Paramount Center, 559 Washington St. The Boston Foundation awarded a 2018 Live Arts Boston grant to support the development of this new theatrical work to Jabari Asim, Professor of Writing, Literature and Publishing at Emerson College. Directed by Liana Asim, "Brother Nat," is a NEW, sung-through musical/opera with Book/Lyrics by Jabari Asim and Liana Asim Music by Allyssa Jones Orchestrations and Music Direction by Damien Sneed. The production is inspired by Nat Turner's historic slave insurrection of 1831 in Southampton County, Virginia. Alongside Cora, his beloved wife, Nat toils, sweats and dreams of freedom until an Angel appears and issues a divine directive: Rise and revolt! Nat shares his encounter with his brethren. Finally the sign Nat has been waiting for arrives: a total eclipse of the sun. In the darkness, he gathers his warriors. Taking control of the plantation, Nat and his comrades spill the blood of their oppressors. Against all odds, Brother Nat dares to RISE above injustice, REVOLT against slavery and believe in the REDEMPTION of all humanity. For tickets go to www.emersonparamount.org
OCT. 25 – NOV. 11: THE SALONNIÉRES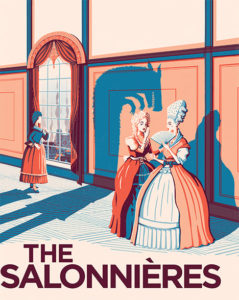 Greater Boston Stage at 395 Main St in Stoneham presents this World Premiere by Liz Duffy Adams through the Don Fulton New Play Project. Directed by Weylin Symes, the story surrounds Fairytales, Facades, and the French Feminist Revolution. Set In pre-Revolutionary Paris, a young girl is promised in marriage to a Duke to pay off her father's debts. She flees to the literary salon of her late mother's friends, aristocratic women who conceal radical politics within reinvented folk tales. Which of them is her fairy godmother, and which is the cruel stepmother? Is the Duke a Prince Charming or a Beast? And is the maid just a maid, or the hero of a story none of them knows they are in. Tickets may be obtained at www.greaterbostonstage.org
OCT. 26 – NOV. 4: NUNSENSE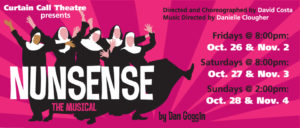 \ The Curtain Call Theatre at 182 Commercial Street in Braintree presents this winner of four Outer Critics Circle Awards, including Best Off Broadway Musical. Directed and Choreographed by David Costa, Nunsense begins when the Little Sisters of Hoboken discover that their cook, Sister Julia, Child of God, has accidentally poisoned 52 of the sisters, and they are in dire need of funds for the burials. The sisters decide that the best way to raise the money is to put on a variety show, so they take over the school auditorium. Come and enjoy this hysterically funny show that has become an international phenomenon! Tickets may be obtained at www.curtaincallbraintree.org/tickets.html
OCT. 26 – NOV. 11: GOONEY BIRD GREENE AND HER TRUE LIFE ADVENTURES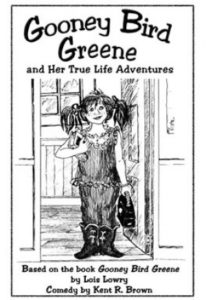 Wheelock Family Theatre, located at 180 Riverway in Boston, presents Kent R. Brown's fun play based on the book by Lois Lowry. Summer has come to a crashing halt in the little town of Watertower and kids don't want to be back in school. But, when the classroom door bursts open, there stands red-headed Gooney Bird Greene, wearing pajamas and cowboy boots. Sh announces her name and exclaims, " I like to be smack in the middle of everything!" The class is never the same again! Gooney Bird dresses and casts herself as the heroin in a series of improbable, outlandish stories. Are they true? Gooney Bird proudly proclaims, she only tells "absolutely true stories!" The production is filled with memorable characters, colorful details and lots of suspense that awakens the imagination. It is designed to encourage everyone that they can become heroes in their own true tales of discovery and adventure. For tickets visit www.wheelockfamilytheatre.org
OCT. 27 (6:30 pm): REAGLE'S GOLDEN GALA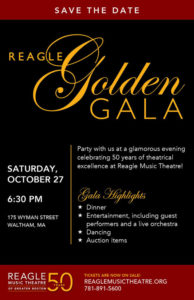 This glamorous evening, hosted at the Hobbs Brook Office Park, 175 Wyman St in Waltham, will celebrate 50 years of theatrical excellence by the Reagle Music Theatre of Greater Boston. The event features a sumptuous gourmet dinner, entertainment by some of Reagle's past stars, a surprise special guest star, a live auction and dancing to a 20 piece orchestra. For more information and to obtain tickets visit www.reaglemusictheatre.org
THROUGH OCT. 28: JERSEY BOYS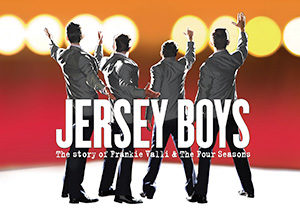 The Ogunquit Playhouse on Rte. 1 in Ogunquit Maine presents this Tony, Drama Desk and Grammy award-winning production that follows the incredible story of Frankie Valli and The Four Seasons. These four guys from the streets of New Jersey were bound by one dream as they worked their way to the heights of stardom. Their stellar career was created with incredible talent and secured by just a hand shake. Audiences around the world have gone wild over the electrifying performances of many of the golden great hits that took these hometown boys from Jersey all the way to the top of the charts. Tickets for this incredible show may be purchased online at www.ogunquitplayhouse.org
OCT. 30 – NOV. 11: HAIRSPRAY

North Shore Music Theatre at 62 Dunham Rd. in Beverly presents this delightful musical. Directed & Choreographed by Jeff Whiting with Music Direction by Milton Granger, the show is based on the New Line Cinema film, written and directed by John Waters with Book by Thomas Meehan & Mark O'Donnell, Music by Marc Shaiman and Lyrics by Marc Shaiman & Scott Wittman. HAIRSPRAY is piled bouffant-high with laughter, romance, and infectious musical numbers. Set in Baltimore, 1962, Tracy Turnblad is a big girl with big hair and an even bigger dream: to dance her way onto TV, and into the heart of teen idol Link Larkin. Tracy's audition makes her a local star and soon she is using her new-found fame to fight for integration. But can she win equality – and Link's heart – without denting her 'do? Featuring the hit songs "Welcome To The '60s," "You Can't Stop The Beat," "The Nicest Kids in Town," and many more. For tickets to this irresistible, feel-good show, toe tapping show visit www.nsmt.org
NOV. 1, 2; 5 & 6 (7:30 pm): MIDTERM SHAKE UP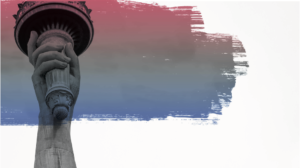 Bridge Repertory Theater opens their 6th season as the Resident Theater Company in The Multicultural Center at 41 Second Street in Cambridge with this night of Shakespeare's Iconic Political Scenes. As our deeply divided country hurtles toward another election, Shakespeare offers non-partisan breathing room and historical perspective on our modern civil strife. Marc Antony's "Friends, Romans, countrymen" headlines an intense lineup from a smattering of plays, all of which shine a light on the questions and forces shaping our time. Directed by Damon Krometis, the evening will feature Marc Antony's "Friends, Romans, countrymen" along with other stirring scenes. Tickets may be obtained at www.eventbrite.com/e/midterm-shake-up-a-night-of-shakespeares-iconic-political-scenes-tickets-49159941709
NOV. 2 – NOV. 17: PETER AND THE STAR CATCHER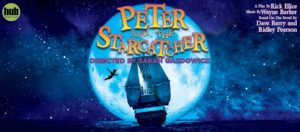 Hub Theatre Boston continues their 2018 season with this Tony Award-winning prequel to Peter Pan presented at the First Church in Boston, located at 66 Marlborough St. in Boston's Back Bay. Adapted from a book by Dave Barry and Ridley Pearson and directed by Sarah Gazdowicz, the tale starts well before the creation of Wendy, Tinkerbell, and The Lost Boys. It follows the story of a friendless. orphan boy who refused to ever grow up and a precocious young girl who taught everyone to believe. Their journey, filled with music, mermaids, mayhem, would change them both forever as well as generations that followed. An ensemble cast of twelve actors portraying over 100 roles employ inspired stagecraft that have the audience hooked from the moment this funny and fantastical tale takes flight. This production is recommended for the inner child that resides in all of us as well as children at least age 10+, as it invites the audience to be part of the adventure and embrace the endless possibilities of imagination, friendship and love. All tickets are Pay-What-You-Can! Tickets may be obtained at www.hubtheatreboston.org
THROUGH NOV. 18: HAMILTON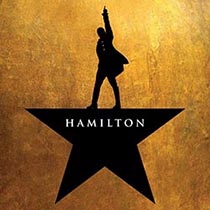 A history lesson has never been more exciting or palatable as it exudes all the enthusiasm and energy that represent what made this country a mecca for freedom. Perfectly presented for all ages (except maybe under 10) this brilliant and incredibly fun slice of Americana is the North American touring production of Tony Award-winning, Lin-Manuel Miranda's musical masterwork. It won the 2018 Broadway.com Audience Choice Award for Favorite Tour while the original 2016 Broadway production received a record-setting 16 Tony nominations, winning 11, including Best Musical. It also captured the 2016 Grammy Award for Best Musical Theater Album as well as, impressively, the 2016 Pulitzer Prize for Drama. Excitingly this incredible production is brought to Boston by Lexus Broadway In Boston and joyously staged at the Boston Opera House, 539 Washington St. Based on Ron Chernow's historical biography and directed by film and theatre director plus Tony Award recipient for Best Director, Thomas Kail, the production focuses the spotlight on one of America's Founding Fathers, Alexander Hamilton (Austin Scott).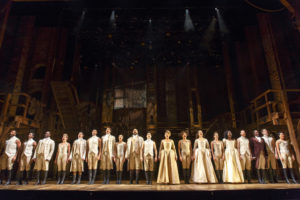 Cast: Photo by Joan Marcus A 19 year old immigrant from the West Indies, Hamilton fled storms and poverty to come to this country of economic potential. He quickly became drawn into the growing discontent with the continued British military occupation despite the July 4th, 1776 Declaration of Independence from England.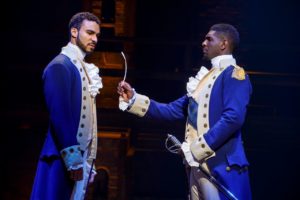 Austin Scott & Paul Oakley Stovall: photo by Joan Marcus     He rapidly rose through the ranks to become George Washington's(Paul Oakley Stovall)  right-hand man during the Revolutionary War and ultimately was the first Treasury Secretary of the new nation. But don't yawn yet…the musical reveals Hamilton's quick temper, love interests, family life, sex scandals, and the growing tension between the privileged and politically motivated, Aaron Burr along with Party discrepancies that include Thomas Jefferson, James Madison, and other noted individuals of the day.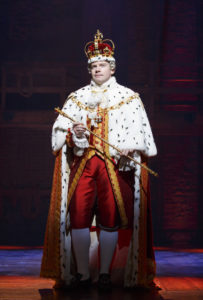 King George (Peter Matthew Smith):photo by Joan Marcus Not to be missed…although he missed ruling the Colonies…is the delightfully disgruntled King George (Peter Matthew Smith). The cast is a strong and powerful group of majorly talented singers and dancers that wow the audience with every number. The book, music and lyrics are by the remarkable Lin-Manuel Miranda…who also played the original role of Hamilton in the Broadway production. The choreography by Andy Blankenbuehler is visually stunning.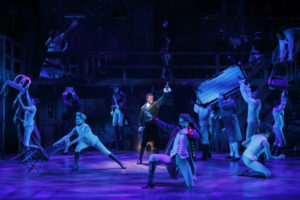 photo by Joan Marcus     As beautifully stated by dance critic, Sarah L. Kaufman, "Democracy in action has never looked cooler than in "Hamilton," in which the fighting strength of people who changed the world comes through in the tension and bravado of the choreography." The remarkable score runs the gamete of hip-hop, jazz, blues, rap, R&B, and Broadway style show stoppers. The scenic design by David Korins and costume designs by Paul Tazewell provide a continuity that readily thrusts the audience back into the late 1700's. Hamilton is the story of America then, as told by America now. Tickets for this musical that boldly lives up to its reputation as a "phenomena" are available at www.boston.broadway.com
EVERY SATURDAY: IMPROV BOSTON'S NEW ALL AGES SHOWS

ImprovBoston at 40 Prospect St. in Cambridge is New England's oldest and biggest comedy theater. It brings music improv masters and acts from around the world to Boston and provides shows 5 nights a week, that surround a variety of current events, holidays, etc. through Improvisation, sketches and standup comedy. Performers provide the newest, hippest topics and they are all Fast! Furious! and  Funny!  The shows are designed to make our professional comedians sweat hard and audiences laugh harder.  For a complete schedule and to obtain tickets to a numerous variety of  daring, athletic, immersive comedy shows  go to www.improvboston.com
ONGOING: BLUE MAN GROUP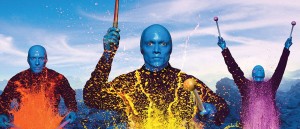 This show has become a global phenomenon! Funny, fun, extraordinary, eccentric…all rolled into one most memorable performance, This permanent, live performance is now installed in six cities as well as tours throughout the USA and Canada. It also has become a highly acclaimed show on Norwegian Cruise Line's Epic ship. The Charles Playhouse at 74 Warrenton St.in Boston's Theater District continues to pack in audiences, many repeaters, as it showcases three blue men, with the cleverest of ingenuity and technology, taking them on an exhilarating entertainment odyssey. This compilation of theater, music, art, science and hilarious humor is suitable for ages 7 to 100. For more information visit www.blueman.com/boston 
ONGOING: COMEDYSPORTZBOSTON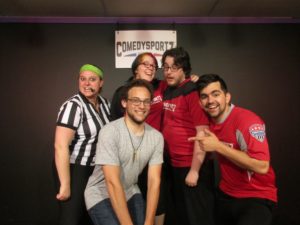 The Rozzie Theater at 5 Basile St. in Roslindale hosts this delightful and hysterically funny improvisational, all suggestion based comedy show. It is fun and suitable for all ages. Two teams of "Actletes" get suggestions from the audience, create scenes, songs and games on the spot while onstage, and compete for your laughs! A referee calls the fouls and the audience gets to participate in the play. It is a fast paced comedy show that's as clean as a game of tennis. It is played by members of the World Comedy League that have performed throughout the US and England since 1984. Its fun for a date, a group of friends and even the whole family, and easily repeatable as it is different every time. For more information go to www.comedysportzboston.com
ONGOING: SHEAR MADNESS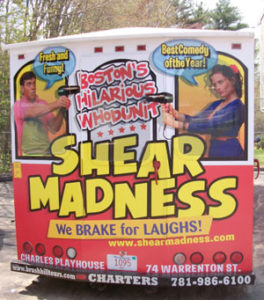 Now an international phenomena, this show has run non-stop for 35 years at The Charles Playhouse Stage II,74 Warrenton St. in Boston's Theater District. The original Boston company has given birth to 42 domestic productions across the country and has been translated into 10 foreign languages and performed on six continents. "Shear Madness" holds the title in the Guinness Book of World Records as the longest running play in US history and has been voted "Best Comedy of the Year" seven times by the Boston Globe, recognized as the "Best Play of the Year" by both the Chicago Sun-Times and the Philadelphia Enquirer, received the Raven Award from the Mystery Writers of America, and is the first play ever inducted into the Comedy Hall of Fame This unique comedy-whodunit takes place today in the "Shear Madness" hair-styling salon and is chock full of up-to-the-minute spontaneous humor. During the course of the action, a murder is committed and the audience gets to spot the clues, question the suspects, and solve the funniest mystery in the annals of crime. The outcome is never the same, which is why many audience members return again and again to the scene of the mayhem.  For tickets go to www.shearmadness.com