MAY 26 – JUNE 25: RIPCORD

  Huntington Theatre  Company presents at the Calderwood Pavilion located in the Boston Center for the Arts at 527 Tremont St. this deliciously inappropriate new comedy by Pulitzer Prize winner David Lindsay-Abaire (Good People). Directed by Jessica Stone, the story surrounds two senior aged women. When the cantankerous Abby is forced to share her room in assisted living with the endlessly chipper Marilyn, the two women make a seemingly harmless bet that quickly escalates into a dangerous and hilarious game of one-upmanship, revealing hidden truths , that neither wants exposed. States Artistic Director Peter DuBois, "With Ripcord, we welcome back two comedic geniuses to the Huntington: Boston-native David Lindsay-Abaire and Jessica Stone. David is among the greatest playwrights ever to come out of the City of Boston and the author of our recent smash-hit about Southie, Good People. Jessica Stone is a lauded actress and the director of Vanya and Sonia and Masha and Spike. With this kind of genius at work, it is no surprise that this play is laugh-out-loud funny with a truly moving underbelly. It's The Odd Couple with old women, nursing home shenanigans, and skydiving – what's not to love? " "Great fun and genuinely moving."— Time Out New York. Tickets are available at www.huntingtontheatre.org
THROUGH MAY 28: PEERLESS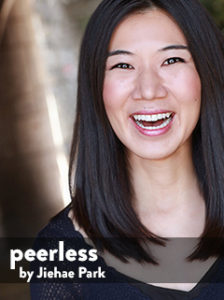 Company One joins with Boston's "All the City's A Stage" initiative presents Jiehae Park's Boston Premiere of her delightful black comedy. Staged in Rabb Hall at the Boston Public Library in Copley Square and directed by Stephen Bogart this story surrounds Twin high school seniors L and M. They are dead-set on attending not just an Ivy League school, but 'THE' Ivy League school. With their perfect SAT scores, perfect hair, and "perfect minority status," they think acceptance should be guaranteed. But, when a rival student emerges with a personal tragedy to make an admissions officer weep, the twins will do anything to knock them out of the competition. Does that include murder most foul? Heathers meets the Bard in this dark comedy, which sets one of Shakespeare's bloodiest plays against the backdrop of competitive college admissions. Tickets may be obtained at www.companyone.org/production/peerless/
MAY 30 – JUNE 4: MAMMA MIA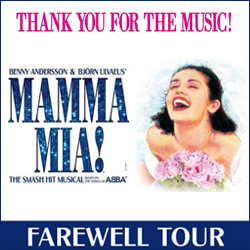 The Boston Opera House at 539 Washington St. hosts this ultimate feel-good party. The world's sunniest and most exhilarating smash-hit musical!Set on a Greek island paradise, a story of love, friendship and identity is cleverly told through the timeless songs of ABBA. Sophie's quest to discover the father she's never known brings her mother face to face with three men from her distant romantic past on the eve of a wedding they'll never forget.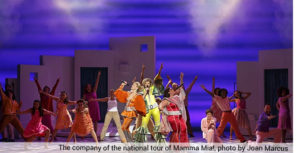 This irresistibly funny show has been thrilling audiences all around the world and now the party continues at the Palace Theatre Manchester, so there's never been a better time to see this unforgettable musical. Whatever age you are, you can't help but have the time of your life at Mamma Mia! Tickets arer available at www.BroadwayInBoston.com
MAY 30 – JUNE 11: HEDWIG AND THE ANGRY INCH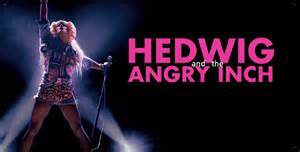 The Boch Center Shubert Theatre at 265 Tremont St. presents this brilliantly innovative, heartbreaking, and wickedly funny, landmark American musical by John Cameron Mitchell and Stephen Trask. Entertainment Weekly considered it to be "groundbreaking and undoubtedly ahead of its time". It is a genre-bending, fourth-wall-smashing musical sensation, with a pulsing score and electrifying performances, that tells the story of one of the most unique characters to ever hit the stage. It's about finding your other half while it is the story of the origin of love.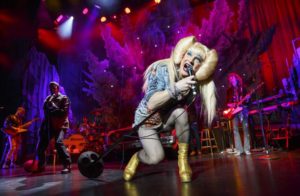 Euan Morton  Directed by Tony Award®-winner Michael Mayer (Spring Awakening; American Idiot), the production has garnered four 2014 Tony Awards® including Best Musical Revival, HEDWIG AND THE ANGRY INCH played to record-breaking sell-out crowds on Broadway. This production stars Tony and Olivier Award-nominee Euan Morton and Hannah Corneau, who marks her Broadway National Touring debut with the role of Yitzhak. Director Michael Mayer enthused, "Hannah is a force of nature, and I'm really excited to unleash her on the country."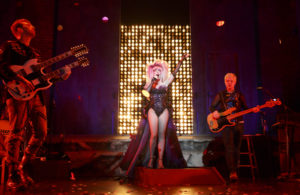 Hannah Corneau               The members of Hedwig's band, "The Angry Inch" — aka "Tits of Clay", are music director Justin Craig (guitar and keyboards), Matt Duncan (bass), Tim Mislock (guitar), and Peter Yanowitz (drums), all of whom originated their roles on Broadway and launched the National Tour in San Francisco. The show promises to take Boston by storm with what Time magazine proclaims is "the most exciting rock score written for the theatre since, oh, ever." Tickets may be obtained at www.bochcenter.org
JUNE 1 – 25: SONIA FLEW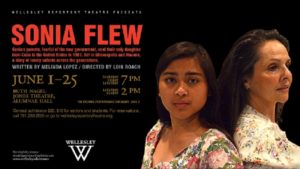 The Wellesley Repertory Theatre at the Ruth Nagel Jones Theatre at Wellesley College,
106 Central Street in Wellesley presents this play by by acclaimed playwright, actress, and Lecturer in Theatre Studies, Melinda Lopez. Directed by Lois Roach, Senior Lecturer in Theatre this story of Sonia, a Cuban refuge, whose parents, fearful of the new government, sent their only daughter from Cuba to the United States in 1961. The play is set in Minneapolis and Havana and unfolds across the generations as Sonia—now raising two children with her Jewish husband has created a home that embraces her traditions along with her husband's Jewish religion. However, after her son decides to join the army three months after 9/11, Sonia combats grief and feelings of abandonment through political forces that threaten her family. She must struggle to come to terms with her past, her lost parents, her own children, and her adopted country. Tickets may be obtained at www.welleslyrep.org.
JUNE 1 – JULY 2: THE MIDVALE FIFTIETH HIGH SCHOOL REUNION

The Nora Theatre Company at 450 Massachusetts Ave. in Cambridge's Central Square presents Alan Brody's (Operation Epsilon) romantic comedy about how we remember, how we choose and how we never stop looking for love. Directed by Lee Mikeska Gardner, it is Midvale High School's class of 1954's 50th reunion. Tom and Bettina – returning for the first time – are looking for second chances. As the evening revs up to the highly anticipated dance contest, they flash back to formative moments – but are those memories real? Emmy winning actor Gordon Clapp (NYPD Blue) and two time Elliott Norton award-winner as well as multiple Norton and IRNE nominee Debra Wise, star in this engaging production. They are joined by IRNE award-winning actor Matthew Zahnzinger and popular, local actress, Sarah Elizabeth Bedard. Tickets may be obtained at www.centralsquaretheater.org
JUNE 2 – 25: MILLION DOLLAR QUARTET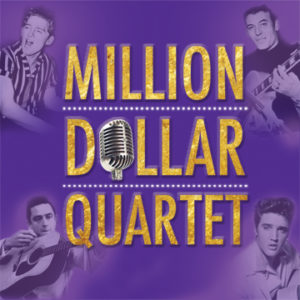 The Palace Theatre at 80 Hanover St. in Manchester, NH. presents this exciting and extraordinary production. How much would you pay to be a fly on the wall during the greatest jam session in history ? $10,000? $100,000? $1,000,000? Lucky for you, the price to see Johnny Cash, Jerry Lee Lewis, Carl Perkins, and Elvis Presley is as low as one Palace Theatre ticket! MILLION DOLLAR QUARTET tells the story of that electrifying night at Sun Records in Memphis when Sam Phillips, the "Father of Rock 'N Roll" gathered four legendary musicians in one room to make music and they ended up making history. Featuring a score of over 20 rock hits including "Blue Suede Shoes," "Fever," "Sixteen Tons," "Great Balls of Fire," "Walk the Line," "Hound Dog" and many more, the production is inspired by the true story of the famed recording session. For tickets visit www.PalaceTheatre.org
THROUGH JUNE 3: BRIDGES OF MADISON COUNTY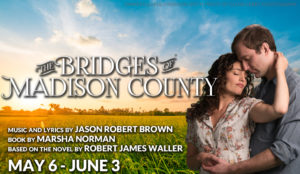 Speakeasy Stage's presentation of this classic, award-winning book, film and now Tony Award-winning musical is an exquisitely passionate tapestry of love and humanity. The stellar vocals and performance by award-winning actress Jennifer Ellis*… playing Franscesca, the Italian war bride raising a family in Iowa….opposite the well seasoned singer Christian Smith*….playing Robert Kinkaid, the National Geographic photographer, on assignment to film the covered bridges of Madison Count… bring to the stage an unsurpassed, elevated passion and resonant beauty enveloped in pure, magical chemistry.  The audience is readily swept along in this story of love at first sight that lasted a life time. On stage at the Stanford Calderwood Pavilion in the Boston Center for the Arts, 527 Tremont St. in Boston's South End, this fabulous and ever so poignant musical has been artfully directed by the award-winning M. Bevin O'Gara . It is a lush, lyrical musical by the Pulitzer- and Tony Award-winning team of Marsha Norman ('night, Mother) and Jason Robert Brown (The Last Five Years, Parade, Songs for a New World)..Supported by a talented ensemble of strong performers, such as Christopher Chew*, Will McGarrahan*, Rachel Belleman, and Kerry Dowling,*  who individually wowed the audience with some intense solos, they and others in the troupe sang and danced their way through a sense of Iowa community and family. The scenic design (Cameron Anderson**, lighting design (Annie Weigand) and projection design (Garrett Herzig) wrap the production up with a simplistic richness. Tickets for this exciting, not-to-be-missed production are available at www.speakeasystage.com
THROUGH JUNE 4: A MIDSUMMER NIGHT'S DREAM

Actors Shakespeare's Project presents at the Multicultural Arts Center in Cambridge William Shakespeare's delightful comedy. Directed by Patrick Swanson A Midsummer Night's Dream is one of Shakespeare's most popular plays. The story follows Dashed expectations force flummoxed lovers into the mystical wilderness where enchantment and confusion await, all for our gleeful benefit. "Let me play the lion too. I will roar that I will do any man's heart good to hear me." the journey of four young lovers as they find their way through the forest and to each other. But as Lysander says "the course of true love never did run smooth." Full of madcap chases and mistaken identities, the play is an exploration of the mystery and madness of love. Actors' Shakespeare Project is an award-winning professional theater company with a Resident Acting Company and extensive education, youth and community programs..Ticket may be obtained by visiting www.actorsshakespeareproject.org
JUNE 6 – JUNE 18: THE MUSIC MAN

The North Shore Music Theatre at 62 Dunham Rd. in Beverly kicks off the 2017 musical season with this timeless musical about the the fast-talking salesman, Harold Hill, who cons the good folks of River City, Iowa, into believing that he can teach their children to play in a marching band. Considered to be one of the most cherished American classics, the production is a slice of Americana. The unforgettable book, music, and lyrics by Meredith Willson is based on a story by Willson and Franklin Lacey and includes such great songs as TROUBLE • MY WHITE KNIGHT • SEVENTY-SIX TROMBONES • GOODNIGHT, MY SOMEONE • MARIAN THE LIBRARIAN • TILL THERE WAS YOU •SHIPOOPI and GOODNIGHT, LADIES. Tickets for this musical for the entire family may be purchased at www.nsmt.org
JUNE 7 (7:30 pm): PANTS ROLE NATION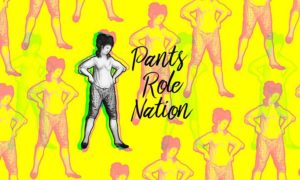 The stage of The Rockwell at 255 Elm Street in Davis Square, Somerville is the site for Simple Machine and Maiden Phoenix Theatre Company's presentation of this ovaries-to-the-wall Variety-Show Fundraiser. The definition of "Pants Role" (a noun) is a role in which an actress appears in male clothing, doing a better job than a man could, and frickin' killing it, being the boss, and showing off her legs while she's at it. The evening will feature Boston's finest leading ladies as they offer up songs, scenes, and speeches originally written for men. The event is to support this fall's production of OR, by Liz Duffy Adams. OR is about one riotous night in the life of Aphra Behn: poet, spy, and England's first professional female playwright. Performers for the evenings event include Leigh Barrett, Anne Gottlieb, Christine Hamel, Maureen Keiller, singer-songwriter Jennifer Greer, and many more. The entertainment will be hosted by Maiden Phoenix's own Alyce Householter and Margaret H. Willison, writer, social media bon vivant, and regular 4th chair on NPR's Pop Culture Happy Hour. Besides the performances, there will be games, raffles, and plenty of drinks. Attendees can bring a donation of feminine hygiene products for chances at additional prizes. All boxed feminine hygiene products will benefit Distributing Dignity. The show is 21 plus. Tickets are just $15. For more information, visit www.pantsrolenation.com.
JUNE 7 – JULY 23: WICKED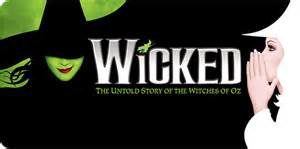 This Broadway sensation returns to the Boston Opera House at 526 Washington St. with this unique, delightful and magical looks at what happened in the Land of O long before Dorothy's arrival. The story surrounds a sweet girl, who was cursed by being born with emerald-green skin. But she is smart, fiery, sadly misunderstood, and possesses an extraordinary talent. When she goes off to school she meets a bubbly blonde, named Glinda, who is exceptionally popular! Their relationship fosters an initial rivalry that turns into the unlikeliest of friendships…until the world decides to label one "good," and the other one "wicked." With a thrilling score that includes the hits "Defying Gravity," "Popular" and "For Good," WICKED has been hailed by The New York Times as "the defining musical of the decade." Time Magazine cheers, "if every musical had the brain, the heart, and the courage of WICKED, Broadway really would be a magical place." Tickets are available at www.broadwayinboston.com
JUNE 8 – 18: JOSEPH AND THE AMAZING TECHNICOLOR DREAM COAT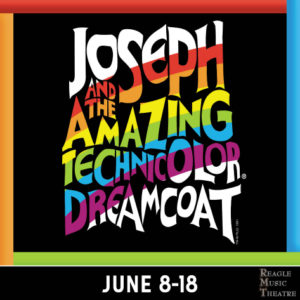 The Reagle Music Theatre of Greater Boston, located at the Robinson Theatre, 17 Lexington St. in Waltham, opens their summer theater season with this spectacular musical by Andrew Lloyd Webber with lyrics by Tim Rice. Directed and Choreographed by Susan Chebookjian. with musical direction and conducted by Daniel Rodriguez, Joseph is the irresistible musical parable about a boy in a vibrant coat of many colors who is gifted with God's blessing in the form of dream interpretation. Set to a myriad of musical styles including country-western, calypso, bubble-gum pop, and rock 'n' roll, this family-friendly production is full of unforgettable songs including "Those Canaan Days," "Any Dream Will Do," and "Close Every Door." Joseph is presented through special arrangement with R & H Theatricals: www.rnh.com. Tickets for this not-to-be-missed production are available at www.reaglemusictheatre.com
JUNE 8 – 25: I LOVED, I LOST, I MADE SPAGHETTI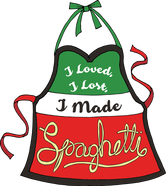 The Stoneham Theatre located at 395 Main St. in Stoneham presents this adaption by Jacques Lamarre from the memoir of Giulia Melucci. Directed by Ilyse Robbins, Giulia, an Italian New Yorker trying to navigate life as a single gal, a new date is the perfect opportunity to show off her home cooking. While preparing a three-course dinner from scratch, she recounts stories of good Italian food and bad boyfriends. Her superior cuisine far surpasses her inferior taste in men in this mouth-watering new comedy. Eight audience members at each performance may purchase seats to join Giulia on stage and be served the dinner she is cooking during the show!* For more information and to obtain tickets visit www.stonehamtheatre.org
JUNE 8 – 25: PENNY PENNIWORTH – A STORY of GREAT GOOD FORTUNE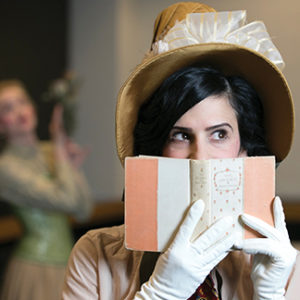 Titanic Theatre Company presents, in the Central Square Theater Studio at 450 Massachusetts Ave. in Cambridge, the New England premiere by Chris Weikel. Directed by IRNE award-winning director Sarah Gazdowicz, this is a labyrinthine romp through Victorian literature. Penny is Charles Dickens' "lost" epic as mounted by a short-staffed theatre troupe with Royal Shakespeare Company aspirations. It is a gender-bending tale of true love thwarted, deception, abduction, and true love regained. Featuring Caroline Keeler, Isaiah Plovnick, Brooks Reeves, and Ashley Risteen. The show is produced by special arrangement with THE DRAMATIC PUBLISHING COMPANY of Woodstock, Illinois. Tickets are available at www.centralsquaretheater.org
JUNE 9 – 24: FAT PIG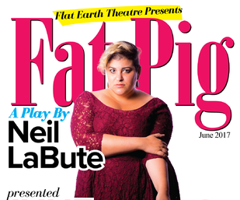 Flat Earth Theatre presents at the Mosesian Center for the Arts at 321 Arsenal St. in Watertown presents Neil LaBute's unapologetic play that bluntly addresses what people see when they look at bodies – all bodies – and then decide which ones deserve a happy ending. Directed by Juliet Bowler, the story surrounds the smart, sexy and fat, Helen who lives in a world that judges her for her weight. Her new, conventionally thin, boyfriend Tom quickly becomes enamored with her despite the condemnation of his shallow, often convincing friends that constantly threatens their relationship. Lindsay Eagle plays the oppressed Helen opposite Jordan Lindley who plays Tom, the man who loves her for who she is not what Cosmopolitan standard she sets. To obtain tickets go to www.flatearththeatre.com
THROUGH JUNE 11: LIKE SHEEP TO WATER

Trinity Repertory Theatre at 201 Washington Street in Providence, RI, concludes its 53rd season with the Golden Age drama, Like Sheep to Water, or Fuente Ovejuna by Lope De Vega. Translated and adapted by Curt Columbus and directed by Mark Valdez, the story is set in 15th-century Spain where a menacing Commander terrorizes a small town's citizens—especially the women. Pushed to their limit, the people of Fuente Ovejuna rise up against their oppressor in a fierce act of unity and bravery. Based on actual events, the story was immortalized by one of Spain's greatest and most influential Golden Age dramatists. Now, Trinity Rep's adaptation of this timeless masterpiece reverberates with fresh urgency. "Most of Trinity Rep's audiences will be encountering Lope de Vega's work for the first time, and yet, he is one of the most important and prolific writers in world literature," stated artistic director Curt Columbus. "Lope de Vega set out to write a play about the nature of power, its potential for abuse, and whether those oppressed choose to fight. Could there be more resonant, topical subject for a play in America today?" The cast includes Trinity Rep resident acting company members Stephen Berenson, Angela Brazil, Timothy Crowe, Janice Duclos, Fred Sullivan, Jr., Rachael Warren, and Joe Wilson, Jr. Guest actors Daniel Duque-Estrada (Trinity Rep's recent A Midummer Night's Dream), Benjamin Grills, Orlando Hernández, and Jonathan Olivera with Brown/Trinity Rep MFA actors Anita Castillo-Halorssen, Octavia Chavez-Richmond, and Marcel Mascaro join the cast. Additionaly a cast of teenagers play the role of the villagers: Angelique Dina, Kafui Glover, Wenricka Griffith, Valearie Kane, and Yanasia Tarr. Bedros Kevorkian plays the village boy. To purchase tickets visit Trinity Rep's website at www.trinityrep.com
JUNE 16-24: DHALGREN SUNRISE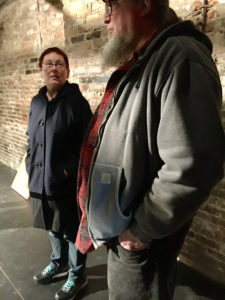 Fort Point Theatre Channel presents at the Chelsea Theatre Works, 189 Winnisimmet Street in Chelsea Mitchel K. Ahern's play is based on the sci-fi novel Dhalgren written by Samuel R. Delany. (FPTC) celebrates its tenth anniversary with this premiere of a multimedia performance art production, that combines scripted text with elements of improvisation and audience interaction. The script is described by writer William Gibson as "a riddle that was never meant to be solved." FPTC's co-artistic director Mitchel K. Ahern has adapted this unsolvable riddle for the stage, along with associate producer Vanessa LeFevre.  Ahern is also a participating actor, and musician, performing on his self-invented instrument, the harrow, created from a farm implement of the same name. To understand Ahern's investment in the production, he explained how the cast, crew, and musicians are preparing: "We're exploring how to thrive in a time of dystopia, where the normal rules of reality have turned fluid. Through structured improvisation, dancers, musicians, readers, interactive video, and articulated staging engage with the novel's themes of identity, violence, fear, and sexuality." The production is comprised of a Prelude and six short acts: Orchid, Moons, Fire, Sex, Scorpions, and Sunrise. Each act, approximately 10 minutes in length, features a brief selection from the 800-page novel — 300-500 words for each excerpt — accompanied and interpreted by movement artists, interactive video, articulated stage effects, and improvisational music played on invented instruments. Each act is announced with an oversized letterpress title card that provides grounding in words and images for the manifestations of the interpretive action. Each act is independent, incorporating the disassociate techniques that give the novel such power. Wheeled set pieces slowly move, constantly shifting their relationships to one another, while lighting and video effects simulate the menacing glow of distant fire, as it interacts with the movement artists. The abstract cityscape, constructed in layers, reflects the all-encompassing world of the novel. In the novel and in FPTC's interpretation, certain objects are weighted with a significance that keeps shifting in terms of their identities and allegiances. For more information and to obtain tickets go to www.fortpointtheatrechannel.org
THROUGH JUNE 18: ARRABAL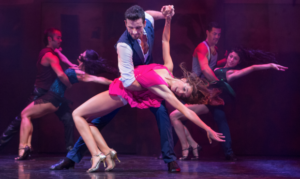 The American Repertory Theater at the Loeb Drama Center, 64 Brattle St. in Cambridge presents this new, tango-infused dance piece with Book by Tony Award-winner John Weidman (Contact, Assassins) , Music by Academy Award winner Gustavo Santaolalla / Bajofondo (Brokeback Mountain, Babel, The Motorcycle Diaries), Choreography by Julio Zurita and direction & co-choreography by Sergio Trujillo (choreographer for Invisible Thread, Memphis, Jersey Boys, On Your Feet!, and Next To Normal). Arrabal follows one woman's quest to understand the violence that took her father and disrupted a nation. Told through dance and the propulsive music of the band Bajofondo, the show features an ensemble and band direct from Buenos Aires, Argentina. Arrabal invites audiences into the underground world of Buenos Aires' tango clubs for a dance between the present and the past. Performances will include a pre-show mini tango lesson. For tickets visit www.americanrepertorytheater.org
THROUGH JUNE 25: CAMELOT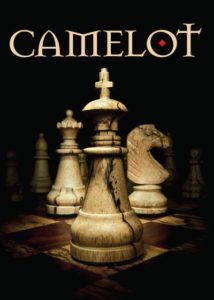 If you have never experienced this wonderful Lerner and Loewe's beloved classic musical you will adore The Lyric Stage Company of Boston at 140 Clarendon Street in Boston's adaptation by David Lee. But, if you have, at some point in your life, been fully immersed in the fully staged production with the crystal vocals of Julie Andrews as Guenevere and the robust baritone of Robert Goulet as Lancelot and the stellar power of Richard Burton as King Arthur this Cliff Notes presentation will leave you wanting.  Artistic Director, Spiro Veloudos presents this fresh and truly quite charming new encapsulated adaptation that sets the spotlight almost entirely on the romantic yet ultimately tragic tale surrounding King Arthur, Guenevere, and Lancelot.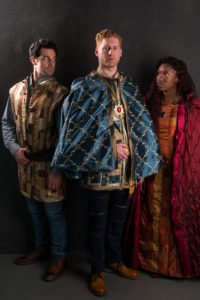 Jared Troilo* (Lancelot), Ed Hoopman* (Arthur); & Maritza Bostic*(Guenevere)/  photo by Nile Hawver​ There are three other Knights present in the cast but the quirky, comical, much-loved, permanent guest of Arthur and Guinevere, King Pelimore; Merlyn the Magician, guide to Arthur; and the sorceress Morgan le Fay have been carved out of the script. It is set in a compartmentalized but well appointed set designed by Shelly Barrish and the gifted choreographic hand of IRNE award-winner, Rachel Bertone has been waved across the production. Additionally, all the memorable songs have been included such as the poignant, "If Ever I Would Leave You" and  "I Loved You Once in Silence" as well as the stirring title song, "Camelot." Popular, local favorite, Jared Trolio* returns to the Lyric stage as a most convincing Lancelot. The show is delightfully entertaining and provides for an engaging evening but still it is a bit diminutive compared to the glory days of its original parent production.  For tickets visit www.lyricstage.com
THROUGH JUNE 25: WAIST WATCHERS THE MUSICAL!

Playhouse Productions' producers Dana Matthow and Philip Roger Roy with music by Vince Di Mura bring Alan Jacobson's upbeat musical to the historic Regent Theatre at 7 Medford St. in Arlington. Set in Cook's Women's Gym, the show takes a lighthearted look at four women 'of a certain age' dealing with assorted body image issues. Topics such as dieting, exercise, plastic surgery, and sex over the age of forty, areas of concern to both women, and men… of all ages, are humorously bantered about by the ladies. "When I first wrote WaistWatchers The Musical! I was looking to create a fun show that people of all ages, backgrounds, and lifestyles could enjoy,"stated the show's creator Alan Jacobson. "I couldn't think of anything more universal and topical than food. I truly don't know anyone who doesn't eat it! And people sure talk about and obsess over it. What has given me the greatest satisfaction is seeing how people respond to the show," he says, "Not only with laughter and pleasure, but how so many people identify with the struggles, and are inspired to lead healthier lives. And to me, that is what theater is all about.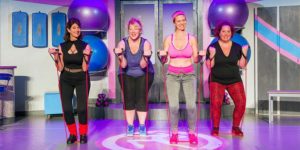 The musical features the singing and comedic abilities of four talented actresses including: Krissy Johnson as Cheryl, Stephanie Genovese as Cindy, Kylie McDonald as Carla and Cambridge, MA resident Liliane Klein as Connie. The show's musical director is Emily Whitaker, a pianist and music director based in New York. Choreography is by Dani Tucci- Juragafor. Tickets for this fun time at the theatre are available at www.regenttheatre.com
JULY 6 – 16: SHOW BOAT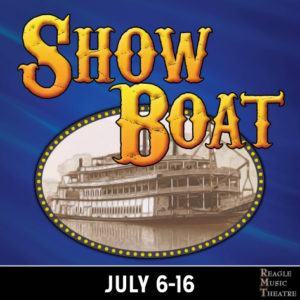 The Reagle Music Theatre of Greater Boston, located at the Robinson Theatre, 17 Lexington St. in Waltham presents this stunning musical production. Directed and Choreographed by IRNE award-winner Rachel Bertone and conducted by Musical Director Daniel Rodriguez, Show Boat is based on Edna Ferber's bestselling novel that follows three generations of the Hawks family on the Cotton Blossom river boat from 1887-1927. The story chronicles the fortunes of the naïve Captain's daughter, Magnolia, her troubled husband, Gaylord Ravenal, and the lives of the performers, stagehands, and dock workers whose lives are affected by the ever-changing social current along the Mississippi River. Show Boat was the first fully integrated "book musical". It tackles issues of unhappy marriage, miscegenation (marriage between different races that was originally outlawed) and other forms of racial prejudice. The musical's classic songs, including "Ol' Man River, "Only Make Believe," "Can't Help Lovin' Dat Man," and "You Are Love," have become mainstays of the Broadway canon. The music was written by Jerome Kern with the Book and Lyrics by Oscar Hammerstein II. Reagle will be performing the latest version of the musical, arranged and premiered by Goodspeed Opera House. Show Boat is presented through special arrangement with R & H Theatricals: www.rnh.com. For tickets to this stunning production filled with glorious sets and costumes go to www.reaglemusictheatre.com
AUG. 3 – 13: 42nd STREET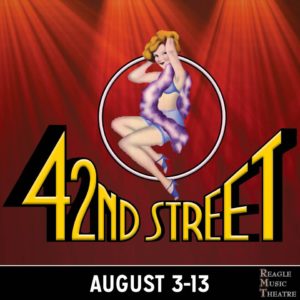 The Reagle Music Theatre of Greater Boston, located at the Robinson Theatre, 17 Lexington St. in Waltham closes their summer season of spectacular Broadway shows with this ultimate show-biz musical. Directed and Choreographed by Eileen Grace with Co-Choreographer Susan Chebookjian, the musical direction and conduction is by Daniel Rodriguez. 42nd Street celebrates Broadway, Times Square, and the people who make the magic of musical theatre. Aspiring chorus girl Peggy Sawyer comes to the big city from Allentown PA, and soon lands her first job in the ensemble of a glitzy new Broadway show. But just before opening night, the leading lady breaks her ankle. Will Peggy be able to step in and become a star? The score is chock-full of Broadway standards, including "You're Getting To Be A Habit With Me," "Dames," "We're In the Money," "Lullaby of Broadway," "Shuffle Off to Buffalo" and—of course—"Forty-Second Street." Gower Champion's original, award-winning and stunning choreography will be recreated for this production. The music was written by Harry Warren with Lyrics by Al Dubin along with Book by Michael Stewart and Mark Bramble. It is based on the novel by Bradford Ropes. Originally produced on Broadway by David Merrick, the use of all songs is by arrangement with Warner Bros., the owner of music publishers' rights. Tickets for this outstanding production are available at www.reaglemusictheatre.com
AUG. 8 – 20: FINDING NEVERLAND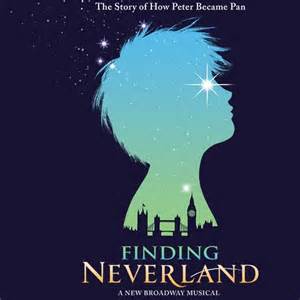 Broadway's biggest new hit and the winner of Broadway.com's Audience Choice Award for Best Musical comes to the Boston Opera House at 526 Washington St. This breathtaking, smash hit "captures the kid-at-heart," says TIME magazine. Vogue cheers, "It's a must-see you'll remember for years to come!" Directed by visionary, Tony®-winner Diane Paulus and based on the critically-acclaimed Academy Award®-nominated film starring Johnny Depp, FINDING NEVERLAND tells the incredible story behind one of the world's most beloved characters: Peter Pan. Playwright J.M. Barrie struggles to find inspiration until he meets four young brothers and their beautiful widowed mother. Spellbound by the boys' enchanting make-believe adventures, he sets out to write a play that will astound London theatergoers. With a lot of faith and a little bit of pixie dust Barrie takes this monumental leap, leaving his old world behind for Neverland, where nothing is impossible and the wonder of childhood lasts forever. The magic of Barrie's classic tale springs spectacularly to life in this heartwarming theatrical event. FINDING NEVERLAND is "far and away the best musical of the year!"stated NPR. Tickets are available at www.broadwayinboston.com
EVERY SATURDAY: IMPROV BOSTON'S NEW ALL AGES SHOWS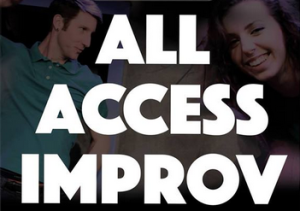 ImprovBoston at 40 Prospect St. in Cambridge expands its base of family-friendly shows with a brand new Saturday lineup. At 4pm each Saturday the theattre's cast presents THE FAMILY SHOW. It is an improv and music extravaganza that is completely made up on the spot. Every show is based on the audience's suggestions. From Minecraft to Star Wars no two shows are alike! Best for children ages 4-12, it is something the whole family will enjoy.. Extroverted children who want to participate have opportunities to be on stage and take part in the fun! The shows are ideal for family outings, birthday parties, and even school field trips. Following, at 6pm, is the ALL ACCESS IMPROV show when the newest, hippest resident cast members take the stage. Fast! Furious! Funny!This weekly event is a high-octane, completely off-the-cuff comedic force of nature. Held in the Main Theater the show is appropriate (all ages welcome) for anyone with a sense of humor. Sixty-five minutes long and jam packed with 100% improvised scenes, songs, and games, the shows are designed to make our professional comedians sweat hard and audiences laugh harder. The best improvisers from ImprovBoston's popular Family Show are combined with the fast-paced Face Off team and the renowned National Touring Company to form an All-Star cast that creates blazing quick-witted comedy, mind-melting improvised music and, of course, copious audience interaction. For tickets to these daring, athletic, immersive comedy shows for everyone go to www.improvboston.com
ONGOING: BLUE MAN GROUP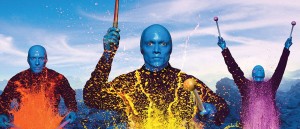 This show has become a global phenomenon! Funny, fun, extraordinary, eccentric…all rolled into one most memorable performance, This permanent, live performance is now installed in six cities as well as tours throughout the USA and Canada. It also has become a highly acclaimed show on Norwegian Cruise Line's Epic ship. The Charles Playhouse at 74 Warrenton St.in Boston's Theater District continues to pack in audiences, many repeaters, as it showcases three blue men, with the cleverest of ingenuity and technology, taking them on an exhilarating entertainment odyssey. This compilation of theater, music, art, science and hilarious humor is suitable for ages 7 to 100. For more information visit www.blueman.com/boston 
ONGOING: COMEDYSPORTZBOSTON
The Davis Square Theatre at 255 Elm St. in Somerville presents this delightful and hysterically funny improvisational, all suggestion based comedy show. It is fun and suitable for all ages. Two teams of "Actletes" get suggestions from the audience, create scenes, songs and games on the spot while onstage, and compete for your laughs! A referee calls the fouls and the audience gets to participate in the play. It is a fast paced comedy show that's as clean as a game of tennis. It is played by members of the World Comedy League that have performed throughout the US and England since 1984. Its fun for a date, a group of friends and even the whole family, and easily repeatable as it is different every time. For more information go to www.comedysportzboston.com

 ONGOING: SHEAR MADNESS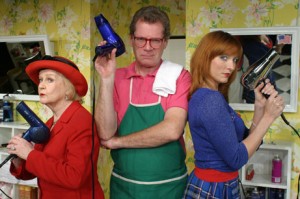 Now an international phenomena, this show has run non-stop for 35 years at The Charles Playhouse Stage II,74 Warrenton St. in Boston's Theater District. The original Boston company has given birth to 42 domestic productions across the country and has been translated into 10 foreign languages and performed on six continents. "Shear Madness" holds the title in the Guinness Book of World Records as the longest running play in US history and has been voted "Best Comedy of the Year" seven times by the Boston Globe, recognized as the "Best Play of the Year" by both the Chicago Sun-Times and the Philadelphia Enquirer, received the Raven Award from the Mystery Writers of America, and is the first play ever inducted into the Comedy Hall of Fame This unique comedy-whodunit takes place today in the "Shear Madness" hair-styling salon and is chock full of up-to-the-minute spontaneous humor. During the course of the action, a murder is committed and the audience gets to spot the clues, question the suspects, and solve the funniest mystery in the annals of crime. The outcome is never the same, which is why many audience members return again and again to the scene of the mayhem.  For tickets go to www.shearmadness.com
.