PRODUCTIONS ARE INITIALLY LISTED CHRONOLOGICALLY BY 'OPENING  DATE'…WHEN THE OPENING IS PAST, THEY ARE THEN  MOVED DOWN THE LIST CHRONOLOGICALLY,.. INDICATING 'END DATE' BY THE NOTATION, "THROUGH"…AND THEN IS REMOVED WHEN SHOW HAS ENDED. SO EXPLORE AND MAKE PLANS………………………………..!
FEB. 20 – MARCH 4: WAITRESS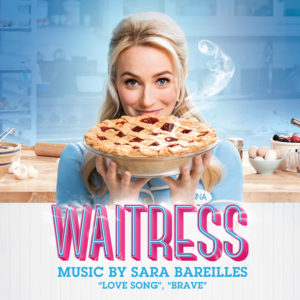 Broadway in Boston presents this recipient of four 2016 Tony Award nominations, including Best Musical and Best Original Score at the Boston Opera House, 539 Washington St. Directed by Tony winner Diane Paulus, the story follows Jenna, a waitress and expert pie maker, who dreams of finding a way out of her small town and her abusive, loveless marriage. She also  discovers she is pregnant but a baking contest in a nearby county and the town's new doctor may offer her a chance for that fresh start, while her fellow waitresses offer their own recipes for happiness. But Jenna must summon the strength and courage to rebuild her own life. The musical features a score by six-time Grammy nominee Sara Bareilles and includes such popular songs as "Opening Up," "What Baking Can Do," "You Matter to Me" and "She Used to Be Mine." The musical has made made history as the first Broadway musical to feature an all-female creative team.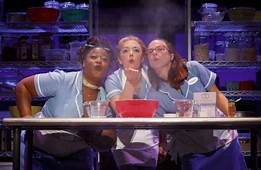 The national tour production is based on the 2007 film by the late Adrienne Shelly and stars Desi Oakley (Les Misérables, Evita) as Jenna. In addition to Oakley, the touring cast features Bryan Fenkart as Dr. Pomatter, Lenne Klingaman as Dawn, Nick Bailey as Earl and Ryan G. Dunkin as Cal. They'll be joined by current Broadway cast members Charity Angél Dawson as Becky, Larry Marshall as Old Joe and Jeremy Morse as Ogie. They are supported by an ensemble of eleven seasoned performers. Tickets for this not-to-be-missed show may be obtained at www.boston.broadway.com/shows
THROUGH FEB.  22 –24 (7:30 pm): A WINTER GATHERING OF NEW MUSIC & MULTIMEDIA PERFORMANCE
E

           The experimental theater company, Sleeping Weazel, recently recognized in WBUR ARTery's 2017 list of memorable Boston theater, is presenting A Winter Gathering of New Music & Multimedia Performance at the Plaza Black Box Theatre in the Boston Center for the Arts, 539 Tremont Street in Boston's South End. Their goal is to bring Boston's music and theatre lovers in from the February cold to socialize and experience new music and multimedia performance that will explore notions of home, memory, and the human cost of involuntary migration. The program includes Sleeping Weazel's Managing Director, interdisciplinary writer as well as curator for the evening, Adara Meyers with a piece titled Picture This. This work marks her debut in performance via "selfie" video art, dance, and memories of childhood marred by a ruptured family history. The evening program also includes an improvised musical performance by Thread Ensemble which includes a collaboration with the audience. Created by Romanian theatre artist Ioana B. Jucan along with her international collaborators is a devised ritual performance that one does in the absence of a permanent home when confronted with the fleeting realization that home is a place existing primarily in one's mind . Composer Kirsten Volness' transcendent music rounds out this Salon-style show that highlights an exciting group of cutting edge New England-based artists. Warming refreshments will be served. For more information about this evenings blend of enchantment, melancholy, humor, as well as the tragic sublime, and to view a complete schedule of performances and to obtain Pay-what-you-choose tickets ($5-$25) go online at www.bostontheatrescene.com
FEB. 22 – 25: THE BEST OF THE MOMologues

               The Greater Boston Stage Company at 395 Main St. in Stoneham continues its Season 18 of Special Event line-ups with this comic release by Lisa Rafferty, Stefanie Cloutier and Sheila Eppolito. Various 'MOMologues' shows have played to sold out audiences both around the U.S. and around the world. This production combines favorite material from all three shows in the 'MOMologues' series. This original comedy about motherhood rips away the gauzy mask of parenthood to reveal what all mothers know but don't always talk about. It can be overwhelming and exhausting, but, in-turn, also very, very funny. Mothers everywhere can relate to this hit show as it mines the laughs and tears of the early years of motherhood. Four separate characters tell their individual stories. offering hilarious, and sometimes poignant, parenting stories from babies to teens. Co-directed by GBSC Associate Artistic Director Ilyse Robbins and playwright Lisa Rafferty, 'The Best of The MOMologues' features a cast of fun, funny, and talented Boston-based actors who bring varying perspectives to the material. Each actress brings her own unique comedic sensibility to the true tales of motherhood, told through monologues and dialogue. To purchase tickets for this LOL show visit www.greaterbostonstage.org
FEB. 23 – MARCH 3: ROMEO AND JULIET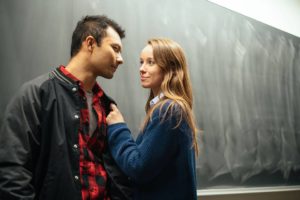 The Underlings Theatre Co. brings to the stage of the Chelsea Theatreworks' Black Box at 189 Winnisimmet St. in Chelsea William Shakespeare's iconic tragedy. Only this production comes with a contemporary shake up. . Drawing inspiration from cult classics as Heathers and The Virgin Suicides, director Lelaina Vogel has taken these well-known characters, replete with their passion and youth and placed them in a setting that is fraught with drama and social obstacles…1980's high school. The director has then blended the new with the old by merging the sensibilities of the twenty-first century in the style of the nineteen-eighties with a recreation of the dialect of Elizabethan England. Voice and text coaching will be under the tutelage of Daniel Thomas Blackwell. Thus….Two households both alike in dignity with drama, In an '80s high school where we lay our scene, From ancient grudge break to new mutiny; Where civil blood makes civil hands unclean……. The cast features Chelsea Evered as Juliet and Johnny Le as Romeo along with Margot Buckley, Duncan Kennedy, Tony Dangerfield, Sophia Castuera, Dominic Carter, Cristhian Mancinas-García, Olivia Gould, Christine Williamson and Kody Grassett. Tickets are available at www.underlings.ticketleap.com/rnj-2018/
FEB. 23 — MARCH 25: ORLANDO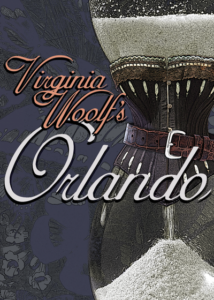 Lyric Stage Company, 140 Clarendon St. near Copley Square, presents Virginia Woolf's Orlando. It has been cleverly adapted by Sarah Ruhl. Described as the most charming love letter in literature,The New York Times described the play as, "Deliciously frolicsome! Depths of sheer pleasure!"  Sarah Ruhl (Stage Kiss) brings the original novel to life on stage in this epic theatrical adventure that transcends time, space, and gender. Directed by A. Nora Long,the story surrounds Orlando, a handsome man that was born in the 16th century. After a particularly wild night in 17th-century Constantinople, he wakes five centuries later and finds himself to be a beautiful woman! Orlando, in his female form, abandons herself to embrace centuries of change with an insatiable appetite to discover what it means to live fully in the present, in her own skin, and in her own time. The production features Caroline Lawton* as Orlando along with a supporting cast that includes Elise Arsenault*, Michael Hisamoto*, Rory Lambert-Wright, Jeff Marcus and Hayley Spivey. Tickets may be obtained at www.lyricstage.com
THROUGH FEB. 24: HYPE MAN/ A BREAK BEAT PLAY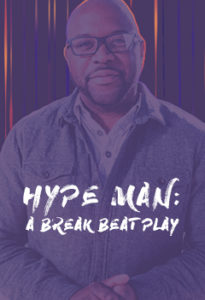 Company One Theatre at Boston Center for the Arts' Plaza Theatre at 539 Tremont St. in Boston's Sound End. presents this latest play from break beat poet and playwright Idris Goodwin (HOW WE GOT ON). Directed by Shawn LaCount. the story centers on a rap group. After a decade in the rap game, front-man Pinnacle and his crew finally have the world's attention. But on the eve of their globetrotting tour, the shooting of an unarmed black teenager shakes the dynamics of the hip-hop trio and unearths years of suppressed resentment. Lines are crossed as the group navigates issues of identity and friendship. HYPE MAN asks us: Who has the privilege of staying silent in the face of social injustice? Tickets may be obtained at www.companyone.org/production/hype-man-break-beat-play
THROUGH FEB. 24: BEAUTY AND THE BEAST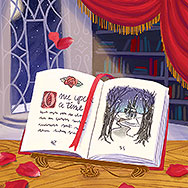 Wheelock Family Theatre brings Disney's classic musical for the whole family to their stage at 180 Riverway in Boston. In this"tale as old as time" with music by Alan Menken, lyrics by Howard Ashman and Tim Rice, and book by Linda Woolverton, a young girl, Belle, bravely faces and befriends a beast. The up-beat show, about true love being deeper than skin, is filled with all the favorite characters from the animated film including Mrs. Potts, Chip, Lumiere and more.. Directed by Jane Staab with music direction by Steven Bergman and choreography by Laurel Conrad. This production is produced by special arrangement with Music Theatre International. Tickets for this memorable event may be obtained at www.wheelockfamilytheatre.org
FEB 24 – MAR 11 : RIPE FRENZY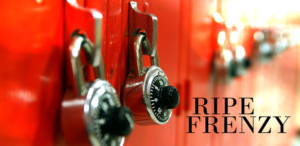 The New Repertory Theatre presents this Boston-area Premiere production at Studio ONE/ Boston University at 855 Commonwealth Ave. in Boston. Winner of the National New Play Network's 2016 Smith Prize for Political Theatre, this site-specific premiere written by Jennifer Barclay and directed by Bridget Kathleen O'Leary brings us to Tavistown, New York, where a recent tragedy has rocked the community to its core. Narrator and town historian, Zoe, recounts the days leading up to the incident while the high school prepares for the semi-annual production of Thornton Wilder's Our Town. Jennifer Barclay's Ripe Frenzy is a striking political drama and stunning new play about community in the wake of unspeakable devastation. Tickets may be purchased at www.newrep.org/productions/ripe-frenzy/
FEB. 24 – MARCH 18: THE WHITE CARD

            ArtsEmerson presents the American Repertory Theater's production of this World Premiere at the Emerson Paramount Center's Robert J. Orchard Stage at 559 Washington St. This stunning play is written by acclaimed author, poet, and MacArthur Fellow, Claudia Rankine. The White Card unfolds a meticulously crafted story, raising uncomfortable questions about what — and who — are on display. Exploring contemporary headlines and cultural touchstones, Claudia Rankine's play refuses to remain "just a play," safely entrenched on the stage. Like her 2014 New York Times bestselling book of poetry entitled Citizen: An American Lyric, this new work unpacks the insidious ways in which racism manifests itself in everyday situations, prompting the question, "Can American society progress if whiteness stays invisible?" The story takes place in an elegant loft of a powerful, well-intentioned, white couple engaged in the New York City art world. A black artist named Charlotte Cummings arrives in the hopes of selling her new work. When the couple's activist son joins them for dinner, tensions arise, truths are interrogated and the notion of intent — both conscious and unconscious — becomes paramount. Stated Claudia Rankine, "I write to provoke dialogue and to transform how we think about what it means to live and breathe in the world." Directed by A.R.T.'s Terrie and Bradley Bloom Artistic Director Diane Paulus,the impressive cast includes Karen Pittman (Broadway's Good People and Passing Strange) as Charlotte, Daniel Gerroll (Broadway's Enchanted April and Shadowlands at Off-Broadway's Acorn Theater) as Charles, Patricia Kalember (Broadway's Don't Dress for Dinner and Losing Louie) as Virginia, Jim Poulos (Broadway's The Adventures of Tom Sawyer and RENT) as Eric, and John Kroft (Amazon Studios' Red Oaks) as Alex. For tickets visit www.artsemerson.org
THROUGH FEB. 25: INTO THE BREECHES
!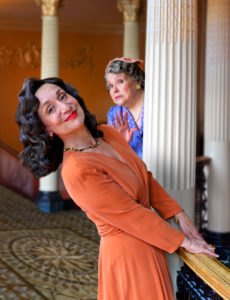 Trinity Repertory Theatre at 201 Washington St, in Providence, RI presents George Brant's surprisingly modern, despite the time period of the setting, as well as socially relevant and moving comedy about the singular way art and community can reveal its boldest selves in the darkest of times. Directed by Tyler Dobrowsky, the play is set in 1942, in Providence, RI. WWII has swept all the available men overseas including the director and all the leading men of the Oberon Play House. Determined to press on, the director's wife, Maggie Dalton, played by Anne Scurria*, attempts to launch an all-female version of Shakespeare's Henry V.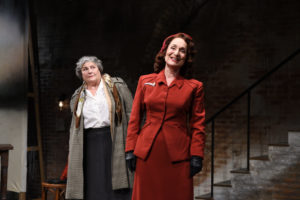 Anne Scurria* as Maggie & Phyllis Kay*as Celeste Fielding Photo by Mark Turek               She struggles against the deeply  embedded male chauvinistic philosophies of the times to bend the will of the head of the theater's board to move forward with the project as well as convince the delightfully funny and not so gracefully aging Prima Donna of the Oberon stage, Celeste Fielding, brilliantly performed by Phyllis Kay*.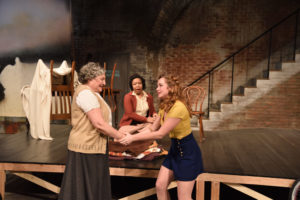 Anne Scurria* (Maggie); Lynnette Freeman (Ida) & Meghan Leathers* (June)  photo by Mark Turek Additionally, Maggie is challenged  to assemble what turns out to be, an increasingly odd team of  candidates for the production as they lack any acting experience. Joyously, they do possess heart! Issues of race and gender further hobble Maggie's efforts. But together, the team of 7 plus the board member, Mr. Ellsworth Snow (Timothy Crowe*) learn to persist, collaborate, and support despite the threat of being assaulted by tomatoes at the opening performance.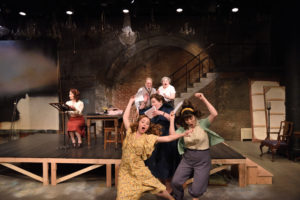 Some cast members from Into the Breeches photo by Mark Turek        They ultimately deliver a delightful celebration of love and sisterhood when the show must go on! The entire ensemble were stars unto themselves as they each possessed the talent to bring the focus on the unique and quirky characters they portrayed. The vintage costume designs by Olivera Gajic are quite clever.  It is said that there is "nothing new under the sun" and thus, Into the Breeches  brings to this stage a production that is filled with chronically germane issues and yet, George Brant has wrapped them in a very funny, fluffy blanket without trivializing their importance. Tickets for this most entertaining show may be obtained at www.trinityrep.com
THROUGH FEB. 25:: FOR COLORED GIRLS WHO HAVE CONSIDERED SUICIDE/ WHEN THE RAINBOW IS ENUF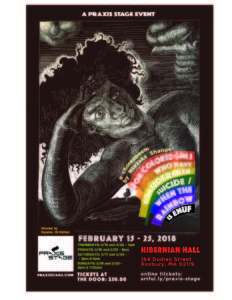 Praxis Stage presents, at the Hibernian Hall at 184 Dudley St. in Dudley Square, Boston, this innovative theater piece composed of 21 poems, linked by music and dance. Due to the vibrancy of its language, its powerful sense of urgent determination, and, ultimately, its universal message –delivered by seven women of color who share their stories and find strength in each other through this sharing and "a laying on of hands, this production is a cornerstone of contemporary American theater.. In "for colored girls…" the women dance out and declare their everyday joys, hurts, loves, and tell us: "my love is…too delicate…too beautiful…too sanctified…too magic…too Saturday nite…too complicated…too music to have thrown back in my face!"  It won an Obie for poet/playwright Ntozake Shange and was nominated for a Tony for Best Play when it transferred to Broadway. It has remained a cherished text for generations of readers. Despite its popularity it is too infrequently revived in the Greater Boston area so Praxis Stage's production, directed by their resident director, Dayenne C B Walters, hope to awaken audiences to its exquisite beauty. Tickets are available at www.artful.ly/praxis-stage
THROUGH FEB. 25: THE CAT IN THE HAT

The Boston Children's Theatre presents at the Roberts Theatre in the Calderwood Pavilion at 527 Tremont St, in Boston presents this production based on the book by Dr. Seuss. The. play originally produced by the National Theatre of Great Britain is adapted and originally directed by Katie Mitchell.  Directed by Burgess Clark the story surrounds the moment this cat with the tall, red-and-white-striped hat appears around the door,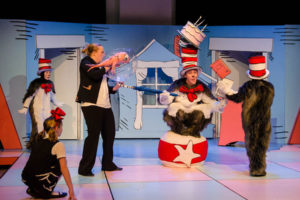 Sally and her brother know that The Cat in the Hat is the funniest, most mischievous cat that they have ever met. With the trickiest of tricks and the craziest of ideas, he is certainly loads of fun. He turns a rainy afternoon into an amazing adventure… but what will mum find when she gets home. For tickets to this fun show for the whole family visit www.bostonchildrenstheatre.org
MARCH 1 – MARCH 11: AN ACORN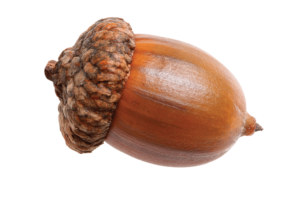 Brown/Trinatty Rep MFA Program proudly presents its March thesis show written by Caridad Svich. Staged at the Pell Chafee Performance Center, 87 Empire St. in Providence, RI, the production is directed by Mauricio Salgado (Brown/Trinity Rep MFA '18). The play opens with a far-reaching major crisis that has occurred. As so often happens in such moments, anxieties rise and individual's resolve is tested. For some, life must now be compartmentalized. For others, vitriol and spite are all they can see. Yet, as for one individual, memory becomes important. Memory, and the discovery of an acorn on the floor on a fateful day. Following these memories and this acorn to a forest this person finds what everyone truly craves in a crisis—hope. This is a poetic play designed to capture our tumultuous era and bring us from grief to survival. Tickets may be obtained at www.trinityrep.com
MARCH 1 – 18: BRAWLER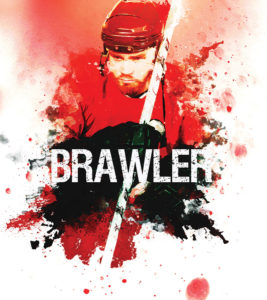 Boston Playwrights' Theatre (BPT), at 949 Commonwealth Ave. in Boston, in collaboration with Kitchen Theatre in Ithaca, N.Y. presents this world premiere drama by Walt McGough. Directed by M. Bevin O'Gara, this is a modern-day take on the Sophocles tragedy Ajax as seen through the lens of our present-day gladiator sport—hockey. The story surrounds Adam, who was the scariest man in the National Hockey League. But now he's been demoted to the minors, gotten high on painkillers, and trashed the locker room at the Dunkin' Donuts Center. His friends need to talk him down before he gets into real trouble, but he's got his own agenda…and it isn't about making saves, dekes, dangles, snipes, and passes. BPT Artistic Director Kate Snodgrass says, ""We're honored to bring another play by Walt McGough to life here at BPT, and especially this foray into gladiator sports and Walt's exploration of what it means to be a 'hero. Not only is the play timely, it asks important questions about our own responsibility regarding the celebration of these champions. It's a wild ride!" Director O'Gara states, O'Gara says. "Examining the inextricable link between the heroic and the brutal, and what they each cost us, feels so necessary give current headlines. We are raising questions about culpability and how we, both as individuals and as a society, enable our heroes. We are investigating the brutality of turning a blind eye." Tickets may be obtained at www.bostonplaywrights.org
MARCH 1 – APRIL 1: GUARDS AT THE TAJ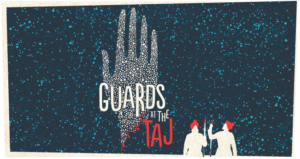 The Underground Railway presents, at the Central Square Theater at 450 Massachusetts Ave. in Cambridge, this dark comedy by 2010 Pulitzer Prize finalist for drama, Rajiv Joseph. Directed by Gabriel Vega Weissman. the story is set in India in 1648. At morning's first light, the Taj Mahal, an awe-inspiring edifice representing the pinnacle of beauty and the power of an empire will be unveiled. For the two Imperial guards who are protecting the palace, close friends since childhood, dawn's first light will set in motion a ghoulishly unthinkable task that will challenge their faith, friendship, and duty. The production does contain violence and blood as it incisively examines two average men who get swept up in the beauty, carnage, and zealotry surrounding one of the legendary wonders of the world. The production features Jacob Athyal and Harsh J. Gagoomal. For tickets to this enlightening play visit www.centralsquaretheater.org
THROUGH MARCH 2:THE PHANTOM OF THE DISCO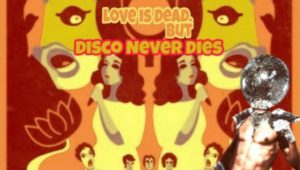 "Love is Dead, but Disco Never Dies!" in Heart & Dagger Productions 8th Season show at Club Cafe's Moonshine Room located at 209 Columbus Ave. in Boston. This is the Daggers' fourth installment of their "Drag Musical Extravaganza" series with The Phantom of the Disco! Everyone's favorite cat-lovin', pinot grigio-drinkin', absent-minded Narrator, Elizabeth Battey graces the stage once more to give audiences the greatest love story ever told. But this time she's in big trouble! Christine Daae has died and is buried in the back of the discotheque.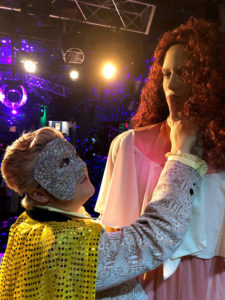 All Battey is left with is a mannequin dressed as Sarah Brightman and hopes that the faithful audience will sing that famous soprano's part! the show is all drag, part sing-a-long, and a fun mix of Donna Summers and the Bee Gees, along with Neon Calypso in roller-skates. Directed by Melissa Barker along with Musical Direction by James Sims and Narration & Conception by Joey C. Pelletier, all Performances begin at 7:30pm.The Phantom of the Disco promises to be "Hot Stuff" and a whole lot of fun!  Food and drinks are available for purchase before and during performance . *Audience members receive 20% discount on food. For show dates and times plus obtain tickets visit www.brownpapertickets.com/event/3226447
MARCH 2 – 24: STEVE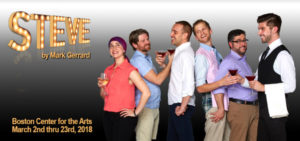 Zeitgeist Stage Company continues their current season at the Plaza Black Box Theater at the Boston Center for the Arts, 539 Tremont St in Boston's South End with Mark Gerrard's wickedly funny comedy and yet poignant drama about Being Alive, What I Did For Love and All That Jazz! Steven, a former Broadway chorus boy turned stay-at-home dad is celebrating his 47th birthday. He is filled with fear and uncertainty as his partner of 16 years, Stephen, might be cheating on him, while his best friend, Carrie, a lesbian, may be dying from cancer. Both prompt him to question what he has actually done with his life as he is faced with child-rearing, infidelity, looming death and an urge toward polyamory (engaging in a relationship (especially one involving sex) with more than one person at once). Life has become tiresome, boring and totally unsatisfying. OMG! He is going through a Mid Life crisis! The show features Adam Boisselle, Mikey DiLoreto (ZSC'sThe Boys in the Band), Alex Jacobs, Mike Nilsson, Jenny Reagan (Good Television), and Victor Shopov (Bent). The New York Times, upon reviewing the production at the New Group in New York City in 2015, stated, "Steve holds up a clear but compassionate mirror to anyone who's been part of a post-passion long-term relationship. It earns both its laughs and its tears with uncommon honesty." Tickets may be obtained at www.bostontheatrescene.com/season/Steve/
MARCH 2 – 31: SKELETON CREW

        The Huntington Theatre Company in the Calderwood Pavilion at the Boston Center for the Arts at 539 Tremont St. in Boston's South End presents this riveting and timely new play by Dominique Morisseau. A makeshift family of auto workers gather in the break-room of the last small auto plant. These workers swap stories, share dreams, and take pride in their work. But, when confronted with the possibility of the factory closing, power dynamics shift and each is pushed to the limits of survival. Inspired by August Wilson's Century Cycle, Morisseau's bold and compassionate new play is part of her Detroit Project cycle of plays. "A very fine new play! Warm-blooded and astute," says The New York Times. "I am extremely excited to share my play about the working class in Detroit with the people of Boston and connect through our common cores," says playwright Dominque Morisseau. "I've seen many brilliant works at Huntington and have had transformative experiences. It feels right to join the ranks of some of my favorite writers and become part of the extended community of this urgent and necessary theatre." Tickets are available at www.huntingtontheatre.org
MARCH 2 – 31: EVERY BRILLIANT THING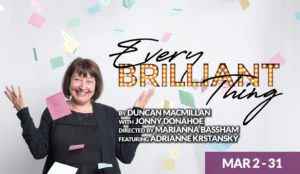 Speakeasy Stage at the Boston Center for the Arts in the Calderwood Pavilion at 527 Tremont St. in Boston's South End presents this funny as well as moving play by Duncan MacMillan with Jonny Donahoe. Directed by Marianna Bassham, the show, that enlists members of the audience to help tell its story, is narrated by Adrianne Krstansky*. At the start of this charming and miraculous new play, a number of things worth living for are begun to be put forth. 1. Ice cream 2. Water fights 3.Being allowed to stay up past your bedtime and watch TV! These are just a few items on the list compiled by a young girl trying to ease her mother's depression. As the girl grown into adulthood, goes to college, falls in love, and builds a home…also the list grows. She learns the deep significance the list has had on her own life. This production is a tribute to the irrepressible resilience inside all of us as well as the capacity to find delight in the everyday, The running time is approximately 70 minutes with no intermission. Tickets for this fun and insightful show may be obtained at www.speakeasystage.com
THROUGH MARCH 3: BAD DATES

     Haneefah Wood* as Haley Walker is an absolutely brilliant story teller. She spins a perfect web of hysterically funny dialogue and casts it over the audience, drawing them into a spell of rapt attention! Her comedic timing and delivery is phenomenal. The Huntington Theatre Company at their stage at the B.U. Theatre, 264 Huntington Ave. celebrates the 15th anniversary production of Theresa Rebeck's irresistible comedy,  one of the most popular shows in Huntington history. To further enhance the delightfully funny rhetoric is the remarkable scenic design by Alexander Dodge who surprises us with placement of more and more shoes throughout the set.  Director Jessica Stone (Ripcord; Vanya and Sonia and Masha and Spike) has added numerous sublime subtleties that further enrich the production. Although it is a solo production, Ms. Wood makes this a solid play rife with great depth.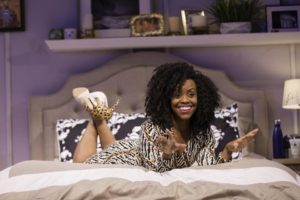 The story surrounds  shoe connoisseur, Haley Walker, single mom, divorcee, and restaurant manager personified. Haley is finally ready to re-enter the dating world. From the privacy of her bedroom she relates a series of  uproariously  funny tales while preparing for, or, recovering from, one dreadful date after another.  This sweet and sharp comedy could be one of the hottest date nights in town as well as a triumphant night out for women of all ages! "Irresistibly charming and bubbling over with good cheer, Bad Dates nevertheless manages to say a touching thing or two about the meaning of life," says The Boston Globe. For tickets visit www.huntingtontheatre.org
THROUGH MARCH 3: STATEMENTS AFTER AN ARREST UNDER THE IMMORALITY ACT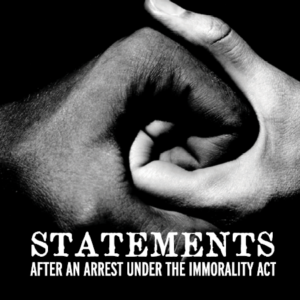 The New Repertory Theatre in the BlackBox Theater at the Mossesian Center For the Arts, 321 Arsenal St. in Watertown presents, as part of New Rep's Statements of Survival Series,  Athol Fugard's striking political drama filled with poetic dialogue. Directed by Jim Petosa, the play focuses on just one of the wretched injustices incurred In apartheid South Africa, when intimate interracial relationships were considered to be illegal under the immorality act.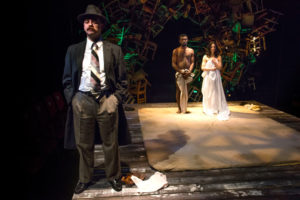 Left-right: Tim Spears, Michael Ofori, Eve Kagan            In the story, "A Colored Man" (brilliantly played by Michael Ofori", who actually originated from Ghana) and "A White Woman" (passionately played by TV, film and stage actress as well as IRNE nominee, Eve Kagan*) share more than just their love. Literally baring all, as their performance is executed primarily in the nude, the scene is set on January 12, 1966, 52 years ago, while many of us were alive and should have been cognoscente of such realities occurring. These things did not only occur in Apartheid South Africa but in our own United States. It brought to mind the case of Mr. and Mrs. Loving, in the same time. A mixed racial couple that were so viciously persecuted by the state of Virginia. It is just a blip in time from then to now, yet, the playwright has effectively put the psychological and moral horrors of those historical realities in front of our face. This production serves as a strident reminder of the intolerance and cruelty that existed just a short time ago and is also effective as a warning to what could return. IRNE nominated Tim Spears* appears as the relentless, pursuing police officer. Again, please note, this production contains nudity! Tickets may be obtained at www.newrep.org
THROUGH MARCH 4: LONELY PLANET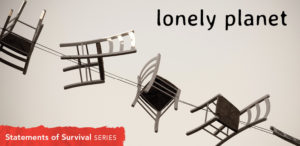 The New Repertory Theatre, in the Black Box Theatre at the Mossesian Center for the Arts, 321 Arsenal St. in Watertown presents Steven Dietz's dark, social comedy. Directed by Jim Petosa, this production is part of New Rep's Statements of Survival Series. In a revival to commemorate the 25th anniversary of Dietz writing, Lonely Planet, the play surrounds two gay men, Jody and Carl, who have maintained a long and solid friendship through the years. But now a plague of sorts, the AIDS epidemic in America, rages not only across the country but has seeped into their close knit community of gay associates at the cost of "30 lives in just 6 months".  Jody, played by Michael Kaye*, dwells within the surety of his map store with the 'Closed' sign more in place than not. He is tormented by a series of related dreams where he is always forced forward into frightening, life threatening situations rife with expectations of saving lives at the possible cost of his own. Meanwhile Carl played by IRNE nominee, Tim Spears* pops in and out of the store carrying more and more chairs with each visit.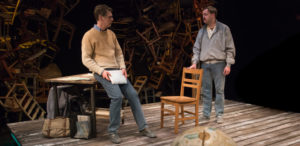 Michael Kaye* (Jody) & Tim Spears*(Carl)     A towering arch of chairs, a stunning, symbolic scenic design by Jeffrey Petersen, frames the back of the set and becomes increasingly relevant as we begin to realize that the chairs have been extracted by Carl from the homes of deceased Aides victims. Jody's agoraphobic tendencies is his way of reacting to what is happening while Carl, regales him with phantasmagorical and ridiculously funny, imaginary accounts from his day that he has allegedly experienced in a variety of jobs…actually jobs of those he knew that had died.  Between the physical chairs and the details of other's lives Carl desperately wants to hold onto the humanities that have passed. Kaye and Spears nobly rise to the task of balancing humor with sadness in this sometimes funny and more often touching play about friendship, loss, and hope. Tickets may be obtained at www.newrep.org
MARCH 6 – 18: OLD MONEY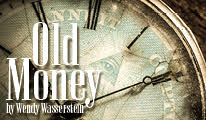 Commonwealth Shakespeare Company(CSC) presents Wendy Wasserstein's comedy at Babson College's Carling-Sorenson Theater, 231 Forest St. in Wellesley. Directed by Karen MacDonald, the play offers challenging, dual roles for each of its eight actors. The play features some of Boston's greatest talents, including Jordan Clark* (Penny Nercessian/Betina Brevoort); Amanda Collins* (Flinty McGee/Florence Deroot), Josephine Moshiri Elwood (Caroline Nercessian/Mary Gallagher); Ed Hoopman* (Sid Nercessian/ Tobias Vivian Pfeiffer); Jeremiah Kissel* (Jeffrey Bernstein/Arnold Strauss); Will Lyman* (Vivian Pfeiffer/Schuyler Lynch); Eliott Purcell* (Ovid Walpole Bernstein/Tobias Vivian Pfeiffer Jr ) and Veronica Anastasio Wiseman (Saulina Webb/Sally Webster). In this rich and witty look at social classes and issues of wealth and privilege from the Gilded Age of the early 20th century to the present day, the play is set at a dinner party in a fashionable home of a wealthy robber baron and his family. They are overlapped by their descendants along with an assorted group of characters in their midst. Among these are an Irish maid, a Hollywood producer, a social climbing decorator, confused teenagers and eccentric artists. They all mingle in this contrast of old money and new. The play is presented by special arrangement with Samuel French, Inc. Tickets may be obtained at www.commshakes.org
MARCH 8 – 25: THE IRISH AND HOW THEY GOT THAT WAY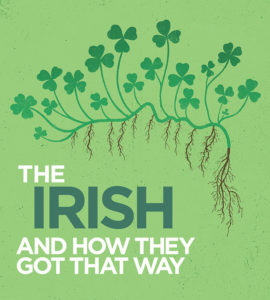 The Greater Boston Stage Company at 395 Main St. in Stoneham presents Pulitzer Prize winning author of Angela's Ashes, Frank McCourt's delightful, musical celebration of Irish heritage. The revue is filled to the brim with humor, stories and heart. Inspired by a heritage that confronts adversity with determination, good humor, music, and a love of life, McCourt's wit, insight and boundless love for the Irish are underscored by music extending from the auld Irish folk ballads to World War II standards, and beyond. The production boasts original musical arrangements by Rusty Magee and is presented by special arrangement with The Irish Repertory Theatre Company, Inc. Directed by Dawn Simmons with Music Direction by Kirsten Salpini, the show features William Gardiner*, Nile Hawver*, Michael Levesque, Kirsten Salpini and Ceit Zweil* (*denotes member of Actors' Equity Association). You don't have to be Irish to be celebrating the wearing of the Green. Tickets for this festive show may be obtained at www.greaterbostonstage.org
THROUGH MARCH. 10: WINTER SOLSTICE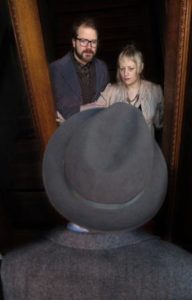 Apollinaire Theatre at the Chelsea Theatre Works, 189 Winnisimmet St. in Chelsea presents Roland Schimmelpfennig's postmodern and satirical play about the failure of liberal intellectuals to confront the historic danger of extremism. Schimmelpfennig' is the recipient of the highest Play-writing Award in Germany, the Else-Lasker-Schüler-Prize. It was written in 2015 in a German context, but it's universal relevance has become increasingly more striking in 2017. With a a spot on translation by David Tushingham', direction by Brooks Reeves, and featuring Maureen Adduci, Lindsay Beamish, Ambjörn Elder, Brian McCarthy, and Phil Thompson, the play is a portrait of liberal impotence in the face of blind conviction. Fascism doesn't show up in jackboots and swastikas. It arrives in the form of a polite older gentleman on Christmas Eve who the mother-in-law had met on her train ride. Will these well-meaning dedicated people take action when fascism is entertaining them in their living room? "'Twas the night before Christmas and all through the house, a fascist went raving, spewing out essentialist propaganda within earshot of his unwitting, awkwardly polite hosts' young child… Schimmelpfennig's masterstroke is not in constructing this compelling situation though, but in how he has his characters describe their actions as they perform them. The cast not only speak their lines, they speak their stage directions too, allowing a whole world of concealed frustrations, desires and anxieties to surface in bursts of delectably dry comedy…An exciting, experimental German import full of biting satirical humor.'…..The Stage Tickets may be obtained at www.apollinairetheatre.com
THROUGH MARCH 11: LOST LAUGHS: THE SLAPSTICK TRAGEDY OF FATTY ARBUCKLE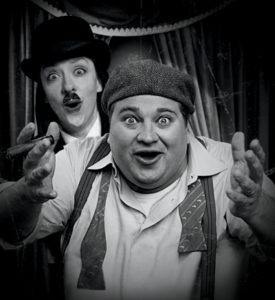 Aaron Muñoz as the infamous but ultimately fragile, 1917's first, super star and funny man, Fatty Arbuckle – plays opposite the incredibly versatile stage and TV star, Kristen Mengelkoch, who wows the audience with continuous quick change artistry as she takes on the persona of 'Will'…as well as everyone else in the comedian's life. This talented duo brilliantly carries this funny and weighty World Premiere that is chock full of the clever slapstick comedy routines that made Vaudeville and the early film era so great.  The Merrimack Repertory Theatre at The Nancy L. Donahue Theatre (In Liberty Hall, adjacent to Lowell Memorial Auditorium), 50 East Merrimack Street in Lowell presents co-writers Aaron Muñoz and Andy Bayiates' historic account surrounding the rise and fall of  Hollywood legend, Roscoe "Fatty" Arbuckle.  Directed by Nathan Keepers this production gives the audience a delightful sampling of what made this performer so great and loved by the nation."Fatty" Arbuckle, during silent film's golden age, was ranked with the funniest of the funny, and the greatest of the great!  Then the journey begins to take a sad turn as we become privy to the talented actor's demons and an event that ultimately trapped him in the jaws of what many felt was "the crime of the century." Literally overnight his reputation was savagely destroyed and his work was pulled from nearly every movie house in the country. With that historic scandal forever attached to his name, the light of which was fed by a vulturous media frenzy, Fatty lost favor with his fans along with his fortune.  What could possibly come next?  The thin line between comedy and tragedy is made evident with MRT's explosive theatrical event filled with big laughs along with shocking revelations. "Roscoe 'Fatty' Arbuckle is a forgotten Hollywood legend," explains MRT's Artistic Director, Sean Daniels. "He was doing physical comedy on screen before anybody – he was essentially the first "big guy" America fell in love with. Sadly, he's also the first example of the American public really building up a celebrity, only to tear him down once they became disillusioned." Every facet of this show is engaging as well as enlightening.  Tickets may be obtained at www.mrt.org
THROUGH  MARCH 11: RICHARD III

   Actors' Shakespeare Project 2017-18 season surrounding "The Downfall of the Despots" presents William Shakespeare's tragedy of Richard III. Staged at the Swedenborg Chapel, 50 Quincy S. in Harvard Square, in Cambridge. Directed by Robert Walsh* this is the story of a scoundrel's Machiavellian overthrow of the government. The titular character spares no time revealing himself as a cunning, charismatic, and heartless tyrant who will stop at nothing to secure England's crown. The end of the civil "Wars of the Roses" promises a period of peace for the nation, until the death of Richard's newly crowned brother, Edward IV. Seizing opportunity, Richard, Duke of Gloucester, schemes to become king by seduction, betrayal, and any means necessary. Twisted inside and out by discontent, and ruthless in removing anyone he deems obstacles to the throne, Richard hurtles the court and the country farther into moral decline and military destruction. Ultimately, his abuse of power sets the stage for a new hero to rescue England, and a new house to reign.The cast features Resident Company Members Steven Barkhimer*  (Richard III, murderer 2, Duchess of York), Jennie Israel* (Margaret, Brackenbury, King Edward, Ratcliff), Paula Plum* (Queen Elizabeth, murderer 1, Lord Cardinal, young Duke of York, Norfolk),Mara Sidmore* ( Anne, Catesby, Grey, Duchess of York) Michael Forden Walker*( Buckingham, Clarence, Stanley) and  Deaon Griffin-Pressley* (Hastings, Richmond, Tyrell). Filled with deceit, lies, treachery and murder, Richard III is Shakespeare's most charismatic villain, delighting in every moment of his ruthless homicidal path. It is an absolute power.play that resonates with our times and highlights unsettling aspects of human nature. In each of "The Downfall of Despots" themed productions, ASP strives, at the core of each story, to examine what it means to face the crisis of dictatorship, the prospect of national ruin, and the ultimate destruction of a narcissistic ruler. For tickets visit www.actorsshakespeareproject.org
MARCH 13 & 14 (7:30 pm): MANY TRUMP REFUGEES IN ONE BODY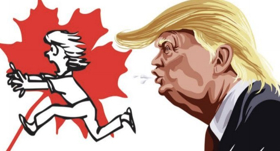 Another Country Productions brings to the stage of The Boston Playwright's Theatre, 949 Commonwealth Ave. in Boston Dorchester resident Lyralen Kaye's, SAG/AFTRA one woman show. Also written by Lyralen Kaye, the inspiration for this fresh comedy about secrets and marriage comes from a panicked flight to Canada, a partner who only wants to keep her job at Harvard, and a secret that was never supposed to be told. Directed by Caitlin Inglis , this show takes the audience into the experience of immigration and the frantic dance of trying to convince the officials you're worthy to cross the border…permanently. The story opens on election night, November 8, 2016, which quickly propels Kaye to immigrate the next day. As her much-loved and change resistant partner throws up roadblocks, as immigration questions and demands throw her into frantic posturing about being more together than anyone could be, and as she seeks a safety net in Canada…..What could possibly go wrong? Through a combination of physical theater, storytelling and stand-up comedy, she lays it all on the line. States Kaye, "I'm a social justice writer. My work is always about equality in both our public and our most intimate lives…and our utter ridiculousness in trying and failing to live up to our best ideals. This memoir piece shows that I'm at least as ridiculous as everyone else. Okay, more so. I'm definitely in the 'more so" category." Kaye , who has won a plethora of writing awards as well as Story and Poetry Slams, takes the audience deeply inside her own experience of being "an overly credentialed multicultural activist (gluten free)" and a woman with a PTSD diagnosis that immigration lawyers are concerned might prevent her acceptance…because of the burden to their health care system. Tickets for this LOL production designed to unify communities with humor may be obtained at www.anothercountryproductions.com
MARCH 16 – 25: THE THREEPENNY OPERA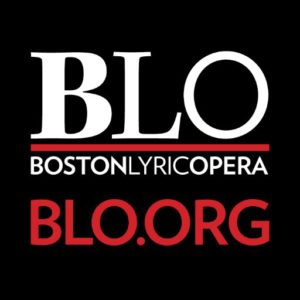 Boston Lyric Opera (BLO) has taped into iconic 20th Century works for this Spring season. The Huntington Avenue Theater at 264 Huntington Avenue hosts this new production of Bertolt Brecht and Kurt Weill's 1928 classic opera. This composition is an irony-laced take-down of capitalist values. The work premiered 90 years ago in Berlin and is set in Victorian London on the eve of a royal coronation. The story surrounds the adventures of the criminal Macheath (a.k.a. Mack the Knife), who marries Polly Peachum. Her father runs a beggar-driven business and vows revenge on Macheath but is thwarted by the friendship between Macheath and the chief of police, Tiger Brown. But Polly betrays him by turning him into the police for money. Macheath attempts to evade his arrest and execution and runs to his former lover, Jenny. With her, he laments his criminal ways, and begs her forgiveness before having to face the gallows. Directed by James Darrah, recipient of the first Music Critics Association of North America Award for Best New Opera, BLO's new production uses Michael Feingold's 1989 translation. Darrah, who makes his Boston professional debut with this production, stated, "I remember…realizing so many of the ballads and narratives I fell in love with were from Threepenny," and he wondered, "how to make an enjoyable piece of theater that also honors its DNA as a pivotal, influential work. It has to have vibrancy as a story worth telling again…mixed with Brecht's desire to dispense with 'museum theater,' operatic excess, and tradition." Threepenny stars Kelly Kaduce (BLO's 2015 La Bohème; 2006's Madama Butterfly and Thaïs) as Polly Peachum. and Christopher Burchett (2016's Greek) plays Macheath. Making BLO debuts are Daniel Belcher as Tiger Brown/Street Singer and Renee Tatum as Jenny. The cast also includes BLO favorites James Maddalena (who originated the title role in 1987's Houston premiere of Nixon in China, and played Sacristan in 2017's Tosca) as Mr. Peachum, Michelle Trainor (2017's Burke & Hare) as Mrs. Peachum, and Chelsea Basler (2016's Carmen) as Lucy Brown. Uniquely, Threepenny often falls in the territory of contemporary musical theater and thus is produced primarily by theater companies. BLO's The Threepenny Opera is conducted by Music Director David Angus and designed by Julia Noulin-Mérat (2017's Tosca). Making their BLO debuts are lighting designer Pablo Santiago and costume designer Charles Neumann. For additional information and to obtain tickets go to
www.blo.org/the-threepenny-opera
MARCH 16 – 31: ANTIGONE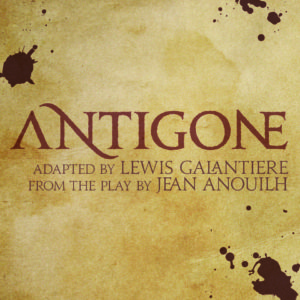 Flat Earth Theatre presents at The Mosesian Center for the Arts at 321 Arsenal Street in Watertown Jean Anouilh's classic drama adapted by Lewis Galantiere. This work is a piece of French Resistance art that uniquely evaded Nazi censorship in 1944. It was overlooked due to its association with the Sophocles play by the same name yet it was written as a form of resistance against Nazi occupation. Jean Anouilh's" retelling" of Antigone boldly re-imagines the original, classical Greek tragedy about a defiant woman in a tyrannical state. The play sets Antigone, challenging her uncle, the new Theban King Creon. Compelled by her moral duty, she wishes to bury her brother, an act that has been declared a treasonous act punishable by death. What transpires is a timeless exploration of when to accept authority in order to maintain the status quo and when to confront it, no matter the consequences. Directed by Lindsay Eagle, the cast features Regine Vital as Antigone, Floyd Richardson as Creon, Rachel Belleman as Ismene, Cody Sloan as Haemon, Elbert Joseph as Chorus, Emily Elmore as Chorus, Michael John Ciszewski as Chorus, Karen Dervin as Nurse, Kim Feener as Guard, Nicole Frattaroli as Guard, Michael Rodriguez as Guard, Amanda O'Donnell as Page, and Lisa Burdick as Eurydice. For tickets to this intense play that surrounds tyranny, demagoguery, and absolute power disrupted…visit www.flatearththeatre.com
MARCH 17 (2 & 7pm) & MARCH 18 (2pm): A LITTLE BIT OF IRELAND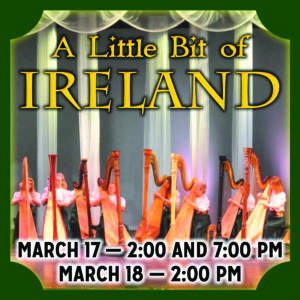 The Reagle Music Theatre at the Robinson Theatre, 617 Lexington St. in Waltham presents their annual revue of every thing that is Irish. One of the largest Irish shows in New England it contains a pinch of Irish tenors, a dash of Riverdance, along with a healthy dose of laughter originated by a master Irish comic. Stirred up in a rousing Irish pub and a visit to a charming Irish cottage along with the grand rhythms of Irish step dancing, the charms of Irish bands plus memorable Irish songs, this is the perfect way for everyone to be Irish and celebrate St. Patrick's weekend! Whether you are an O'reily or an Omelnitskiy, with Reagle's heartfelt homage to the Emerald Isle it is all a little bit of heaven, pure Celtic magic, and a lot of fun for the whole family. Tickets may be obtained at www.reaglemusictheatre.org
MARCH 17 – APRIL 8: THE BAKELITE MASTERPIECE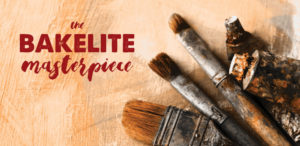 The New Repertory Theatre, in their MainStage Theater at the Mosesian Center for the Arts at 321 Arsenal St. in Watertown presents this dynamic and compelling new work by Kate Cayley. Directed by Jim Petosa, the play is based on the true story of master art forger Han van Meegeren and is set at the end of World War II. Artist Han van Meegeren sits in a prison cell accused of collaborating with the Germans by selling a long-lost Vermeer to the Nazis. This is a crime tantamount to treason. But Van Meegeren contends that the painting is a forgery that he skillfully produced and aged with a special treatment of the plastic known as Bakelite. To save his life he must now create another masterpiece in front of his jailer, art historian Geert Piller. The production features Elliot Norton Award-winner for Outstanding Solo Performance, Benjamin Evett* as Han van Meegeren. Tickets for this riveting historical drama may be obtained at www.newrep.org
THROUGH MARCH 18: OTHELLO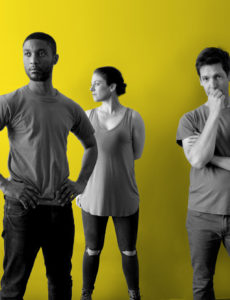 Trinity Repertory Company presents, on their stage at 201 Washington St. in Providence RI, William Shakespeare's profoundly moving tragedy filled with friendship and betrayal, love and jealousy. In this tale of love, race envy and repentance, Othello's most trusted confidante, Iago, allows his envy-fueled passions to plot and carryout a vicious betrayal. It result in catastrophic heartbreak for Othello and death to his beloved bride Desdemona. This stripped down retelling is the portrait of an unraveling mind that engulfs and destroys its very best. Directed by Whitney White, the production features Jude Sandy as Othello, Rebecca Gibel as Desdemona with Stephen Thorne as Iago joined by an additional supporting cast of nine. For tickets to one of Shakespeare's most astounding works visit www.trinityrep.com/show/othello
MARCH 21 – APRIL 15: LITTLE ORPHAN DANNY

     The Merrimack Repertory Theatre at The Nancy L. Donahue Theatre (In Liberty Hall, adjacent to Lowell Memorial Auditorium) at 50 East Merrimack Street in Lowell presents this World Premiere musical. Originally conceived by Dan Finnerty, the production was then created by Sean Daniels and Dan Finnerty with Book, Music, and Lyrics by Dan Finnerty as well as additional Music by Dan Lipton. Directed by Sean Daniels, this is the uproarious musical memoir of The Dan Band's brilliant front-man, Dan Finnerty. Growing up in a small town where he was an altar boy and dwelled with a nice conservative family. But that profile does not quite suit our adopted protagonist. Due to frequent childhood outbursts of blasphemy in church, Dan was redirected to some pathetic adolescent attempts at playing sports. But of the many lessons he learned none could prepare him for the fateful day he meets his birth mother. In Dan Finnerty's irreverent-yet-tender story surrounding the boy he was and the women who made him, there arises the phenomenon of the comedy music world he made. His one-man act, The Dan Band, can be found serenading (and gleefully swearing) throughout Hollywood's greatest "bro comedies" (including the movies, "The Hangover" and "Old School.") Thus the play follows his delightfully crass trademark style but also is a shockingly poignant story of what it's like to grow up with one family, then seek out a different one in adulthood. The production continues MRT's new tradition of presenting innovative, true story musicals. States MRT's Artisitc Director Sean Daniels, "This is maybe the most heartfelt piece in the season," "A musical in the vein of "The Lion" and "My 80 Year Old Boyfriend" that really asks the question: is it family genetics, or is it time served with someone? Can you pick your family? I can't wait for local audiences to learn what national audiences already have: Dan Finnerty is an amazing performer, with a tremendous true story to tell." For tickets visit www.mrt.org
EVERY SATURDAY: IMPROV BOSTON'S NEW ALL AGES SHOWS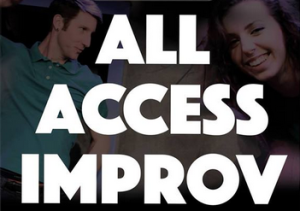 ImprovBoston at 40 Prospect St. in Cambridge provides 25 shows, 5 nights a week, surrounding a variety of current events, holidays, etc. through Improvisation, sketches and standup comedy. It has expanded its base of family-friendly shows with a brand new Saturday lineup. At 4pm each Saturday the theattre's cast presents THE FAMILY SHOW. It is an improv and music extravaganza that is completely made up on the spot. Every show is based on the audience's suggestions. From Minecraft to Star Wars no two shows are alike! Best for children ages 4-12, it is something the whole family will enjoy.. Extroverted children who want to participate have opportunities to be on stage and take part in the fun! The shows are ideal for family outings, birthday parties, and even school field trips. Following, at 6pm, is the ALL ACCESS IMPROV show when the newest, hippest resident cast members take the stage. Fast! Furious! Funny!This weekly event is a high-octane, completely off-the-cuff comedic force of nature. Held in the Main Theater the show is appropriate (all ages welcome) for anyone with a sense of humor. Sixty-five minutes long and jam packed with 100% improvised scenes, songs, and games, the shows are designed to make our professional comedians sweat hard and audiences laugh harder. The best improvisers from ImprovBoston's popular Family Show are combined with the fast-paced Face Off team and the renowned National Touring Company to form an All-Star cast that creates blazing quick-witted comedy, mind-melting improvised music and, of course, copious audience interaction. For a complete schedule and to obtain tickets to a numerous variety of  daring, athletic, immersive comedy shows for everyone go to www.improvboston.com
ONGOING: BLUE MAN GROUP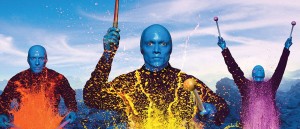 This show has become a global phenomenon! Funny, fun, extraordinary, eccentric…all rolled into one most memorable performance, This permanent, live performance is now installed in six cities as well as tours throughout the USA and Canada. It also has become a highly acclaimed show on Norwegian Cruise Line's Epic ship. The Charles Playhouse at 74 Warrenton St.in Boston's Theater District continues to pack in audiences, many repeaters, as it showcases three blue men, with the cleverest of ingenuity and technology, taking them on an exhilarating entertainment odyssey. This compilation of theater, music, art, science and hilarious humor is suitable for ages 7 to 100. For more information visit www.blueman.com/boston 
ONGOING: COMEDYSPORTZBOSTON
The Riot Theatre, 146A South St, in Jamaica Plain hosts this delightful and hysterically funny improvisational, all suggestion based comedy show. It is fun and suitable for all ages. Two teams of "Actletes" get suggestions from the audience, create scenes, songs and games on the spot while onstage, and compete for your laughs! A referee calls the fouls and the audience gets to participate in the play. It is a fast paced comedy show that's as clean as a game of tennis. It is played by members of the World Comedy League that have performed throughout the US and England since 1984. Its fun for a date, a group of friends and even the whole family, and easily repeatable as it is different every time. For more information go to www.comedysportzboston.com
ONGOING: SHEAR MADNESS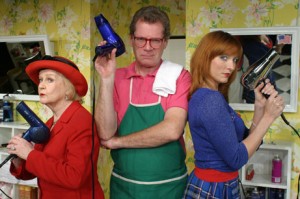 Now an international phenomena, this show has run non-stop for 35 years at The Charles Playhouse Stage II,74 Warrenton St. in Boston's Theater District. The original Boston company has given birth to 42 domestic productions across the country and has been translated into 10 foreign languages and performed on six continents. "Shear Madness" holds the title in the Guinness Book of World Records as the longest running play in US history and has been voted "Best Comedy of the Year" seven times by the Boston Globe, recognized as the "Best Play of the Year" by both the Chicago Sun-Times and the Philadelphia Enquirer, received the Raven Award from the Mystery Writers of America, and is the first play ever inducted into the Comedy Hall of Fame This unique comedy-whodunit takes place today in the "Shear Madness" hair-styling salon and is chock full of up-to-the-minute spontaneous humor. During the course of the action, a murder is committed and the audience gets to spot the clues, question the suspects, and solve the funniest mystery in the annals of crime. The outcome is never the same, which is why many audience members return again and again to the scene of the mayhem.  For tickets go to www.shearmadness.com