PRODUCTIONS ARE INITIALLY LISTED CHRONOLOGICALLY BY 'OPENING  DATE'…WHEN OPENING IS PAST THEY ARE THEN  MOVED DOWN THE LIST CHRONOLOGICALLY, INDICATING 'END DATE' BY THE NOTATION, "THROUGH"…AND THEN IS REMOVED WHEN SHOW HAS ENDED. SO EXPLORE AND MAKE PLANS………………………………..!
THROUGH SEPT.  23: OR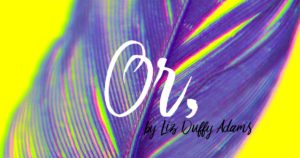 Maiden Phoenix and Simple Machine presents, at the newly-opened black box at Chelsea Theatre Works in Chelsea, Liz Duffy Adams' brilliant and bawdy play that proffers the following questions. Spy or poetess? Lust or love? Wrong or righteous? History or comedy? Aphra Behn is in for a wild night. She's fresh out of debtor's prison after leaving behind her life of cloak-and-dagger intrigue. A wealthy impresario has given her just a few hours to write the script that could launch her career in the theatre. The hottest actress in London is vying for a part in her play and a place in her bed. And her former lover, the drunken fugitive spy, comes to town mixed up in a plot to kill her current lover, the reigning King of England. She'll have to be quick with her quill and clever with her kisses for Aphra Behn to survive the night, thwart the assassins, get the girl, start a new life, and show the world that a woman's place is wherever she damn well pleases. Spy-turned-playwright Aphra Behn will be portrayed by Simple Machine co-founder and Maiden Phoenix alumna Anna Waldron. Actor Michael Poignand (Producing Director, Anthem Theatre Company) will play the dual roles of King Charles II and Aphra's former lover and colleague in intrigue William Scot. The three-person cast is completed by Kaylyn Bancroft (Sister Anonymous, Shit-faced Shakespeare), as legendary Restoration actress Nell Gwynne, enigmatic arts patron Lady Davenant, and Aphra's trusty and crusty servant, Maria. Director Adrienne Boris currently serves as the Artistic Associate and Co-Producer at OperaHub, and has directed with New Repertory Theatre, Boston Center for American Performance, Arts After Hours, Anthem Theatre Company, Opera North, Opera Providence, and NEMPAC Opera Project, as well as Exquisite Corps Theatre, of which she was a co-founder and Managing Director. Tickets are available at www.ortheplay.com or at www.simplemachinetheatre.com.
THROUGH SEPT. 24: REVERSIBLE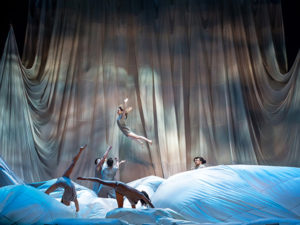 REVERSIBLE IS REMARKABLE! Picture a cast of 8 extraordinary young persons with amazing physical talents. Combine them with the brilliant script, directorship and choreographic artistry of Gypsy Snider. Set it all to music, surrounded by interesting visuals. The result is sheer poetry in motion that provides a wonderfully engaging evening of solid, jaw dropping, entertainment. Arts Emerson presents, at the Emerson Cutler Majestic Theatre, 219 Tremont St. in Boston's Theatre District, the  mind-blowing, 7 Fingers circus troupe's return to Boston! In the summer of 2016, the 7 Fingers' trademark acrobatic and choreographic prowess combined with on-stage cooking wowed Boston with Cuisine & Confessions. The company returns with this U.S. Premiere of their whimsical and vibrant new production.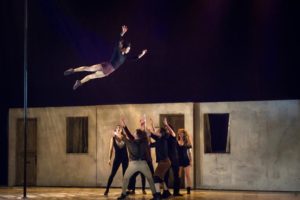 Reversible. It represents the best of contemporary circus in this tale surrounding eight virtuosic performers who travel through time and space to honor their elders by shining a spotlight on the poetry of the human form, linking every ending to a new beginning, and showing that our past is always present.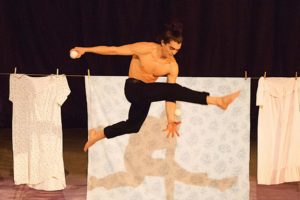 This electrifying mix of theater, illusion, dance, music, and acrobatics is dedicated to former generations whose stories might hold the key to a better tomorrow. The troupe takes traditional circus acts to am all new, stellar level.Tickets for this exciting, unique, and stimulating spectacle may be  obtained at www.ArtsEmerson.org
THROUGH SEPT. 24: IDEATION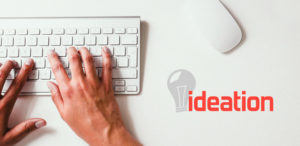 If you are into brain teasers that are way more complex than Rubix Cubes, but enjoy genuine brain-bashers, then you will love this show. As Artistic Director, Jim Petosa said, "At a time when it is increasingly difficult to decipher truth from fallacy in politics and the news, Ideation allows us to explore actions of thought in the creation of realities. In this thrilling and darkly comic mystery, the truth becomes so twisted that we begin to question everything"…(and everybody.)  The New Repertory Theatre at the Mossesian Theatre, 321 Arsenal St. in Watertown presents the Boston-area Premiere of Aaron Loeb's satirical dark comedy. In this psychological thriller, a group of top-tier consultants, played by an energetic, well honed cast consisting of Christine Hamel* as Hannah; Ed Hoopman* as Ted;Matt Ketal* as Sandeep; Jake Murphy* as Scooter and Lewi D. Wheeler* as Brock.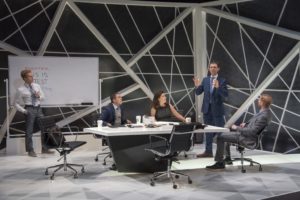 L-R: Jake Murphy, Matt Ketai, Christine Hamel, Lewis D. Wheeler, and Ed Hoopman They are a 'think tank' group of highly schooled individuals that have been tasked with a mysterious project for an anonymous client. The team is sworn to secrecy and must come up with a highly classified solution to a morally, ethically and increasingly questionable, supposedly hypothetical situation…but one that may threaten mankind and tear the team apart in the process. Ideation is a captivating new work that will leave audiences on the edge of their seats. Tickets are available at www.newrep.org
THROUGH SEPT. 24: DAMES AT SEA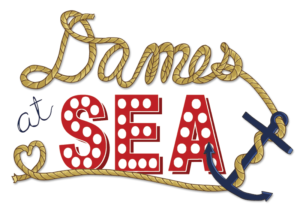 Elliot Norton and IRNE Award-winner Ilyse Robbins brings her amazing flair as director and choreographer to this delightful cotton candy, marshmallow fluff, "Tap Happy" production. She has blended a magical meld of 6 pitch perfect vocalist and dance worthy cast members whose infectious joy for this musical radiates across the lights. The Greater Boston Stage Company's presentation of one of Broadway's  "Biggest Little Musicals" is wholesome fun and sheer entertainment.The story surrounds sweet little Ruby from Hometown, U.S.A. Within 24 hours, she arrives in New York, falls in love, moves from the chorus and catapults to becoming a star on Broadway. The show features international tap champion and extraordinarily, seasoned, young musical performer, Ephie Aardema* as Ruby. Additionally the production boasts an all star, International, Broadway, and Regional cast as follows. Sara Coombs as Joan; multiple IRNE winner and IRNE nominee ShanaDink* as Mona;  Taavon Gamble* as Dick;  IRNE nominated Russell Garrettt* as Hennesey/The Captain and Michael Seltzerr* as Lucky. Each member, singularly and jointly own their roles and believably blend with each other in perfect balance.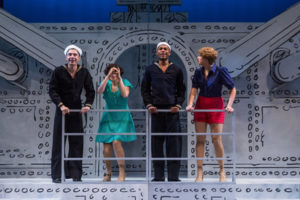 Michael Seltzer*, Ephie Aardema*, Taavon Gamble* and Sara Coombs
This is a celebratory show that has been fashioned in the similar style as the golden era of movie musicals in the days of Busby Berklee spectaculars.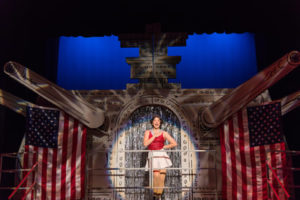 Ephie Aardema* Dames at Sea is a boatload of laughs with non stop, rollicking tap dancing and upbeat music along with love at first sight scenarios and happy endings. With Book and Lyrics by George Haimsohn and Robin Miller along with Music by Jim Wise, the show provides rich and fun entertainment. States Director Robins, "I like to think of Dames at Sea as a cross between 42nd Street, Anything Goes, and Singin' in the Rain." Greater Boston Stage Company is easily located a short distance from Boston at 395 Main St. in Stoneham. Tickets for this 'feel good musical' may be purchased at www.greaterbostonstage.org
SEPT. 26 – OCT. 8: EVITA

The North Shore Music Theatre at 62 Dunham Rd. in Beverly presents this 1980 Tony Award winner for best musical. It is the third and final collaboration between British musical theatre legends Andrew Lloyd Webber and Tim Rice. EVITA is the smash pop opera about a passionate woman who went from the streets of Argentina to show business stardom, to the highest levels of influence in Buenos Aires as the wife of dictator Juan Peron. At once both a saint and a villain, Eva Peron's dramatic, meteoric rise from poverty to prosperity is a groundbreaking as well as heartbreaking depiction of populism, politics and celebrity. The cast features Briana Carlson-Goodman as Eva and Constantine Maroulis as Che. Briana Carlson-Goodman has been seen on Broadway in Doctor Zhivago, Les Misérables, and Hair as well as in regional productions of Carmen, Fiddler on the Roof, The Count of Monte Cristo, and Les Misérables. Constantine Maroulis is an accomplished actor, producer, singer and songwriter best known for his Tony-nominated performance in Broadway's Rock of Ages and his epic run as a Season 4 finalist during the heyday of "American Idol." Other Broadway acting credits include The Wedding Singer and Jekyll & Hyde. Additionally, Constantine earned a second Tony Award nomination as a producer of Broadway's revival of Deaf West's Spring Awakening.  Constantine continues his music career, recently releasing the singles, "Here I Come" and "She's Just Rock N Roll" plus an up-coming album called "All About You."  EVITA will also feature John Cudia as Peron and Nick Adams as Magaldi. John Cudia has been seen on Broadway playing Jean Valjean in Les Misérables, Peron in Evita, and Phantom in The Phantom of the Opera. Nick Adams has been seen on Broadway starring as Adam/Felicia in Priscilla Queen of the Desert, as well as roles in A Chorus Line, Guys and Dolls, Chicago, La Cage aux Folles, and The Pirate Queen. The score contains songs such as High Flying Adored, Buenos Aires and Don't Cry for Me Argentina plus many more. For tickets to this poignantly beautiful show visit www.nsmt.org
SEPT. 27 – OCT 1: HOME

ArtsEmerson brings to the Robert J. Orchard stage in the Emerson Paramount Center, 559 Washington St. in Boston, Geoff Sobelle's unique large-scale spectacle that is built from the ground up. The production starts on an empty stage. A house then begins to be conjured from thin air. In this magical house party of the greatest proportion, people move in, move out, get evicted, burn it down, loot it, rent it, remodel it, get married and divorced in it, grow up in it, die in it and haunt it… all the while they live among the traces of residents present, past and future. By combining dance, illusion, live music, home-spun engineering and an inventive use of audience interaction to compose an experience that asks, "where is home?"…Geoff Sobelle's HOME allows everyone who ever lived to transcend time and to share space. A magical, large-scale spectacle built from the ground up, HOME explores — and explodes — the relationship between "house" and "home," and it invites audiences to think twice about the physical and emotional bonds that connect us while making us ponder, "If it is not a place, what is home?" Tickets may be obtained at www.artsemerson.org/
SEPT. 28 – NOV. 26: DEATH OF A SALESMAN & SKELETON CREW …in Rotating Repertory
Trinity Repertory Theatre at 201 Washington St. in Providence, RI season kicks off with a poignant and powerful fall repertory schedule that focuses on The American Dream, then and now. They are featuring two plays whose themes harmonize through our history. The productions are Death of a Salesman by Arthur Miller and Skeleton Crew by Dominique Morisseau. Miller's masterpiece surrounds the perilously high cost of the American Dream. More than half a century after Willy Loman struggled for success in Death of a Salesman the play now explodes with moving relevance under the direction of Brian McEleney. Skeleton Crew, fresh from off-Broadway, features a makeshift family of four factory workers in 2008 Detroit struggling with their futures as their industry flirts with failure. Skeleton Crew is directed by Brown/Trinity Rep alum, Tiffany Nichole Greene. States artistic director Curt Columbus, "This next season is very much about the ways we communicate with each other when we're fighting for our dreams." Tickets are available online at www.trinityrep.com
SEPT. 29 – OCT. 1: LET'S HANG ON!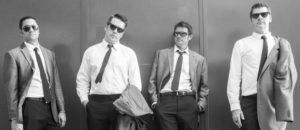 The Stoneham Theatre at 395 Main St. in Stoneham presents this premiere musical tribute to Frankie Valli and The Four Seasons. It is a full blown stage production complete with that Four Seasons sound, crisp choreography, and a live band. Four great looking guys sing and dance their way through some of the best songs of all time such as "Big Girls Don't Cry," "Walk Like A Man," "Sherry," "Can't Take My Eyes Off of You," "Working My Way Back To You," and many more!. For tickets go to www.stonehamtheatre.org
SEPT. 30 – OCT. 14: A BRIGHT ROOM CALLED DAY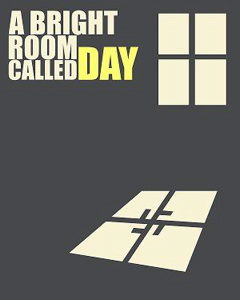 Flat Earth Theatre presents Pulitzer Prize and Tony Award–winning playwright Tony Kushner's (Angels in America) theatrical fable of justice, resistance, and complicity. The play is staged at the Mosesian Center for the Arts, 321 Arsenal St. in Watertown. Directed by Greater Boston Stage Company's Director of Education Dori Robinson (Silent Sky) the story is set against the historical backdrop of 1930's Germany. In Berlin, a group of bohemian friends struggle to respond to the frightening realities as Adolf Hitler and the Nazi Party rises to power. Watching their world unravel around them from the uncertain safety of Agnes Eggling's apartment, these artists, activists, and idealists grapple with the responsibility of making moral choices in a time of vanishing options. Hailed by the Chicago Tribune as "unabashedly political, thought-provoking, and a little scary," A BRIGHT ROOM CALLED DAY reverberates across time, from Germany's Weimar Republic to contemporary America, posing timely questions about citizenship, resistance, and complicity. Tickets may be purchased at www.flatearththeatre.com
THROUGH SEPT. 30: HEARTBREAK HOTEL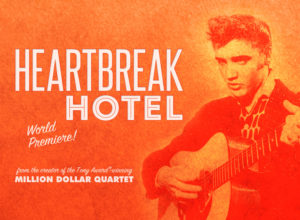 The Ogunquit Playhouse, 10 Main St. (Rte 1) in Ogunquit Maine presents this world premiere musical from the creator of the Tony Award-winning Million Dollar Quartet. They are proud to produce this new show that is a brand new tribute to the "King of Rock 'n' Roll" and is the prequel to the Tony-winning, record-setting, smash hit Million Dollar Quartet that became the greatest selling show in Ogunquit Playhouse history. This tender story follows Elvis Presley in the early years of his burgeoning career as he and Sam Phillips create the music that will forever change their lives. As Elvis' career skyrockets, both lifting and shattering the lives of those he loves, a secret love story is revealed, a betrayal is discovered, and "Colonel" Tom Parker changes the course of history, all in just 18 short months. This world premiere musical features hit songs from the King himself as well as the legends who influenced his iconic music, with chart-toppers including "Blue Suede Shoes," "Tutti Frutti," "That's All Right Mamma," "Shake Rattle and Roll," and, of course, "Heartbreak Hotel." This is where the story begins…so… "take a walk down lonely street" as Elvis's poignant start is revealed. Tickets for this event are available at www.ogunquitplayhouse.org
THROUGH OCT. 1: THE PHANTOM OF THE OPERA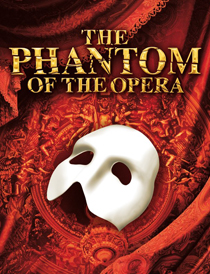 When the great chandelier starts to rise and the orchestra erupts in the overture of The Phantom of the Opera, the majesty and power of this production pounds into your very soul with every chord. The rapture that is Andrew Lloyd Webber's THE PHANTOM OF THE OPERA captures you from the very beginning. Cameron Macintosh's new production is spectacularly lush with jaw-dropping sets that have been newly reinvented! Lexus Broadway In Boston presents this touring production at the Boston Opera House located at 523 Washington St. in Boston. This updated version of THE PHANTOM OF THE OPERA is performed by a cast and orchestra of 52, making this one of the largest productions on tour in North America. Based on the classic novel Le Fantôme de L'Opéra by Gaston Leroux, the musical tells the story of a masked figure who lurks beneath the catacombs of the Paris Opera House while exercising a reign of terror over all who inhabit it.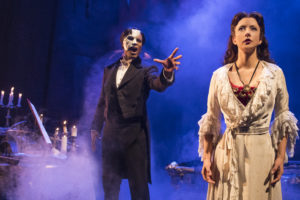 He falls madly in love with an innocent young soprano, Christine and devotes himself to nurturing her extraordinary talents as well as employing all of the devious methods at his command to bring her to stardom. Broadway seasoned Derrick Davis, along with his profound vocals, adds an exquisitely heartbreaking passion to his role as the Phantom. The crystal tones of Eva Tavares as Christine, along with Jordon Craig as Raoul bring their operatic experience to the stage. Trista Moldovan, who performed in the role of Christine over 10,000 times on Broadway has segued to playing the overtly temperamental Prima Donna, Carlotta Giudicelli. They are joined by a rich and talented ensemble which are all wrapped up in extraordinarily gorgeous, period costumes.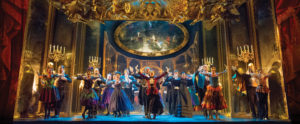 Andrew Lloyd Webber said, "Having received great critical acclaim in the UK, I am really pleased that this new production of PHANTOM is to tour the US again, which will play in tandem with the Broadway production which has recently celebrated 29 years." Cameron Mackintosh added, "I'm delighted that my new production of PHANTOM has proved to be as spectacular a success as the brilliant original which is still the reigning champion as the longest-running production on Broadway after 29 phenomenal years. This exciting new staging, retaining Maria Björnson's amazing costumes with a terrific new cast is thrilling audiences and critics alike and gaining a whole new generation of fans eager to see this version again and again. This new production of PHANTOM has now been seen by over 2 million people across North America since it opened in November 2013. It continues to take the 'music of the night' to dazzling new heights." Tickets for this phenomenal Broadway show…the best of the best… may be obtained at www.BroadwayInBoston.com
OCT. 4 – 29: FROM HERE TO ETERNITY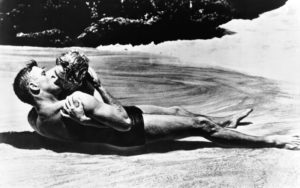 The Ogunquit Playhouse, 10 Main St. (Rte 1) in Ogunquit Maine is honored to collaborate with Tim Rice and the Finger Lakes Musical Theatre Festival with the roll-out of the North American premiere of this epic new stage musical. From Here to Eternity is set in Hawaii in the weeks before the 1941 attack on Pearl Harbor. It is an epic tale that follows the powerful story of two U.S soldiers, the soulful Private Pewitt and the ardent Sergeant Warden, as they embark on doomed and dangerous love affairs with the wrong women. As the infamous date of December 7th approaches, the claustrophobic world of the four lovers and the desperation of the soldiers of G Company splinter amidst an escalating war. It is a compelling story of men at war that has been set to a fantastic, not to be missed, new score. Due to the strong language, mature themes and some violence, the theatre encourages patrons to use their judgment regarding a child's age and maturity level. Tickets may be obtained at www.ogunquitplayhouse.org
OCT. 6 – NOV. 5: A GUIDE FOR THE HOMESICK

The Huntington Theatre Company presents this arresting new drama by Huntington Play-writing Fellow, Ken Urban. Directed by Colman Domingo and staged at the Wimberly Theatre in the Calderwood Pavilion at the Boston Center for the Arts, 539 Tremont St. in Boston's South End, the story surrounds a powerful chance encounter between two strangers. On his way home after a year in East Africa, a young aid worker goes back to a shabby Amsterdam hotel room with a fellow American. Their meeting offers the possibility of connection and redemption for both as the two strangers replay their pasts and confess their shared fears that they betrayed the people who needed them most. OC Weekly says, "Urban is brilliant, provocative, and gushing with talent." States the author, "It is incredibly meaningful to me that my play about two friends from Boston will premiere here." "The Huntington has supported my work since 2007 and being a part of this season feels like coming home." Ken Urban is one of the most exciting writers and most generous of human beings," says director Colman Domingo. "The Huntington is a theatre where I've created groundbreaking work with Mary Zimmerman (Journey to the West) and with Lisa Kron (Well). What an exciting time to dive into the deep end of the pool with Ken's latest work, A Guide for the Homesick. A home that is built to examine our inner human struggles and global crisis. I am thrilled to be at the helm of this collaboration." Tickets are available at www.huntingtontheatre.org
OCT. 7 (7:30 pm): TO BEGIN THE WORLD OVER AGAIN/THE LIFE OF THOMAS PAINE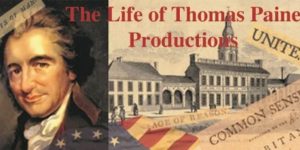 Actor Ian Ruskin brings his acclaimed one-man play to Faneuil Hall in Boston. This Boston premiere follows performances that have been held around the world and shown on a film that aired on PBS over the July 4th holiday. No other Founding Father was anywhere close to Thomas Paine in his vision of democracy. Paine's book Common Sense was the spark that ignited the American Revolution and remains in print today over 200 years later. Today's political environment, while never specifically mentioned in the play, reminds us to revisit Paine's words with calls for the end of slavery and voter suppression, plus pleading for a government that cares for its citizens and provides equality for women. Tickets for this not-to-be-missed production are available at www.eventbrite.com/e/to-begin-the-world-over-again-the-life-of-thomas-paine-tickets-37165226192
THROUGH OCT. 7: MEN ON BOATS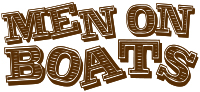 Speakeasy Stage at the Boston Center for the Arts on Tremont St. in Boston's South End presents this rollicking adventure tale brought thrillingly to life by a gender-bending cast of diverse performers. "I am talking about racially diverse actors who are female-identifying, trans-identifying, genderfluid, and/or non-gender-conforming," notes the playwright in her script. The production is written by Jaclyn Backhaus who has created a cast of characters that she has carefully manipulated with exaggerated theatrics to tell the story of an actual 1869 expedition led by John Wesley Powell to chart the Colorado River. Directed by Dawn M. Simmons the production is comical but never camp, pointed but ever political. To go on this journey with her, Ms. Simmons has assembled a crew of  Boston-based actors that include Lyndsay Allyn Cox, Ally Dawson, Veronika Duerr, Bridgette Hayes, Alice Kabia, Mal Malme, Cody Sloan, Robin Javonne Smith, Hayley Spivey, and Ellie van Amerongen. The all-female design team is Jenna McFarland (scenic); Rachel Padula-Shufelt (costumes); Daisy Long (lighting); and Elizabeth Cahill (sound) and Samantha Layco is the Production Stage Manager while Simmons is assisted by Sloth Levine.  It is a tongue -in-cheek historical saga with a provocative meditation on gender and historical memory that offers a new lens through which to view our shared past. Tickets may be obtained at www.speakeasystage.com
THROUGH OCT. 7: FACELESS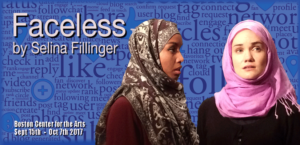 Zeitgeist Stage Company opens their 17th season at the Plaza Black Box Theater at the Boston Center for the Arts with this timely and compelling play by Selina Fillinger The story surrounds eighteen-year-old Susie Glenn. She is on trial for conspiring to commit acts of terrorism. Recent Harvard Law grad and practicing Muslim, Claire Fathi, has been brought on to prosecute. Though pitted against one another in the courtroom, these two young women are fighting a similar battle to defend their morals, motives and religious freedoms in this riveting and timely new drama. An explosion of identity politics, questions of faith, and a face-off between two seemingly diametrically-opposed women drives this completely, compelling narrative. The show is a New England Premiere and the second production of the show following the World Premiere at Northlight Theatre in Chicago in January '17. Directed by Zeitgeist Stage's Artistic Director David J. Miller, the cast features Ashley Risteen (The Big Meal, Neighbourhood Watch) as Susie and Aina Adler (The Submission, Cakewalk) as Claire. The cast also includes Victor Shopov (ZSC's Bent, The Normal Heart) as prosecuting attorney, Scott Bader; Robert Orzalli (Hub Theatre, New Rep) as defense attorney Mark Arenberg; and David Anderson (Boston Actors' Theater, Apollinaire Theater) as Alan Glenn, Susie's father. Tickets are available at www.bostontheatrescene.com/season/Faceless/
THROUGH OCT.: 8: CONSTELLATIONS

No matter how magnificent the rhetoric or the story line in a play, its success lies in the artistic ability of the actors to bring it to life. This production is a masterful exhibition of stellar acting. IRNE award-winner Marianna Bassham* and IRNE and Elliot Norton Award-winner Nael Nacer* stand center stage and show off their sharply honed craft. They flawlessly segue, from comedy to drama to poignant intensity, all the while mesmerizing the audience with a myriad of almost every possible human emotion in a play that is woven around a complex world of possibilities and outcomes. It is full of rewinds of 'what ifs', 'why nots' and 'if onlys', and if what was said was 'phrased differently'. Constellation is a brilliant concept performed by a brilliant cast!  The Underground Railway Theater, under the gifted hand of Artistic Director, Debra Wise, brings to the Central Square Theater, 450 Massachusetts Ave, in Cambridge multi-award winning playwright Nick Payne's play that The New York Times asked: "Who knew that higher physics could be so sexy?" The great puppeteer of this fine performance is three time Elliot Norton Award-winner, four time IRNE Award-winner, the Stage Source award recipient and the Norton Award for Sustained Excellence, Director, Scott Edmiston. Tickets for this rich theatrical experience may be obtained at www.centralsquaretheater.org
THROUGH OCT. 8: GYPSY

The Lyric Stage Company at 140 Clarendon St. in Boston once again creates magic on their diminutive stage. Gypsy, a poignant musical by Jule Styne with lyrics by Stephen Sondheim and book by Arthur Laurents, is traditionally a large stage production. But under the tight direction and choreography by the IRNE award-winning Rachel Bertone with music direction by IRNE award-winner Dan Rodriguez, the production is delightfully successful in Lyric Stages' intimate setting.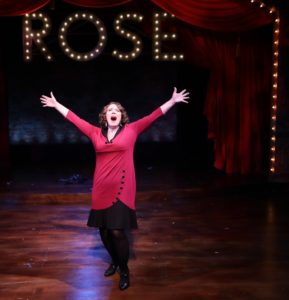 Elliot Norton and IRNE award-winner, Leigh Barrett*, knocks the role of the obsessive, verbose, stage stuck Mama Rose, right out of the proverbial, theatrical park. Every musical number assigned to her is spot on, as she drives her daughters on a Vaudeville career path to satiate her own, unrequited desire to be a star. She is joined by Elliot Norton and IRNE award-winner, Steven Barkhirmer*who holds his own as the ever patient Herbie, throughout the varied musical numbers.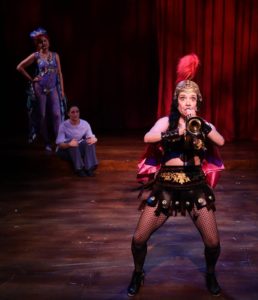 A surprising treat is the hysterically funny performance by Boston favorite, Elliot Norton and IRNE award-winner, Kathy St. George* as she bumps and grinds and blows her horn in the role of Mazeppa, the stripper. Kudos to Brady Miller* in his role as Tulsa and his soft shoe, Fred Astaire inspired dance number. Additionally, raves for all the cast including the precious, talented children. The show is filled with a list of memorable songs such as "Everything's Coming Up Roses," "You Gotta Have a Gimmick," "Let Me Entertain You," "Small World" and many more. The NY Times stated that Gypsy was, "The greatest of all American musicals!"  Gypsy is based on the memoirs of the famed Gypsy Rose Lee from her childhood start in burlesque to her rise to mega-stardom. Catch this show while it is here. You will leave the theater joyfully humming, "Everything's Coming Up Roses."  For tickets go to www.lyricstage.com
 THROUGH OCT. 8: THE ROYALE
This production is a huge surprise! It is not about boxing but is more about a brave leap made by, not just an exceptional athlete but an exceptional man. The show, magnificently directed by MRT's Director in Residence and IRNE award-winner Megan Sandberg-Zakian, is based on actual events leading up to the 1910 fight of Jack Johnson against defender James J. Jeffries. The Merrimack Repertory Theatre at The Nancy L. Donahue Theatre (In Liberty Hall, adjacent to Lowell Memorial Auditorium), 50 East Merrimack Street in Lowell presents this regional premiere of Marco Ramirez's Obie, Outer Critics Circle and Drama Desk Award-winning play. The audience enters as Jay Jackson seeks the opportunity to become the first black man ever to fight for the title of World Heavyweight Champion. Once committed, tickets are  sold by the tens of thousands. The press conferences are harrowing and intense as America gears up for the "Fight of the Century". Jackson and his colleagues are greeting the dawn of a new era that none of them can begin to comprehend.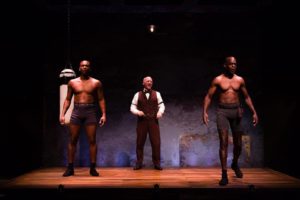 This tight cast flawlessly engages the audience as it propels the story toward its intense conclusion. Thomas Silcott as Jack Johnson and Toran White as Fish, Johnson's sparring partner. deliver convincing performances, especially with the addition of their finely chiselled bodies. And, Mark W. Soucy, as Jackson's promoter as well as Jeorge Bennett Watson, as Jay's trainer, perform with perfect intensity.  Since Johnson was African-American and Jeffries was white the racial undertones of the competition festered and grew nationally. The Christian Socialist Reverdy Ransom organization pompously stated back then, "The greatest marathon race of the ages is about to begin between the white race and the darkest races of mankind. What Jack Johnson seeks to do to Jeffries in the roped arena will be the ambition of Negroes in every domain of human endeavor." As Johnson's sister, Nina (played by IRNE award-winner Ramona Lisa Alexander) says to her brother before the fight, "More damage can be caused by those outside the ring."  The media called Jeffries "The Great White Hope" and was astounded when Johnson beat Jeffries igniting  race riots across the country.  With power and grit, The Royale is tastefully presented with gentle verbal sparring and stylized not real boxing. But the message lands a major punch that brings the audience joyfully to their feet in praise of Jackson's victory…not in the ring but in the larger arena of life. Tickets for this perfectly engaging and enjoyable play may be obtained at www.mrt.org
THROUGH OCT. 8: EXIT THE KING

  The first presentation of Actors' Shakespeare Project's 14th season is under the leadership of Acting Co-Artistic Directors and IRNE award-winners Maurice Emmanuel Parent and Paula Plum along with Executive Producer Kim Dawson, and Director of Education Programs, Projects, and Partnerships Mara Sidmore. This 2017 – 18 season surrounds the theme of "The Downfall of the Despots." Exit the King, written by Eugène Ionesco and directed by Dmitry Troyanovsky*, is a hilarious and poignant comedy about a megalomaniacal ruler, King Berenger, whose incompetence has left his country in near ruin. Despite the efforts of his two queens and the other members of the court to convince the King he has only 90 minutes left to live, he refuses to relinquish any control. The tale resonate with our times and highlights many unsettling aspects of human nature. In each of these productions this season, ASP strives to examine what it means to face the crisis of dictatorship, the prospect of national ruin, and the ultimate destruction of a narcissistic ruler that is at the core of each tale. The production will be on the stage of the Jackie Liebergott Black Box Theatre, in the Emerson Paramount Center at 559 Washington Street in Boston. For tickets visit www.actorsshakespeareproject.org
OCT. 12 – 29: ALLIGATOR ROAD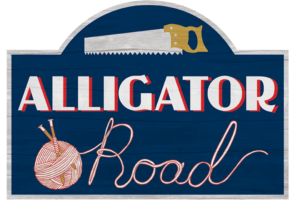 The Greater Boston Stage Company at 395 Main St. in Stoneham presents this offbeat Family Yarn by Maine playwright Callie Kimball. Directed by Weylin Symes, this inaugural play of the Don Fulton New Play Project focuses on some peculiar behavior on the part of Kathy, a recent widow. She initially yarn-bombed the family hardware store. But then, her decision to literally give away the store to a complete stranger causes a tense confrontation with her college-age daughter. This brand-new play examines the pushes and pulls of family, community and race in a funny and heartfelt way. Tickets may be obtained at www.greaterbostonstage.org
OCT. 12 – NOV. 6: SILENT SKY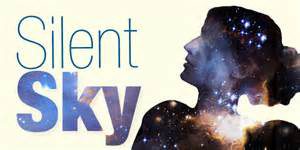 The Merrimack Repertory Theatre at The Nancy L. Donahue Theatre (In Liberty Hall, adjacent to Lowell Memorial Auditorium), 50 East Merrimack Street in Lowell presents Lauren Gunderson's acclaimed play. Directed by Sean Daniels, the story surrounds, astronomer Henrietta Leavitt who trades the comforts of her Midwestern home for a job at the Harvard Observatory in Massachusetts. Her ambition leaves both her family as well as her new colleagues (women known simply as "computers") perplexed. But with a single discovery, their views of themselves, each other, and the universe itself will be upended for all time. An incredible story of bold love, boundless determination, and the vast grandeur of the cosmos. Playwright Lauren Gunderson (MRT's "I and You," 2015) was the most produced living playwright in all of the American theatre in the 2016-17 season, and it's easy to see why. Her sharp and eloquent writing brings vivid life to her characters, and she's equally at home writing historical drama, modern comedy, and wildly imaginative fantasy. "Silent Sky" has been showered with accolades nationwide, The Atlanta Journal-Constitution stated that it is a, "luminously beautiful play" while to the San Francisco Chronicle noted it to be, "sheer magic". Tickets for this unparalleled treat for the heart, mind, and senses may be obtained at www.mrt.org
THROUGH OCT. 13: WARHOLCAPOTE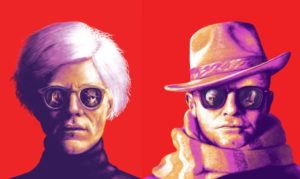 The American Repertory Theater (A.R.T.) located at the Loeb Drama Center, 64 Brattle Street in Cambridge presents Rob Roth's new play, an adaptation of recently found tapes that were made in the late 1970s by Truman Capote and Andy Warhol. They decided that they were destined to create a Broadway play together so over the course of several months, they would sit down to record a series of intimate, wide-ranging conversations. The play never came to be, and the hours and hours of tape were lost to the ages. Until now. With the support of the Andy Warhol Foundation for the Visual Arts and the Truman Capote Literary Trust, Award-winning director Rob Roth—who discovered the recordings in the late 2000's—unveils the content of the tapes in this world premiere of Warhol Capote. Directed by Tony Award-winner Michael Mayer (Spring Awakening), the production features Dan Butler in the role of Truman Capote. He is joined by Stephen Spinella (Tony Award winner for Angels in America) who portrays artist Andy Warhol.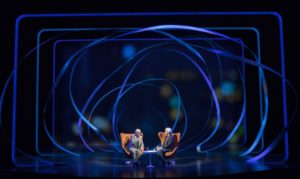 Dan Butler previously appeared at A.R.T. as George Wallace in All the Way, on Broadway in Twentieth Century, Biloxi Blues, and The Hothouse, Off-Broadway in The Insurgents, The Weir, Olive and the Bitter Herbs, Irish Curse, Beast, Old Money, The Only Thing Worse You Could Have Told Me, The LisbonTraviata, Widow Claire, Much Ado About Nothing, and Emerald City. His film and television credits include Crazy, Stupid Love; Pearl (adapter and director); Karl Rove, I Love You (producer, co-writer, and co-director); Respect for Acting; Chronic Town; Fixing Frank; Enemy of the State; The Fan; Silence of the Lambs; "The Mist"; "Banshee"; "Blindspot"; "BlueBloods"; "Prayers for Bobby"; and six seasons on "Frasier." Stephen Spinella (Andy Warhol) makes his A.R.T. debut in WARHOLCAPOTE. Broadway credits include Angels in America (two Tony and two Drama Desk Awards), A View from the Bridge, Electra, James Joyce's The Dead (Outer Critics Circle and Drama Desk Awards, Tony nomination), Our Town, Spring Awakening, Velocity of Autumn. Off-Broadway credits include Volpone, Love! Valour! Compassion! (Obie Award), The Seagull, The Intelligent Homosexual's Guide…, An Iliad (Lucille Lortel and Obie Awards, Drama Desk nomination), As You Like It, Hamlet, A Man's a Man, and Coriolanus. His film and TV credits include: Milk, Lincoln, Rubber, "The Education of Max Bickford," "Royal Pains," "24," "Desperate Housewives," "ER," "The Knick," and "Code Black." Tickets may be obtained at www.americanrepertorytheater.org
OCT. 14 – NOV. 5 : OLEANNA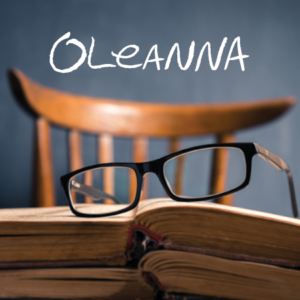 The New Repertory Theatre at the Mossesian Center for the Arts, 321 Arsenal St. in Watertown presents David Mamet's compelling, classic drama. Directed by Elaine Vaan Hogue the play features one of Boston's outstanding and favorite actors, Johnny Lee Davenport (The Whipping Man, Thurgood). In this originally groundbreaking drama about political correctness and perception, the focus is on power. When John, a professor, tries to help his student Carol, is it a misunderstanding or inherent misogyny that causes trouble? Oleanna crackles with the fiery dialogue of Mamet at his finest. For tickets go to www.newrep.org
THROUGH OCT. 15: MERRILY WE ROLE ALONG

The Huntington Theatre Company presents, at the Huntington Avenue Theatre, 264 Huntington Ave. in Boston, Stephen Sondheim's legendary musical. Director Maria Friedman recreates her stunning, London production that received universal rave reviews as well as the most five star reviews in West End history plus the Olivier Award for Best Musical. The show premiered over 30 years ago and now is considered to be a legendary, cult-favorite musical. With book by George Furth, the story charts the relationships of close friends Franklin, Charley, and Mary while featuring some of Sondheim's most beautiful songs such as "Good Thing Going," "Old Friends," and "Not a Day Goes By." The Independent called this production, "One of the great musical productions of this or any other era," and The Guardian described it as, "A thrilling evening of musical theater. Essential viewing!" Stephen Sondheim commented on Maria Friedman's London production stating, "This production of Merrily We Roll Along is not only the best I've seen, but one of those rare instances where casting, direction, and show come together in perfect combination, resulting in the classic ideal of the sum being greater than the parts." For tickets to this unforgettable musical go to www.huntingtontheatre.org
OCT. 17 – 29: FUN HOME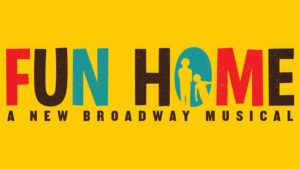 Lexus Broadway in Boston brings this 5 Tony-award winning musical production to the stage of the Boston Opera House at 539 Washington St. in Boston. Directed by Sam Gold, the show was called "the first mainstream musical about a young lesbian." It was a finalist for the 2014 Pulitzer Prize for Drama and won the Lucille Lortel Award for Outstanding Musical, the New York Drama Critics' Circle Award for Best Musical, and the Obie Award for Musical Theater. This groundbreaking production, based on Alison Bechdel's best-selling graphic memoir, introduces us to Alison at three different ages in her life. Each reveals memories of her uniquely dysfunctional family and how they affected her in surprising ways. Thus, it is a musical about making sense of our parents…and ourselves as the audience witnesses this daughter's determination to understand and connect with her volatile, brilliant, and enigmatic father. Stated The New York Times, "Heart-gripping and cathartic, FUN HOME occupies the place where we all grew up". It is an intimate and emotional theatrical experience that allows us to look through Alison's eyes as she reflects on the moments that made her who she is and how far our society has come. Driven by some of the smartest and most joyful musical numbers presently on Broadway, this show is an emotional roller-coaster ride. Seekers of provocative, invigorating and entertaining theater will be surprised, thrilled, and enthralled. Tickets may be obtained at www.broadwayinboston.com
OCT. 20 – NOV. 19: SOUVENIR…A FANTASIA ON THE LIFE OF FLORENCE FOSTER JENKINS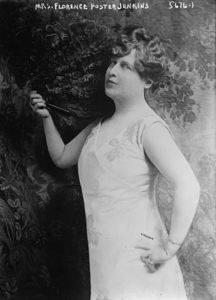 The Lyric Stage Company at 140 Clarendon St. in Boston presents Stephen Temperley's story of one of modern history's truly fascinating persons. Directed by Spiro Veloudos, the production features the return of Leigh Barret and Will McGarrahan in a command performance of one of Veloudos' favorite productions drawn from the last 20 seasons. Souvenir is a sweet and hilarious fantasia on the life of Florence Foster Jenkins, the passionate but self-deceiving music lover. Ms. Jenkins was one of the finest coloratura sopranos in history — but, alas, only in her own mind! Despite being called "majestically awful," her concerts in the 1930s and '40s were not only sold-out but were attended by the crème de la crème of Manhattan society. Souvenir is the story of a woman who believed that "what matters most is the music you hear in your head." The play's title, Souvenir, comes from Jenkins insisting on recording "Queen of the Night" (Mozart), saying that when her voice is not as strong, the recording will make "a lovely souvenir." Previous reviews stated, "A brilliant performance by Leigh Barrett!" — ]Boston Globe and "Will McGarrahan is the best!" — Theater Mirror. Tickets may be obtained at www.lyricstage.com
OCT 26 – NOV 19: KISS

ArtsEmerson presents at the Emerson Paramount Center, Jackie Liebergott Black Box at 559 Washington St. Chile's Guillermo Calderón intense drama that focuses on the reality that what you don't know can hurt you. The story surrounds a young, aspiring theatre troupe who discovers and decides to perform what they believe is a Syrian soap opera. But, they come to realize just how much they got it wrong. Kiss is a brilliant play-within-a-play that shows how misunderstanding cultural cues can reveal blind spots you never knew you had. Kiss dissolves cultural borders and asks audiences to question what they believe to be true of the complicated world around them. Told in a layered, self-referential style, Chilean playwright and director Guillermo Calderón (who brought Neva to ArtsEmerson in 2013) brings his masterful sensibility to this intense, tightly wound new production where naiveté can turn out to be the kiss of death. Stated the New York Times, "[Calderon is] Chile's most acclaimed playwright-director of the last two decades"while On Stage and Screen warns,"The true meaning of the title will shock you." Tickets may be purchased at www.artsemerson.org
OCT. 27 – NOV. 23: IN THE HEIGHTS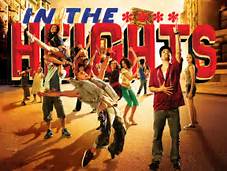 Wheelock Family Theatre at 180 Riverway in Boston launches their 37th season with this upbeat, exciting production. The book is by Quiara Alegria Hudes along with the music and lyrics by Lin-Manuel Miranda. The creative team for this production includes two IRNE Award-winners, Rachel Bertone as director and choreographer and Dan Rodriguez as musical director. Set in New York's Washington Heights neighborhood, In the Heights tells the universal story of a vibrant community full of hopes, dreams, and pressures. Produced by special arrangement with Dramatic Publishing, the show is suitable for ages 10 and above. Tickets may be obtained at www.wheelockfamilytheatre.org
NOV 9 –11: THE STATE OF SIEGE

Artsemerson at the Emerson Cutler Majestic Theatre at 219 Tremont St., presents Théâtre de la Ville France's production about staring up to the face of fear. Written by Nobel Prize-winning author Albert Camus, the show is staged by leading avant-garde French director Emmanuel Demarcy-Mota and is also co-produced by Les Théâtres de la Ville de Luxembourg. On its first visit to the United States, The State of Siege is set to take the country by storm this fall. This rarely staged work was penned in 1948 and weaves a tale of paranoia, endurance and political struggle, resulting in a dizzying modern metaphor. With a renowned ensemble working on an epic scale, The State of Siege (L'État de siège) explores how art can serve as a way to process as well as to resist human atrocities. It bodes the questions, "What role can art play in the face of peril?" and, "Faced with imminent danger, can the human spirit remain focused on the beauty of life? Tickets may be obtained at www.artsemerson.org
EVERY SATURDAY: IMPROV BOSTON'S NEW ALL AGES SHOWS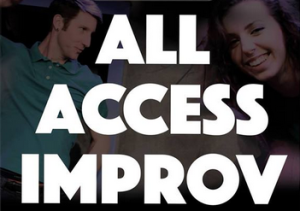 ImprovBoston at 40 Prospect St. in Cambridge expands its base of family-friendly shows with a brand new Saturday lineup. At 4pm each Saturday the theattre's cast presents THE FAMILY SHOW. It is an improv and music extravaganza that is completely made up on the spot. Every show is based on the audience's suggestions. From Minecraft to Star Wars no two shows are alike! Best for children ages 4-12, it is something the whole family will enjoy.. Extroverted children who want to participate have opportunities to be on stage and take part in the fun! The shows are ideal for family outings, birthday parties, and even school field trips. Following, at 6pm, is the ALL ACCESS IMPROV show when the newest, hippest resident cast members take the stage. Fast! Furious! Funny!This weekly event is a high-octane, completely off-the-cuff comedic force of nature. Held in the Main Theater the show is appropriate (all ages welcome) for anyone with a sense of humor. Sixty-five minutes long and jam packed with 100% improvised scenes, songs, and games, the shows are designed to make our professional comedians sweat hard and audiences laugh harder. The best improvisers from ImprovBoston's popular Family Show are combined with the fast-paced Face Off team and the renowned National Touring Company to form an All-Star cast that creates blazing quick-witted comedy, mind-melting improvised music and, of course, copious audience interaction. For tickets to these daring, athletic, immersive comedy shows for everyone go to www.improvboston.com
ONGOING: BLUE MAN GROUP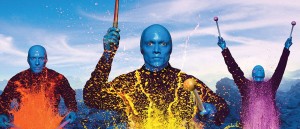 This show has become a global phenomenon! Funny, fun, extraordinary, eccentric…all rolled into one most memorable performance, This permanent, live performance is now installed in six cities as well as tours throughout the USA and Canada. It also has become a highly acclaimed show on Norwegian Cruise Line's Epic ship. The Charles Playhouse at 74 Warrenton St.in Boston's Theater District continues to pack in audiences, many repeaters, as it showcases three blue men, with the cleverest of ingenuity and technology, taking them on an exhilarating entertainment odyssey. This compilation of theater, music, art, science and hilarious humor is suitable for ages 7 to 100. For more information visit www.blueman.com/boston 
ONGOING: COMEDYSPORTZBOSTON
The Davis Square Theatre at 255 Elm St. in Somerville presents this delightful and hysterically funny improvisational, all suggestion based comedy show. It is fun and suitable for all ages. Two teams of "Actletes" get suggestions from the audience, create scenes, songs and games on the spot while onstage, and compete for your laughs! A referee calls the fouls and the audience gets to participate in the play. It is a fast paced comedy show that's as clean as a game of tennis. It is played by members of the World Comedy League that have performed throughout the US and England since 1984. Its fun for a date, a group of friends and even the whole family, and easily repeatable as it is different every time. For more information go to www.comedysportzboston.com
ONGOING: SHEAR MADNESS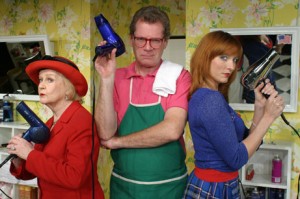 Now an international phenomena, this show has run non-stop for 35 years at The Charles Playhouse Stage II,74 Warrenton St. in Boston's Theater District. The original Boston company has given birth to 42 domestic productions across the country and has been translated into 10 foreign languages and performed on six continents. "Shear Madness" holds the title in the Guinness Book of World Records as the longest running play in US history and has been voted "Best Comedy of the Year" seven times by the Boston Globe, recognized as the "Best Play of the Year" by both the Chicago Sun-Times and the Philadelphia Enquirer, received the Raven Award from the Mystery Writers of America, and is the first play ever inducted into the Comedy Hall of Fame This unique comedy-whodunit takes place today in the "Shear Madness" hair-styling salon and is chock full of up-to-the-minute spontaneous humor. During the course of the action, a murder is committed and the audience gets to spot the clues, question the suspects, and solve the funniest mystery in the annals of crime. The outcome is never the same, which is why many audience members return again and again to the scene of the mayhem.  For tickets go to www.shearmadness.com
.