THROUGH MARCH  29: LITTLE WOMEN…THE MUSICAL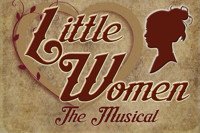 The Ocean State Theatre Company at 1245 Jefferson Blvd. in Warwick, RI presents this timeless captivating story that is brought to life in a glorious musical filled with personal discovery, heartache, hope, and everlasting love. With Book by Allan Knee, Music by: Jason Howland and Lyrics by: Mindi Dickstein, the production is based on Louisa May Alcott's popular novel Little Women. The story follows the adventures of sisters Jo, Meg, Beth and Amy March. An avid writer, Jo is trying to sell her stories for publication, but the publishers are not interested. Her friend Professor Bhaer tells her that in order to do better she should write more stories from her own experience. Jo, begrudgingly takes his advice, and weaves the stories that surround herself and her sisters and their experience growing up in Civil War America. Tickets for this delightful musical are available at www.oceanstatetheatre.org/tickets/littlewomen/
MARCH 31 – MAY 7: THE WHO and THE  WHAT

The Huntington Theatre Company at the Calderwood Pavilion 527 Tremont St. in the Boston Center for the Arts presents this provocative and moving drama by Ayad Akhtar, the Pulitzer Prize-winning author of the blockbuster hit Disgrace. The Who & the What is a fierce and funny new play about relationships, religion, and the contradictions that make us who we are. Directed by Huntington's associate producer M. Bevin O'Gara (Milk Like Sugar and Becoming Cuba), the story surrounds a brilliant novelist, Zarina. She is writing about women and Islam when she meets Eli, a,young convert who bridges the gap between her modern life and traditional heritage. When her conservative father discovers her controversial manuscript, they all must confront the beliefs that define them. "A vibrant culture-clash drama simmering with humor," says the Associated Press. "I am so excited to share the loving and thorny tale of Zarina's family with Boston audiences," says playwright Ayad Akhtar. "After last season's provocative hit Disgraced I am looking forward to having another story by Ayad Akhtar brought to life on our stage," says Artistic Director Peter DuBois. "The Who & the What provides a unique, vitally important look into the Muslim American experience through the lens of faith and family."National Endowment for the Arts Chairman Jane Chu has approved NEA's first major funding announcement for fiscal year 2017 with an Art Works grant of $40,000 to the Huntington to support this production.. The Art Works category focuses on the creation of art that meets the highest standards of excellence, public engagement with diverse and excellent art, lifelong learning in the arts, and the strengthening of communities through the arts."The arts are for all of us, and by supporting organizations such as the Huntington Theatre Company, the National Endowment for the Arts is providing more opportunities for the public to engage with the arts," says NEA Chairman Jane Chu. "Whether in a theatre, a town square, a museum, or a hospital, the arts are everywhere and make our lives richer."A full list of talk-backs and public events will be released in March. Tickets may be obtained at www.huntingtontheatre.org
MARCH 31 – APRIL 15: COYOTE ON A FENCE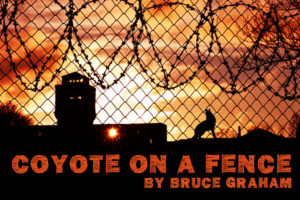 Hub Theatre Company of Boston kicks off their highly anticipated fifth season with this riveting drama by Bruce Graha at The First Church Boston 66 Marlborough St. in Boston's Back Bay. Directed by IRNE Award nominated director Daniel Bourque the production features Cameron Gosselin, Mark Krawczyk (courtesy of AEA), Rob Orzalli, and Regine Vital in this inspired by actual events play that tells the story of two men living on death row under vastly different circumstances. Young Bobby Reyburn is a likable, illiterate member of the Aryan Brotherhood who committed a horrific crime. John Brennan is an educated, arrogant writer whose crime may actually be deemed a favor to society. The production bodes a number of questions" Can you be innocent though proven guilty? Can one be sentenced to death but worthy of life. Does a horrible childhood excuse a heinous deed? Who deserves to die? With language both powerful and precise this play is both timely and provocative. All performances are Pay-What-You-Can. Donations of new and gently loved children's books will be collected at each performance for local charities. For tickets to this penetrating new drama and utterly compelling theatre experience visit www.hubtheatreboston.org
THROUGH APRIL 1: GRAND CONCOURSE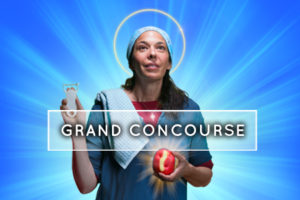 This production by Speakeasy Stage Company at the Stanford Calderwood Pavilion in the Boston Center for the Arts, 527 Tremont St. in Boston's South End, boasts an engaging as well as satisfying script that provides plot surprises throughout. Each character, like humanity itself, is uniquely three dimensional in Heidi Schreck's tale that surrounds Shelley, a Catholic nun who runs a soup kitchen in the Bronx, tentatively oversees her flock of homeless misfits, and is on the verge of 'burn-out. She is 'played by IRNE award-winning actress as well as successful playwright, Melinda Lopez. The play gives the viewer a unique perspective into the many faces of mental illness as each character struggles on various unseen levels to cope with life, love and the pursuit of grace.The quick witted, often very funny, schizophrenic "Frog", a homeless former intellectual who now passes time writing joke books provides comic relief in this dramatic presentation. He is played by Thomas Derrah, who is a founding member of the ART as well as has an impressive resume of theater and film credits, including numerous IRNE and Norton awards.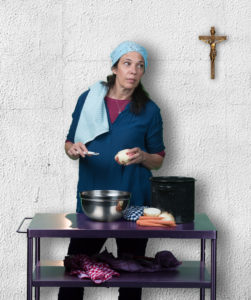 Shelly runs the kitchen with an iron hand as well as with the help of Oscar (Alejandro Simoes), a former Dominican Republic dental student with a buoyant, Hispanic personality.  who now makes a living as a security guard at the church. Shelly has been struggling to find meaning in her work, also with the tenants of her faith, and too with her relationship  with God. .With the arrival of Emma (Ally Dawson), ,a college dropout who is looking for a sense of purpose, who hides disturbing secrets of her own, she ultimately provides the proverbial straw that may or may not break Shelly's soul. Directed by Bridget Kathleen O'Leary, the play is filled with gentle humor and great heart as it explores the mysteries of faith, forgiveness, compassion, and knowing when enough is enough. Tickets are available at www.speakeasystage.com
THROUGH APRIL 1: PLAY ON MUSIC THAT MOVES US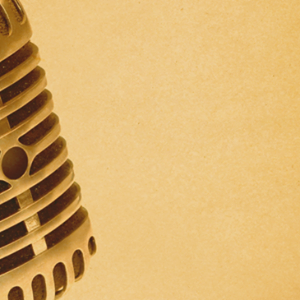 Bad Habit Productions  at the Calderwood Pavilion in the Boston Center for the Arts on Tremont St. in Boston's South End presents this original BHP family friendly show. Adapted and directed by Liz Fenstermaker.  Music has always played an important role in the world, and helps to tell stories about people, places and moments in history. If you know a young music lover, this show is the perfect way to get up, dance, and sing while learning about famous musicians and the music that moves us. For mroe information and toobtain tickets go to www.badhabitproductions.org
APRIL 1: COMMONWEALTH SHAKESPEARE'S GALA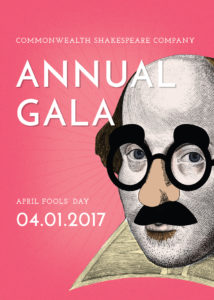 Join CSCS to ensure they have funds for their 22nd season of Free Shakespeare on the Common. The Boston's Mandarin Oriental at 776 Boylston St. in Boston is the site for this April Fools Day extravaganza. The evening consists of great food, madcap performances by CSC2 actors, plus dancing the night away to the tunes of Boston Party Machine! All proceeds support their education programs and Free Shakespeare on the Common. For more information and to obtain tickets go to www.commshakes.org
THROUGH  APRIL 2: FRANKLIN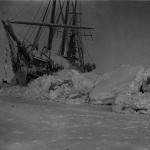 Boston Playwright's Theatre and the College of Fine Arts School of Theatre presents, at the Boston Playwrights' Theatre, 949 Commonwealth Ave., Samantha Noble's play about the Franklin expedition to the Arctic in 1845. The group sought to explore the Northwest Passage and instead found ice, starvation, and insanity. The ship was never found. Modern-day underwater archeologist Caroline has been searching for three years, but time is running out. The production's origin comes out of an assignment in one of Noble's graduate classes with Professor Ronan Noone at Boston University. Noone challenged her to write a historical scene set at a moment that changed everything for the people involved. Noble says her mind went instantly to the last hours of the sailors of the Franklin expedition. "It's a moment when a great ambition became a great disaster," she says. "But for the men involved, it's something worse: it's a moment of realizing that the ambition that you thought would make you great has doomed you." Two crews, two ships, and one 200-year-old mystery surrounds this story directed by Stephanie LeBolt. Tickets are available at www.bu.edu/bpt/purchase-tickets/
THROUGH APRIL 2: OUR AMERICAN HAMLET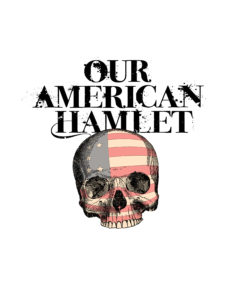 Commonwealth Shakespeare Company presents Jake Broder's world premiere. Directed by Steven Maler and staged at the Sorenson Center for the Arts at Babson College at PARK MANOR SOUTH, 231 Forest St. in Babson Park/ Wellesley. The year was 1866, less than a year after President Lincoln was assassinated by John Wilkes Booth. His brother Edwin Booth, one of the greatest Shakespearean actors of the nineteenth century, decided to perform Hamlet on Broadway, a role he had performed in the past to great acclaim. A huge crowd turned up for the performance — but it wasn't clear whether they were there to see the actor perform, or to exact their revenge. Jacob Fishel, an actor with a wide-ranging career on television and on and off Broadway, takes on the role of Booth. For tickets go to www.commshakes.org
THROUGH APRIL 2: THE REAL INSPECTOR HOUND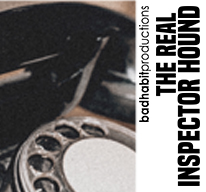 Bad Habit Productions at the Calderwood Pavilion in the Boston Center for the Arts at 527 Tremont St. presents Tom Stoppard's hilarious spoof of an Agatha Christie-like melodrama. Directed by Dawn M. Simmons, the play follows feuding theater critics Moon and Birdboot. The first is a stubbornly conservative philanderer and the second is a pompous and vindictive second stringer. While watching a who-dun-it, they become swept up into the production they are reviewing and become dangerously implicated in the lethal activities of an escaped madman. As mists rise about isolated Muldoon Manor with a mysterious body under the sofa,"The Real Inspector Hound is an exceedingly clever lampoon, sharply in focus…" said The New York Times. Tickets may be obtained at www.badhabitproductions.org/
THROUGH APRIL 2: SINNERS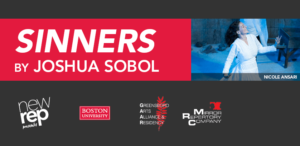 TheatreLab@855 at 855 Commonwealth Avenue in Boston hosts New Rep and Boston Center for American Performance in association Greesnboro Arts Alliance presents Joshua Sobol's new play. This is part of the BU New Play Festival. Directed by Emmy Award-winner Brian Cox, the play features Nicole Ansari and Ben Getz The story surrounds Layla, a married English professor who has an affair with one of her married students, Nur. Out of fear that the oppressing authorities would find out and kill them both, Nur decides to confess, claiming that Layla seduced him. This fully staged production examines issues of women's rights, societal constraints, and what choices one makes for love. For tickets and more information visit www.newrep.org/sobol
APRIL 4 – 9: THE ILLUSIONISTS – LIVE FROM BROADWAY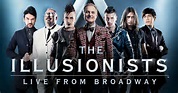 Broadway In Boston presents at the Boston Opera House, 539 Washington St. this mind blowing spectacular showcase with the jaw dropping talents of seven of the most incredible Illusionists on earth. This show has shattered box office records across the globe and dazzles audiences of all ages with a powerful mix of the most outrageous and astonishing acts ever to be seen on stage. It is a non-stop show packed with thrilling and sophisticated magic of unprecedented Produced by Simon Painter, Tim Lawson and MagicSpace Entertainment the show was conceived by Simon Painter. The show's creative team also includes executive producer Tim Lawson, director Neil Dorward and creative director Jim Millan. The show features seven stars, each a master in their own field. The Manipulator, Yu Ho-Jin is considered to be a rising superstar in the world of magic and recently was named the 2014 "Magician of the Year. The Anti-Conjuror, Dan Sperry, is described as Marilyn Manson meets David Copperfield as he combines the art of magic with the macabre. The Trickster, Jeff Hobson, is the epitome of glamour and showmanship who has audiences laughing long after the curtain goes down. The Escapologist, Andrew Basso, is Italy's star escape artist who considers Houdini his hero, performing Houdini's famous Water Torture Cell with absolutely no covers. The Inventor, Kevin James, is an inventor, comedian and collector of the strange and unusual and is known for creating some of the most celebrated illusions of the last century. The Weapon Master, Ben Blaque, has established himself as America's foremost master of the crossbow after appearing four times on America's Got Talent performing incredibly dangerous acts of dexterity using highly powerful crossbows to shoot various objects. The Deductionist, Colin Cloud, is one of the greatest thought readers and is a psychic savant known as a real-life Sherlock Holmes. He's never lost. a game of poker. Creative Producer Simon Painter said, "We can't wait to bring this electrifying show to Boston for a truly entertaining experience for the whole family. THE ILLUSIONISTS is the most non-stop and powerful mix of outrageous and astonishing acts ever to be seen on the live stage." For more information on the Boston engagement, please visit www.BroadwayInBoston.com
THROUGH  APRIL 5: MRS. PACKARD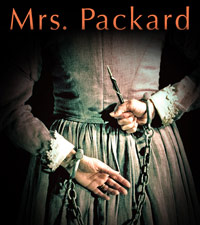 This is a not-to-be-missed, production shines light on one of the most incredible oppression that existed toward women in our own country. Additionally it focuses on the historical bravery and courage that one woman, Elizabeth Packard,  possessed to change things. Under the law of Coverture, upon marriage, a woman's legal rights were subsumed by those of her husband. This law was enshrined in the common law of England and the United States throughout most of the 19th century. Thus, a married woman was not recognized as having legal rights and obligations distinct from those of her husband. A woman's existence was incorporated into that of her husband. She could not own property, sign legal documents, enter into a contract, obtain an education against her husband's wishes. If she was permitted to work, under the laws of coverture she was required to relinquish her wages to her husband. It also allowed for the husband, if he chose to declare this wife legally insane. Bridge Rep presents at the Cambridge Multicultural Arts Center at 41 Second St. Emily Mann's stunning American drama that was Inspired by the true events that occurred in 1961 when Elizabeth Packard's husband had his wife committed to the Illinois State Asylum. Why?  Because she became outspoken about her religious beliefs that differed from her husbands. The play, performed by a remarkably stellar cast,  chronicles Mrs. Packard's struggle to fight for her life, maintain her sanity in an insane situation and right a system that was heinously wrong. Directed by Emily Ranii, Mrs. Packard is brilliantly and most passionately  portrayed  by Olivia D'Ambrosio* .The supporting ensemble consists of an impressive group of Boston favorites such as  Steven Barkhimer*, Matthew Zahnzinger, Joseph W. Rodriguez, and 14 others. To obtain tickets go to www.bridgerep.org
APRIL 5 – 9: TERRA NOVA

Wellesley College Repertory Theatre at the Ruth Nagel Jones Theatre, 106 Central Street in Wellesley at Wellesley College presents Ted Tally's intense drama. Directed by Nora Hussey, Terra Nova is the story of Captain Scott's expedition to the South Pole in the winter of 1911-12. Five Englishmen and five Norwegians raced each other to the bottom of the Earth. Only the Norwegians returned. The discovery that Amundsen had preceded him, the bravery and suffering of his team, the self-sacrifice of Captain Oates, and the final tragedy, are recounted in a mixture of fantasy and realism that underlines both the human and the epic qualities of the adventure. In this unique production, Wellesley College women explore this very male experience. Nora Hussey directs along with award winning designers, David Towlun…sets, Costume Design…Chelsea Kerl, Sound Design….George Cooke, Lighting Design….Graham Edmondson, and Videography …Johnathan Carr. Wellesley College students bring this play vividly to life. For tickets go to www.wellesleyrepertorytheatre.org/terra-nova/
APRIL 5 – MAY 7: PARADISE
Underground Railway Theatre Company at the Central Square Theater, 450 Massachusetts Ave. in Cambridge presents Laura Maria Censabella 's intense drama. Directed by Caitlin Nasema Cassidy the story surround Yasmeen, a Muslim-American teenager who live in the Bronx. To salvages her perfect score, she meets with her teacher, Dr. Royston, a mysterious scientist forced to teach high school biology. If Yasmeen can raise her grade she may also gain her independence, pursue her passion for science while hopefully honoring her cultural traditions. An unlikely yet inspiring partnership is created that shines a light on adolescent romantic love. Clashes do arise out of their conflicts over religion, science, and mentor-ship as both the lives of the teacher and his student are transformed forever. The production features Shana Gozansky as Yasmeen, who steps out of her director mode to segue to actress. She is joined by popular local actor Barlow Adamson as Dr Royston. For tickets go to www.centralsquaretheater.org
APRIL 7 – MAY 6: EVERYMAN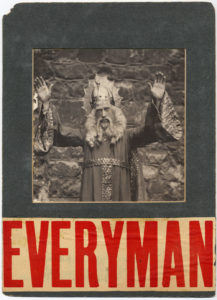 Apollinaire Theatre Company at Chelsea Theatre Works, 189 Winnisimmet St. in Chelsea presents Carol Ann Duffy's stunning and thought provoking adaptation of a late 15th-century morality play . Directed by Danielle Fauteux Jacques, the play is an allegorical accounting of the journey to face death of Everyman, ergo all of mankind. Everyman tries to convince the group of other characters to join him in facing this finality in order to improve his account with God. Each character personiifies such moral traits as Fellowship, Goods (Material Possessions), Knowledge, Good Deeds and others.. The conflict between good and evil is dramatized by the interactions between the characters. "What was originally church propaganda has been turned into a scathing assault on the myopic materialism of the modern age and a reminder of our own mortality." stated the-Guardian. Tickets may be obtained at www.apollinairetheatre.com
APRIL 7 – MAY 7: BARBECUE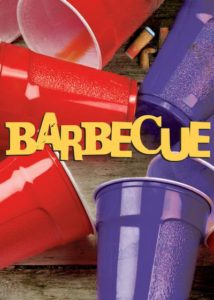 Lyric Stage located at 140 Clarendon St. presents Robert O'Hara's viciously funny new take on family drama that skewers the stories we celebrate. Directed by Summer L. Williams, Barbecue surrounds the O'Mallery family as they gather in their local park to share some barbecue and straight talk with their sister. They are the kind of family that comes to an intervention armed with a Taser, even though their own downward spirals rival hers. But that's only the beginni!ng Familial and cultural stereotypes begin to be stripped away. Director Summer L. Williams (Intimate Apparel) will have the audience racing to keep up with all the surprises and reversals in this piercingly funny new play. "A very funny, recurring, surprising, and ultimately thoughtful new play!" — Hollywood Reporter Tickets may be purchased at www.lyricstage.com
APRIL 8 (6-9 pm): SPEAKEASY STAGE SPRING GALA

Come celebrate the future of SpeakEasy Stage! Over 250 artists, friends, and supporters will gather at the Hyatt Regency1 Ave de Lafayette in Boston to celebrate the work of SpeakEasy Stage. In addition to top-drawer local entertainment, this year's event includes a cocktail reception, open bar, seated dinner, silent auction, and live music. In addition, the event will honor Lovely Hoffman and Samuel Yin, two individuals whose personal and artistic contributions have been an integral part of SpeakEasy's success: Lovely Hoffman is a passionate Boston artist, arts educator and advocate. As a dedicated educator she has worked tirelessly to make sure her students experience all of Boston's robust arts scene. A talented actor, singer, and songwriter, she is perhaps best known to theatre audiences for her award-winning turn as "Celie" in SpeakEasy's production of The Color Purple. Samuel Yin is a long-time supporter of the arts in Boston and a strong proponent of new works. He previously served on the boards for the Boston Cultural Council, the Massachusetts College of Art and Design, and the Boston Center for the Arts. A former member of SpeakEasy's Board and Board of Overseers, Sam is now focused on helping SpeakEasy grow its new works program titled The Boston Project. For tickets to this fun and festive fund raiser that will include a silent auction go to www.501auctions.com/speakeasy/tickets?type=6256
APRIL 8 – 30: BARNUM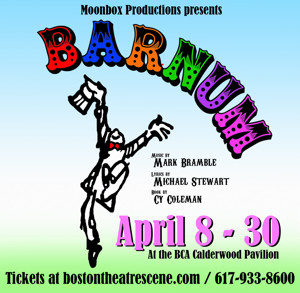 Moonbox Theatre Company presents at the Boston Center for the Arts Calderwood Pavilion, Roberts Studio Theatre, 539 Tremont Street, Boston the dazzling American musical, BARNUM, by Mark Bramble, Michael Stewart and Cy Coleman.  BARNUM traces the career of P.T. Barnum, America's greatest showman, from 1835 to 1881, the year he joined James A. Bailey to form "The Greatest Show On Earth". Over the objections of his grounded and level-headed wife Charity, Barnum attempts to create a show in which the main attractions are freaks of society. Included in this mix are the oldest woman alive, the smallest man in the world, a glamorous Swedish opera singer, and Jumbo the Elephant! Although the "prince of humbug" makes sacrifices along the way, BARNUM tells a story about hope and determinism and how anyone can achieve their greatest goals if they dream big and bright enough and have the courage of their convictions. Rather than hiring professional circus performers and acrobats for the production, Moonbox Productions will be partnering with Boston's premiere circus training group, Esh Circus Arts, to train its cast members to perform all the circus routines themselves. "We are excited to be pushing the boundaries of what's expected from actors in the Boston area," said Rachel Bertone, Director and Choreographer for Moonbox Productions. Produced by Sharman Altshuler, directed and choreographed by Rachel Bertone, with music direction by Dan Rodriguez, the cast of Moonbox Productions' presentation of Barnum features Todd Yard (P.T. Barnum), Shonna Cirone* (Charity Barnum), Bransen Gates (Tom Thumb), CarlA Martinez* (Joice Heth), Zaven Ovian (Ringmaster/James Bailey), Jessica Kundla (Jenny Lind), Matthew Kossack (Ensemble), Daniel Forest Sullivan (Ensemble), Dan Prior (Ensemble), Allison Russell (Ensemble), Joy Clark (Ensemble), Andrea Lyons (Ensemble), Alexa Wang (Ensemble). (*Member of Actors' Equity Association). With each show, Moonbox Productions partners with a local non-profit giving them visibility on their website and in their promotional materials, as well as giving them access to their audiences in order to raise awareness of their cause, create connections within the community, and increase the reach and impact of their work. For the production of Barnum, Moonbox will be partnering with ZUMIX. ZUMIX is an East Boston-based nonprofit organization dedicated to positive youth development and building community through music and the arts.The creative and design team include Sharman Altshuler (Producer), Rachel Bertone (Director & Choreographer), Dan Rodriguez (Music Director), Julie Marie Langevin (Production Manager), Emily Brown (Assistant Production Manager), Alexandra Jameson Shoemaker (Stage Manager), Amanda Ostrow (Assistant Stage Manager), Sammy Landau (Assistant Stage Manager), John Malinowski (Lighting Designer), Brian McCoy (Sound Design), Marian Bertone (Costume Design), Dave Lucey (Wardrobe/Dresser), Cameron McEachern (Set Designer), Lisa Charlotte Berg (Properties Master), Alex Brandt (Master Electrician), Brian Melcher (Technical Director), Emily White (Dramaturg). To purchase tickets for BARNUM go to www.bostontheatrescene.com/season/Barnum
THROUGH APRIL 9: ALTAR BOYZ
This is a delightful entertainment  and Brian Msurprise filled with great musicality, fabulously funny lyrics and tight choreography…all performed by five amazingly talented young men.  Stoneham Theatre 395 Main St. in Stoneham presents this sinfully spectacular musical! Conceived by Marc Kessler and Ken Davenport and directed by Tyler Rosati & Ceit Zweil with book by Kevin Del Aguila, music and lyrics by Gary Adler and Michael Patrick , along with choreography by Ceit Zweil, Altar Boyz is a foot-stomping, rafter-raising, musical comedy about a fictitious Christian boy band on the last night of their national 'Raise the Praise' tour.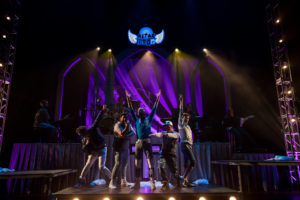 The Cast of Altar Boyz (2017). Photo Credit: Maggie Hall Photography  The Boyz, Matthew, Mark, Luke, Juan, and Abraham, played by Michael Levesque. Michael Jennings Mahoney* Sean Mitchelll Crosley, Ricardo D. Holguin,,and Bryan Miner*…respectively…wow the audience with their perfect harmonies, fancy foot work as well as numerous, over the top, impressive solos.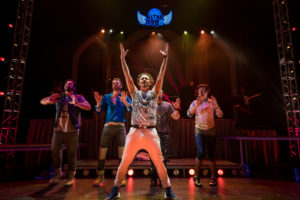 Ricardo D. Holguin and the Cast of Altar Boyz Photo Credit: Maggie Hall Photography Each performer brings a unique  twist to the show that makes one fall in love with their individual, quirky characters. The four piece band produces a big band sound in this intimate setting by Scenic designer, Jenna Lord.  In this  playful parody surrounding religion and filled with satirical  wit, these boyz won't rest until they lift the soul of every single member of the audience. Tickets for this totally upbeat time at the theater are available online at www.stonehamtheatre.org
THROUGH APRIL 9: TOPDOG/UNDERDOG

Extreme poverty combined with an ample dose of ego can be a fatal combination, especially when stirred up with a large spoon of loss and rejection. This is the perfect formula for Suzan-Lori Parks'2004,  dynamic Pulitzer Prize-winning play, on stage at the Huntington Theatre Company at the BU Theatre on Huntington Ave. in Boston.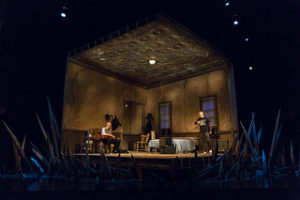 Directed by the 2013 Tony, Grammy. Drama Desk and Outer Critics Circle award-winner, Billy Porter (The Colored Museum), the story surrounds Lincoln, played by theater and TV veteran, Tyrone Mitchel Henderson, and Booth, played by actor, dancer, choreographer and TV performer, Matthew J. Harris. They are brothers, best friends, and…bitter rivals. A psychologist would revel in the depth of each character's psyche, analyzing their childhood scars as well as the coping mechanisms developed by these men. There is a certain predictable irony associated with their given names which has allowed the playwright to artfully carve each brother's distinctive personality and point to the intense conclusion.. Lincoln is tall, lanky and serious. He is a former "3-card monte hustler", (a scam where the victim is drawn to a group of people playing a simple card game. They must follow the winning card amongst two losing cards as all three are mixed face down on a table or box. The victim thinks they have figured out the game but always ends up losing). Now, dipping deep into the well of self-respect, Lincoln is resolute to be an honest man. He works as a Lincoln impersonator in a shooting gallery..where individuals pay to shoot him, the president.  On the other hand, Booth, with no marketable skills and nor any desire to work,  is an aspiring "grifter" (Someone who swindles victims through deception).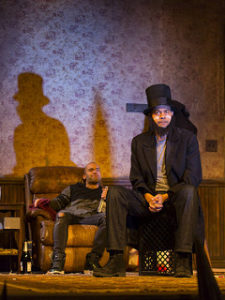 Matthew J. Harris and Tyrone Mitchel Henderson    He "boosts" (steals) anything and everything he wants while adeptly creating a persona of respect and carrying a gun. Booth boasts he is as good a "3 card Monte" player and wants his brother to join him and get "back in the game'. But Booth stumbles over his own ego when Lincoln raises the curtain and spotlights Booth's ineptness at the game. This is a darkly comic, very raw and very adult production.  Recommended for Mature Audiences only. Tickets for this major revival that electrified Broadway audiences nearly 15 years ago may be obtained at www.huntingtontheatre.org
APRIL 11 – 23: THE KING AND I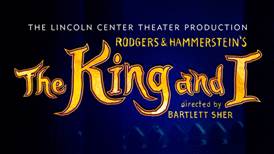 Broadway In Boston, Ambassador Theatre Group and NETworks Presentations LLC presents The Lincoln Center Theater Production national tour of The King and I at the Boston Opera House, 539 Washington St. One of Rodgers & Hammerstein's finest works, THE KING AND I boasts a score which features such beloved classics as Getting To Know You, Hello Young Lovers, Shall We Dance, I Have Dreamed, and Something Wonderful. Set in 1860's Bangkok, the musical, part love story and part culture clash comedy, contains some of musical theatre's greatest numbers while telling the story of the unconventional and tempestuous relationship that developed between the King of Siam and Anna Leonowens, a British schoolteacher. The King, who perceived himself as a modernist, in an imperialistic world, brings Anna to Siam to teach his many wives and children. Directed by Tony Award® Winner Bartlett Sher for Best Revival, has reunited with the award-winning creative team from South Pacific and The Light in the Piazza. The production features sets by Michael Yeargan; costumes by Catherine Zuber; lighting by Donald Holder, sound by Scott Lehrer and choreography by Christopher Gattelli which is based on the original choreography by Jerome Robbins. For more information and to obtain tickets visit www.BroadwayInBoston.com
APRIL 11 – 24: RENT

The Shubert Theatre at 265 Tremont St hosts this 1996, original rock musical that forever changed the landscape of American theatre. Two decades later, Jonathan Larson's RENT continues to speak loudly and defiantly to audiences across generations and all over the world. This Pulitzer Prize and Tony Award®-winning masterpiece returns to the stage in a vibrant 20th anniversary touring production. A re-imagining of Puccini's La Bohème, RENT follows an unforgettable year in the lives of seven artists struggling to follow their dreams without selling out. With its inspiring message of joy and hope in the face of fear, this timeless celebration of friendship and creativity reminds us to measure our lives with the only thing that truly matters—love. For tickets visit www.bochcenter.org
APRIL 14 – MAY 14: CHARLOTTE'S WEB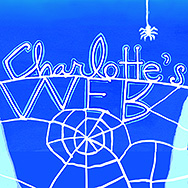 Wheelock Family Theatre at 200 Riverway in Boston presents this classic children's tale. Charlotte is the extraordinary spider who works…or actually weaves…a miracle with her web to save Wilbur the irresistible young pig. The production contains all the charming and memorable human and animal characters. This is a warm tale of friendship and loyalty, based on the best-selling children's book of all time by beloved author E.B. White. Tickets may be obtained at www.wheelockfamilytheater.org
OPENS APRIL 15: BOSTON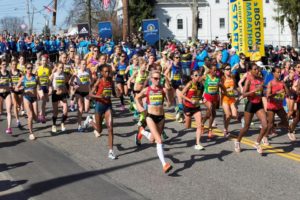 The Boch Center Wang Theatre at 270 Tremont Street presents the world premiere of this documentary film . The premiere take place at 8:00 p.m. and the score will be performed live that evening by the Boston Pops Esplanade Orchestra, conducted by Emmy Award-winning composer Jeff Beal. The event will raise funds to benefit Martin's Park in Boston. BOSTON is the first-ever full length documentary film that chronicles the celebrated history of the Boston Marathon, from its origins in 1897 through 2014's triumphant race. The film features many of the greatest marathoners ever to have run over the Hopkinton to Boston route. Produced by Academy Award nominee Megan Williams and executive produced by Academy Award nominee Frank Marshall, BOSTON was directed and produced by award winning filmmaker/marathoner Jon Dunham. Dunham and Williams were granted exclusive documentary rights from the Boston Athletic Association to produce the film and to use the Association's extensive archive of video, photos and memorabilia. Tickets are available at www.bochcenter.org
THROUGH APRIL 16: GOLDA'S BALCONY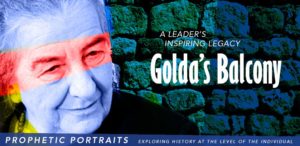 The New Repertory Theatre at the Charles Mosesian THeater at THe Mosesian Center for he Arts at 321 Arsenal St. in Watertown presents William Gibson's play about Golda Meir. directed by Judy Braha and featuring Bobbie Steinbach (Collected Stories, The Clean House), Golda's Balcony follows Golda Meir from her humble beginnings as a Wisconsin school teacher to her meteoric rise through Israel's early political system, becoming one of the world's first elected female heads of state and one of the most influential women in Jewish history. Tickets may be obtained at www.newrep.org/
THROUGH APRIL 16: CHILL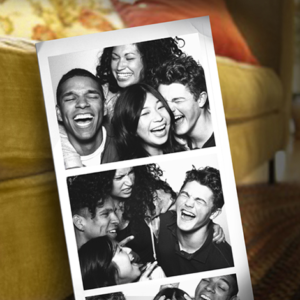 The Merrimack Repertory Theatre at the Nancy L. Donahue Theatre, located at 50 East Merrimack Street in historic downtown Lowell presents Eleanor Burgess' World Premier. Between the turbulent events of the 2000's and the usual aches and pains of adulthood, growing up seems tougher than anyone expects. Directed by Megan Sandberg-Zakian, the play is set in Brookline Massachusetts in 2001. With graduation on the horizon, four high-school seniors assemble for an epic hangout, laying bare their dreams for life ahead. Ten years later, they gather to do it all again—but find that in a world swept by change, friendship is hardly as simple as it once seemed. Their story boldly captures the joy and heartache of becoming a grownup in the America that no one saw coming. Tickets for this production that defines that  "life is what happens while we are busy making plans," go to www.mrt.org
APRIL 19 – 29: 17 BORDER CROSSINGS

Arts Emerson at the Jackie Liebergott Black Box Theatre at 559 Washington St. presents Thadeus Plillips from USA and Columbia. The history of passports, smuggling Kentucky Fried Chicken into other countries and the peculiarities of airline security is all covered in this miraculous, one-man saga that unpacks how the mundane details that govern global travel become the actual journey. This production is a surreal sojourn that transports us to very real places such as Hungary, Serbia, Morocco, Colombia, Holland and Mexico, to name a few. In the deft, mischievous manner of the trickster, Phillips manages to float huge questions that surround the fraught migrations of our era. With all the childlike curiosity and adult skepticism of monologist Spalding Gray, and the theatrical wizardry of a Robert Lepage, Thaddeus Phillips takes audiences by the hand on a trip around the world and shows us that when we cross the imaginary lines that divide up the world, the real borders come to light. "Dazzling! Phillips is a fluid, shifting storyteller, something of a conjuror. Technically brilliant, dizzyingly so. Each episode is beautifully rendered, an act of transportation." – The Stage (UK) . Tickets may be obtained at www.artsemerson.org
APRIL 20 – 30: EVERY PIECE OF ME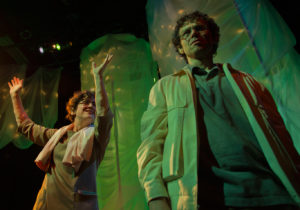 Boston Playwright's and the College of Fine Arts School of Theatre at the Boston Playwrights' Theatre, 949 Commonwealth Ave. in Boston presents Mary Conroy's new play. This BU New Play Initiative production is directed by: Zohar Fuller.The story surrounds an Irish girl named.Aine. She returns home to Ireland to introduce her American fiancé to her family and discovers her younger sister is pregnant, her mother is still over-controlling, and her father is suffering from a bad heart. She feels that her departure might have been the cause of what she finds in her family. But some wounds may never heal in this play about guilt, mercy, and the power of love Tickets for this show may be purchased at .www.bu.edu/bpt/purchase-tickets/
APRIL 20 – MAY 7: HOMEBODY

Hosted In the Studio at The Central Square Theater, 450 Massachusetts Ave. in Cambridge is Tony Kushner's intense play.  Delivered as a monologue by the outstanding actress and Underground Railway Theater Artistic Director Debra Wise, she is holding only an outdated guidebook of Kabul, an eccentric and agoraphobic British housewife proclaims her unconsummated passion for the world. She grapples with the rich and turbulent history of Afghanistan, muses about living in the Middle East, confides to us her desire to divorce herself from the complacency of her safe life in London. Premiering shortly after 9/11 this play was praised for its warm invocation of hope in an increasingly chilling, negative world. Lee Mikeska Gardner directs. Tickets may be obtained at www.centralsquaretheater.org
APRIL 22 – MAY 14: THE GIFT HORSE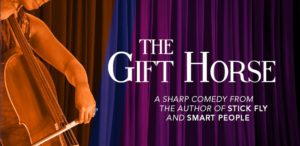 The New Repertory Theater at the Charles Mosesian Theater in the Mosesian Center for he Arts at 321 Arsenal St. in Watertown presents Lydia R. Diamond's introspective comedy. This Boston-area premiere is directed by Jim Petosa and follows Ruth, a successful teacher and artist. Her quick and easy wit masks a painful childhood. But, with the support of her best friend Ernesto and her therapist Brian, she finally confronts her tumultuous past. This play is infused with the distinctive voice of nationally-acclaimed playwright Lydia R. Diamond. For tickets to this humorous as well as insightful production visit www.newrep.org
APRIL 26 – MAY 21: MY 80 YEAR OLD BOY FRIEND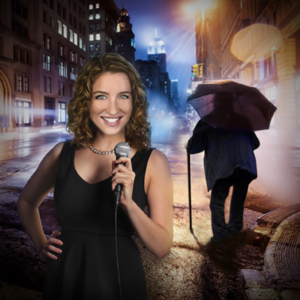 The Merrimack Repertory Theatre at the Nancy L. Donahue Theatre, located at 50 East Merrimack Street in historic downtown Lowell presents this new true musical. Conceived and performed by Charissa Bertels  Book and lyrics by Christian Duhamel, Music and lyrics by Edward Bell, In this delightful new musical directed by Sean Daniels, Charissa, a quirky, twenty-something actress, meets Robert, a quick-witted, eighty-something millionaire who loves Schubert, Shakespeare, and Dallas BBQ. From a chance encounter to the unlikeliest of friendships, Charissa discovers there's much she can learn from her surprising new companion. Based on the true story of performer Charissa Bertels, My 80-Year-Old Boyfriend reveals the thrill of chasing a dream, the power of living in the now, and all that can happen when we let ourselves say "yes." For tickets visit www.mrt.org
APRIL 27 – MAY 7: BECKETT IN BRIEF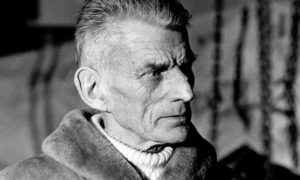 Samuel Beckett   BabsonArts at the Sorenson Center for the Arts, Black Box Theatre, 231 Forest St. at Babson College in Wellesley presents three short plays by Samuel Beckett. Directed by James Seymour and performed by Commonwealth Shakespeare Company,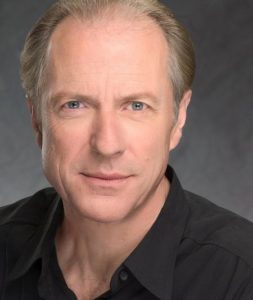 the productions feature Will Lyman, familiar to Boston audiences for his many roles at CSC and other theaters, and his decades of narrating Frontline on PBS. Among Beckett's most autobiographical works are Rough for Radio II, The Old Tune, and Krapp's Last Tape. These explore an eclectic mix of universal questions surrounding creativity, memory, aging, sex, friendship, and the proximity of death. These plays, written during his mid-career are traditionally viewed as individual statements, but when placed in conversation with one another they provide a wealth of impressions which give us a better understanding of the legendary playwright's intellect, passion, and temperament. Tickets may be obtained at www.babsonarts.org
APRIL 27- MAY 14: GABRIEL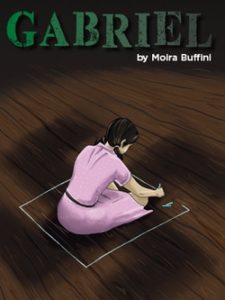 Stoneham Theatre at 395 Main St. in Stoneham presents Moira Buffini's play filled with wartime Intrigue and Romance. Directed by Weylin Symes the story is set in 1943 during World War II. In Guernsey, UK. 10-year-old Estelle and her family struggle to survive the German occupation of their island and keep the Jewish identity of Estelle's sister-in-law hidden. When they discover a mysterious naked man washed up on the shore who has no memory of who he is and can find no way to determine if he is a Nazi or an ally, the family must decide whether to shelter this lost stranger or turn him over to the authorities. Tickets for this show may be obtained at www.stonehamtheatre.org
APRIL 27 – MAY 28: PEERLESS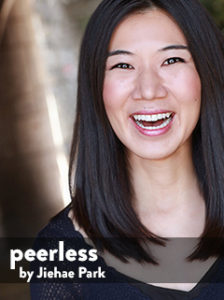 Company One joins with Boston's "All the City's A Stage" initiative presents Jiehae Park's Boston Premiere of her delightful black comedy. Staged in Rabb Hall at the Boston Public Library in Copley Square and directed by Stephen Bogart this story surrounds Twin high school seniors L and M. They are dead-set on attending not just an Ivy League school, but 'THE' Ivy League school. With their perfect SAT scores, perfect hair, and "perfect minority status," they think acceptance should be guaranteed. But, when a rival student emerges with a personal tragedy to make an admissions officer weep, the twins will do anything to knock them out of the competition. Does that include murder most foul? Heathers meets the Bard in this dark comedy, which sets one of Shakespeare's bloodiest plays against the backdrop of competitive college admissions. Tickets may be obtained at www.companyone.org/production/peerless/
MAY 6 – JUNE 3: BRIDGES OF MADISON COUNTY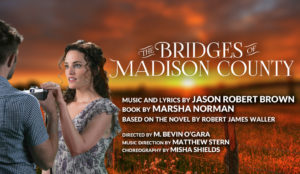 Speakeasy Stage presents at the Stanford Calderwood Pavilion in the Boston Center for the Arts, 527 Tremont St. in Boston's South End this fabulous musical. A chance meeting between an Italian-American farm wife, Francesca and a world-weary photographer leads to a soul-stirring affair in this lush, lyrical musical by the Pulitzer- and Tony Award-winning team of Marsha Norman ('night, Mother) and Jason Robert Brown (The Last Five Years, Parade, Songs for a New World). Featuring multiple IRNE Award-winner, Jennifer Ellis* in the role of Francesca and Christian Smith* in the role of Robert Kinkaid. They are supported by a talented ensemble of strong performers. Tickets for this exciting production are available at www.speakeasystage.com
MAY 10 – JUNE 4: A MIDSUMMER NIGHT'S DREAM

Actors Shakespeare's Project presents at the Multicultural Arts Center in Cambridge William Shakespeare's delightful comedy. Directed by Patrick Swanson A Midsummer Night's Dream is one of Shakespeare's most popular plays. The story follows Dashed expectations force flummoxed lovers into the mystical wilderness where enchantment and confusion await, all for our gleeful benefit. "Let me play the lion too. I will roar that I will do any man's heart good to hear me." the journey of four young lovers as they find their way through the forest and to each other. But as Lysander says "the course of true love never did run smooth." Full of madcap chases and mistaken identities, the play is an exploration of the mystery and madness of love. Actors' Shakespeare Project is an award-winning professional theater company with a Resident Acting Company and extensive education, youth and community programs..Ticket may be obtained by visiting www.actorsshakespeareproject.org
MAY 11 – 21: HOW TO BE A ROCK CRITIC

                       ArtsEmerson at the Emerson/Paramount Center Jackie Liebergott Black Box Theatre, 559 Washington St. presents this production that is based on the writing of Lester Bangs, Jessica Blank and Erik Jensen The show takes place in a living room strewn with vinyl records, beer bottles and drug paraphernalia. A mustached man begins railing about his missing copy of Van Morrison's Astral Weeks album, and it seems he won't back down until the universe bestows upon him some elusive state of grace. Part Gonzo rock performance, part mental breakdown, the production is a thrillingly theatrical! How To Be A Rock Critic. It imagines a single night that pulls the greatest hits from Bangs's own legendary words to his turbulent life. Inside his wild, all-night typewriter sessions, Lester Bangs embraced mistakes as strokes of genius, popularized now ubiquitous terms like "Heavy Metal" and "Punk Rock" and died of an overdose at the Biblical age of 33. Join us for an evening with music's great, lost critical voice. "Fascinating, insightful…as cathartic and inspiring rock & roll" – LA Weekly " It contains Mature Themes so recommended for Ages 18+ | Tickets may be obtained at www.artsemerson.org
EVERY SATURDAY: IMPROV BOSTON'S NEW ALL AGES SHOWS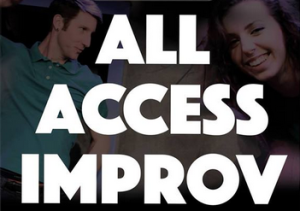 ImprovBoston at 40 Prospect St. in Cambridge expands its base of family-friendly shows with a brand new Saturday lineup. At 4pm each Saturday the theattre's cast presents THE FAMILY SHOW. It is an improv and music extravaganza that is completely made up on the spot. Every show is based on the audience's suggestions. From Minecraft to Star Wars no two shows are alike! Best for children ages 4-12, it is something the whole family will enjoy.. Extroverted children who want to participate have opportunities to be on stage and take part in the fun! The shows are ideal for family outings, birthday parties, and even school field trips. Following, at 6pm, is the ALL ACCESS IMPROV show when the newest, hippest resident cast members take the stage. Fast! Furious! Funny!This weekly event is a high-octane, completely off-the-cuff comedic force of nature. Held in the Main Theater the show is appropriate (all ages welcome) for anyone with a sense of humor. Sixty-five minutes long and jam packed with 100% improvised scenes, songs, and games, the shows are designed to make our professional comedians sweat hard and audiences laugh harder. The best improvisers from ImprovBoston's popular Family Show are combined with the fast-paced Face Off team and the renowned National Touring Company to form an All-Star cast that creates blazing quick-witted comedy, mind-melting improvised music and, of course, copious audience interaction. For tickets to these daring, athletic, immersive comedy shows for everyone go to www.improvboston.com
ONGOING: BLUE MAN GROUP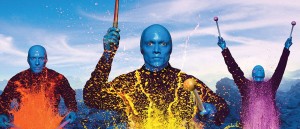 This show has become a global phenomenon! Funny, fun, extraordinary, eccentric…all rolled into one most memorable performance, This permanent, live performance is now installed in six cities as well as tours throughout the USA and Canada. It also has become a highly acclaimed show on Norwegian Cruise Line's Epic ship. The Charles Playhouse at 74 Warrenton St.in Boston's Theater District continues to pack in audiences, many repeaters, as it showcases three blue men, with the cleverest of ingenuity and technology, taking them on an exhilarating entertainment odyssey. This compilation of theater, music, art, science and hilarious humor is suitable for ages 7 to 100. For more information visit www.blueman.com/boston 
MAY 19 – 21: ANNIE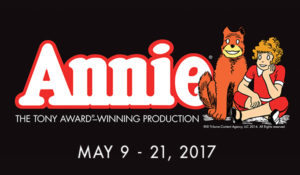 The Wang BOCH Center, 270 Tremont St. in Boston presents the world's best-loved musical as it returns in its time-honored form. Directed by original lyricist and director Martin Charnin and choreographed by Liza Gennaro, this production of ANNIE is a brand new incarnation of the iconic original. Featuring book and score by Tony Award®-winners Thomas Meehan, Charles Strouse and Martin Charnin, ANNIE includes such unforgettable songs as "It's the Hard Knock Life," "Easy Street," "I Don't Need Anything But You," plus the eternal anthem of optimism, "Tomorrow." Tickets are available at www.bochcenter.org/buy/show-listing/annie-2017
ONGOING: COMEDYSPORTZBOSTON
The Davis Square Theatre at 255 Elm St. in Somerville presents this delightful and hysterically funny improvisational, all suggestion based comedy show. It is fun and suitable for all ages. Two teams of "Actletes" get suggestions from the audience, create scenes, songs and games on the spot while onstage, and compete for your laughs! A referee calls the fouls and the audience gets to participate in the play. It is a fast paced comedy show that's as clean as a game of tennis. It is played by members of the World Comedy League that have performed throughout the US and England since 1984. Its fun for a date, a group of friends and even the whole family, and easily repeatable as it is different every time. For more information go to www.comedysportzboston.com

 ONGOING: SHEAR MADNESS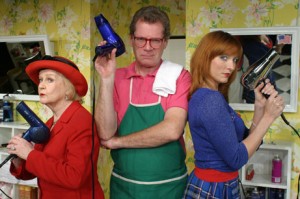 Now an international phenomena, this show has run non-stop for 35 years at The Charles Playhouse Stage II,74 Warrenton St. in Boston's Theater District. The original Boston company has given birth to 42 domestic productions across the country and has been translated into 10 foreign languages and performed on six continents. "Shear Madness" holds the title in the Guinness Book of World Records as the longest running play in US history and has been voted "Best Comedy of the Year" seven times by the Boston Globe, recognized as the "Best Play of the Year" by both the Chicago Sun-Times and the Philadelphia Enquirer, received the Raven Award from the Mystery Writers of America, and is the first play ever inducted into the Comedy Hall of Fame This unique comedy-whodunit takes place today in the "Shear Madness" hair-styling salon and is chock full of up-to-the-minute spontaneous humor. During the course of the action, a murder is committed and the audience gets to spot the clues, question the suspects, and solve the funniest mystery in the annals of crime. The outcome is never the same, which is why many audience members return again and again to the scene of the mayhem.  For tickets go to www.shearmadness.com
.