THROUGH JULY 16: SHOW BOAT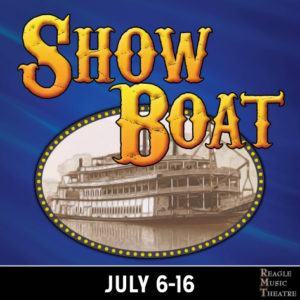 Broadway has landed in the Burbs with The Reagle Music Theatre of Greater Boston's stunning production of Oscar Hammerstein II and Jerome Kern's classic musical.  Based on a novel by Edna Ferber, the show is a roller coaster ride of heightened emotions. From the poignant to the jubilant, through laughter and tears of joy, the audience follows the journey of the naïve Captain's daughter, Magnolia, her troubled husband, Gaylord Ravenal, and the lives of the performers, stagehands, and dock workers whose lives are affected by the ever-changing social current along the Mississippi River.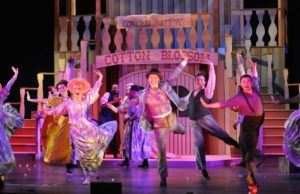 Company of Show Boat The tale springs from life on the Cotton Blossom, a Mississippi Showboat, and meanders over four decades (from 1887-1927) and through the storms of  change. The production boasts a group of outstanding stars that include the acclaimed Ciaran Sheehan* as the polished southern gentleman and gambler, Gaylord Ravenal.. Ciaran, who performed the phantom in Phantom of the Opera 1000 times on Broadway, surrounds his handsome presence with a flawlessly charming persona while effortlessly executing vocal ranges from tenor to baritone. He is the total Broadway leading man who manages perfect, believable chemistry opposite  his leading lady, local favorite, Sarah Oakes Muirhead* whose passionate acting and pristine vocals lent perfection to the role of Magnolia Hawkes.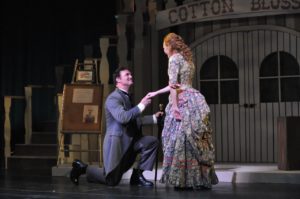 Ciarán Sheehan as Gaylord Ravenal (left) and Sarah Oakes Muirhead as Magnolia Hawks  An exceptional treat is the opportunity to experience the acting and most inspiring resonant voice of Tony Nominated, multiple award-winner and noted vocalist Michel Bell*.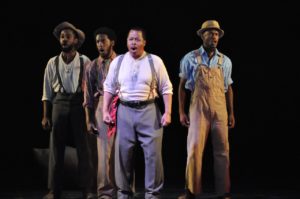 Michel Bell as JOE (center) and ensemble perform Ol' Man River His rendition of Ol' Man River received an explosion of applause from the audience. He performed the role of Joe in Hal Prince's production of Show Boat on Broadway and on London's West End.  Supporting roles include Rick Sherburne who was a warm, endearing and most patient Ca'n Andy Hawks to his feisty and often outrageously fierce wife, Parthy Ann Hawks played to the teeth by Susan Scannwll Gilbert. Joy Clark returns to Reage with her athletic dancing versatility  and vocal skills as the Ellie May Chilpley opposite the well seasoned  Kevin Patrick Martin* as Frank Shultz.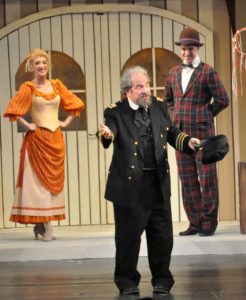 Rick Sherburne as Cap'n Andy (center), with Joy Clark as Ellie May Chiplely (back left) and Kevin Patrick Martin as Frank Schultz.Dani Wrenn as Julie LaVerne wowed the with her vocal talents and Yewande O. Odetoyinbo as Queenie was the perfect, long-suffering but loving wife of Joe, The scenic designs by Michael A. Micucci beautifully transitioned the action through the decades and Dan Rodriguez's music direction tied the show together without a skip.  Most ntoabley, the magic, artistic hand of multiple IRNE Award-winner for Directing and Choreography, Rachel Berone, has extracted stellar performances from this ensemble of 26 amazing actors, dancers and singers.  Show Boat was the first fully integrated "book musical". It tackles issues of unhappy marriage, miscegenation (marriage between different races that was originally outlawed) and other forms of racial prejudice. The musical's classic songs, including "Ol' Man River, "Only Make Believe," "Can't Help Lovin' Dat Man," and "You Are Love," have become mainstays of the Broadway canon.  Reagle is performing the latest version of the musical that was arranged and premiered by Goodspeed Opera House, which is the first two-time Tony Award-winning theatre in the nation and whose musicals are world renowned.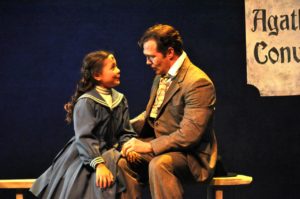 Georgia Buendia as Young Kim and Ciarán Sheehan as Ravenal. The eye-popping, spectacular period costumes have been obtained from Goodspeed's original production. The production is presented through special arrangement with R & H Theatricals: www.rnh.com. The Robinson Theatre is easily located at 17 Lexington St. in Waltham with free parking. .For tickets to this not-to-be missed, high caliber production  go to www.reaglemusictheatre.com
JULY 19 – AUG. 12: AMERICAN MOOR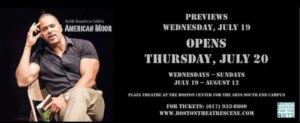 The Plaza Theatre at the Boston Center for the Arts, 539 Tremont St. in Boston's South End presents this 85-minute solo play that was written and is performed by Keith Hamilton Cobb. American Moor examines the experience and perspective of black men in America through the metaphor of William Shakespeare's character, Othello. Directed by Drama Desk nominee Kim Weild, the story surrounds a black actor auditioning for the role of Othello. He finds himself torn between wanting the role of a lifetime and having to engage an age-old process that invariably ends up with a large black man on stage responding to white decision makers who presume to understand, and ultimately dictate, how a charismatic, intelligent, black man should behave in society. Powerful, dynamic, humorous, at times confrontational, at times ironic, yet truthful throughout, American Moor becomes a deeply moving exploration about race in America, of how we see only what we want to see of one another and how the pall of privileged perspectives is ultimately so injurious to us all. It asks, Who gets to make art in America? Whose perspectives matter? Why must only certain roles be relegated to actors of color? What will it take for us to wholly embrace one another? The widely diverse audiences that have already experienced this play, continue to express how the piece relates to and reflects their own experiences in America whether black, white, male, or female. It seems to transcend all racial, age, and gender barriers. It is about the human experience. Mr. Cobb is most widely recognized for the landmark roles he created for television, among those Noah Keefer for ABC's All My Children, (Daytime Emmy Award nomination); the galactic mercenary Tyr Anasazi for Gene Rodenberry's Andromeda; Damon Porter for CBS's The Young and the Restless; and Quincy Abrams for the series Noah's Arc on the Logo network. He has also guest starred on multiple television series, including The Fresh Prince of Bel-Air, Boston Common, Suddenly Susan, One on One, The Twilight Zone, and CSI Miami. The Phoenix Theatre Ensemble production in Manhattan, April/May 2015, won the Outstanding Solo Performance honors at the 2015 AUDELCO Awards, and the Anacostia Playhouse production in Anacostia, Washington DC, July/August 2015, resulted in the script being inducted into the permanent collection of the Folger Shakespeare Library. Tickets an be purchased at www.bostontheatrescene.com
JULY 20 – 23: THE EDWARDS TWINS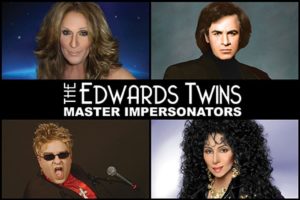 This awesome duo returns to the Stoneham Theatre at 395 Main St. in Stoneham. The brother team miraculously takes on the persona of 100 celebrities. Magically switching into full costume and with amazingly accurate voice impersonations they phenomenally recreate the performances of numerous super stars. It is a most entertaining event for fans of some the legendary vocalists. It is better than being in Las Vegas!  Tickets are available at www.stonehamtheatre.org
THROUGH JULY 22: THE PUTNAM COUNTY SPELLING BEE

The Cape Playhouse at 820 Main St., Route 6A in Dennis brings to the stage their first musical of the season that was originally hailed by the New York Times as being "Remarkably ingenious!" Six spellers enter; one speller leaves victorious! In The 25th Annual Putnam County Spelling Bee, an eclectic group of six adolescents, all played by adults, vie for the spelling championship of a lifetime. While candidly disclosing hilarious and touching stories from their home lives, the tweens spell their way through a series of (potentially made-up) words, hoping never to hear the soul-crushing, pout-inducing, life un-affirming "ding" of the bell that signals a spelling mistake. The cast features Kyle Scatliffe (Broadway: The Color Purple, Les Misérables, London: The Scottsboro Boys, Olivier Award nomination) as Mitch; Kay Trinidad (Broadway: The Little Mermaid) as Marcy Parks; Farah Alvin (Cape Playhouse: Pump Boys and Dinettes; Broadway: It Shoulda Been You, Nine, The Look of Love, Saturday Night Fever, Grease!) as Rona; and Tony Award-winner Michael McGrath (Broadway: She Loves Me, Nice Work if You Can Get It, Spamalot) as Panch. Directed and choreographed by Tony Award-nominee Marcia Milgrom Dodge, with music and lyrics by William Finn and book by Rachel Sheinkin, this winner of two Tony Awards and three Drama Desk Awards including Best Musical, is one of the funniest musicals ever written. To obtain tickets go to www.CapePlayhouse.com
THROUGH JULY  23: BEAUTY AND THE BEAST 


The North Shore Music Theatre has again met and surpassed the challenge of presenting a show that was originally designed for a large stage! All the engaging aspects that make Disney's BEAUTY AND THE BEAST a sheer delight for the whole family have been artfully manipulated by director Michael Heitzman to create a similar awe reaction on NSMT's intimate stage in the round. The story, based on the 1991 Academy Award-winning animated film, follows a young woman, Belle ,who with outstanding vocal perfection, is performed by Rose Hemingway*. She selflessly sacrifices her.freedom to dwell with a beast, played by Stephen Cerf* in exchange for the release of her father who had originally sought shelter in a secluded castle but had been imprisoned by the Beast..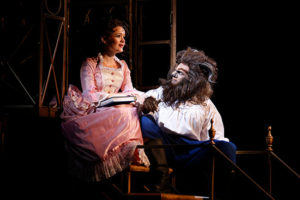 David Coffee*,  multiple award-winner, including two IRNE's, plus being NSMT's beloved "Scrooge" in their annual A Christmas Carol, gives an endearing performance as Maurice, Belle's father. The narcissistic and funny Gaston is played by Taylor Crousore*,who  is joined by his loyal sidekick, Lefou, played by an outstandingly athletic  Andrew Kruep* who slipped, slid and vaulted in response to every one of Gaston's mindless blows.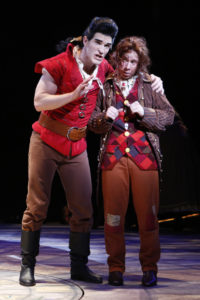 Taylor Crousore (Gaston) and Andrew Kruep (Lefou)      Not to be overlooked are the charming and most memorable group of enchanted characters. Cogsworh (Phillip Taratula*), Lumiere (Benjamin Howes*), Babette (Ryah Nixon*),  Mrs. Potts (Christine Nolls*) and Chip (Ben Coi-Harris) are all amazing!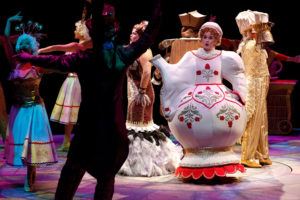 Christiane Noll (Mrs. Potts) and the company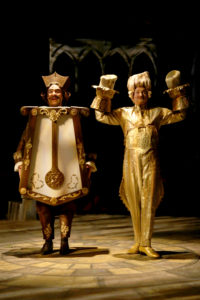 Phillip Taratula (Cogsworth) and Benjamin Howes (Lumiere)  This cast of characters are joined by a strong supporting ensemble of knives, forks, spoons, salt and pepper shakers as well as and plates and even wolves that beautifully sing and dance their way throughout the show. The collection of stunning original costumes by the award-winning Ryan Moller along with a number of additional creative costumes by Sandra Pelletier are a treat to behold from beginning to end. This classic romantic story about finding love in unexpected places is an eye-popping spectacle that has won the hearts of audiences throughout the world…as well as on the NSMT's stage. The  memorable music is by Alan Menkin, with lyrics by Howard Ashman & Tim Rice and book by Linda Woolverton. The show is presented through special arrangement with Music Theatre International (www.MTIShows.com) who is authorized to supply all performance materials.. The production contains all the wonderful songs from the hit movie including the spectacular dinner number, Be Our Guest, the rollicking funny Gaston, and of course the award=winning theme song, Beauty and the Beast. For tickets to this magical show at NSMT, 62 Dunham Rd. in Beverly visit www.nsmt.org
THROUGH JULY 23: WICKED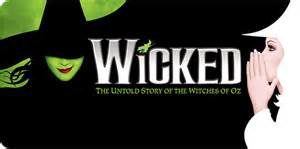 This Broadway sensation returns to the Boston Opera House at 526 Washington St. with this unique, delightful and magical looks at what happened in the Land of O long before Dorothy's arrival. The story surrounds a sweet girl, who was cursed by being born with emerald-green skin. But she is smart, fiery, sadly misunderstood, and possesses an extraordinary talent. When she goes off to school she meets a bubbly blonde, named Glinda, who is exceptionally popular! Their relationship fosters an initial rivalry that turns into the unlikeliest of friendships…until the world decides to label one "good," and the other one "wicked." With a thrilling score that includes the hits "Defying Gravity," "Popular" and "For Good," WICKED has been hailed by The New York Times as "the defining musical of the decade." Time Magazine cheers, "if every musical had the brain, the heart, and the courage of WICKED, Broadway really would be a magical place." Tickets are available at www.broadwayinboston.com
JULY 25 – AUG. 5: RED

The Cape Playhouse at 820 Main St., Route 6A in Dennis offers John Logan's sizzling drama. The winner of a staggering six Tony Awards, including Best Play, and the Drama Desk Award for Outstanding Play, Red is one of the most intellectually riveting shows to recently hit Broadway. At the pinnacle of his career, famed abstract expressionist painter Mark Rothko struggles with a series of grand-scale paintings for the biggest commission in the history of modern art. He and his new assistant work feverishly in Rothko's New York studio, until his assistant challenges Rothko's artistic integrity and forces the artist to confront his own personal demons. Directed by David Glenn Armstrong, the production features Patrick Stafford (LA Drama Critics Circle Award for Ken in Red, TV: Modern Family, Criminal Minds, C.S.I., N.C.I.S., Glee, Major Crimes) as Rothko's assistant, Ken as well as Stephen Caffrey (TV: Tour of Duty, All My Children) as Rothko. Tickets may be obtained by going to www.CapePlayhouse.com
JULY 26, 28 & 30: THE ELIXER OF LOVE
The Mainstage at the Mosesian Center for the Arts at 321 Arsenal St. in Watertown hosts the Boston Midsummer Opera's (BMO) presentation of Gaetano Donizetti's The Elixer of Love. Hapless peasant Nemorino (Eric Barry) is head over heels in love with Adina (Joanna Mongiardo), but to no avail. When Adina promises to marry Sargent Belcore (Keith Phares), Nemorino seeks out a love potion from a traveling quack, Dr. Dulcamara (Jason Budd), with which he hopes will turn her head despite the fact that it smells suspiciously like cheap Bordeaux. When the Giannetta (Erica Petrocelli) and the village girls start to pay him some attention he is convinced it's working . Adina becomes mad with jealousy. Can it be that she loves him after all? The Elixer of Love is sung in Italian with English super titles. A pre-opera talk will be presented one hour before each performance. Noted director Antonio Ocampo-Guzman will stage the production and nationally acclaimed conductor Susan Davenny Wyner will lead the BMO orchestra. The design team includes Stephen Dobay, (sets), John Cuff, (lighting), and Elisabetta Polito (costumes). For more information and to obtain tickets visit www.bostonmidsummeropera.org
THROUGH JULY 29 WAITING, WAITING FOR GODOT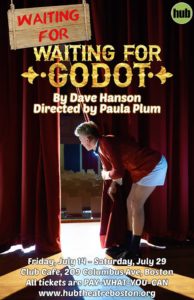 In this weary, worrisome world, the IRNE Award-winning Hub Theater Company of Boston, in their 5th season, delivers a delightful, laugh-a-minute escape through perfect comedy to the intimate stage of Club Café, 209 Columbus Avenue in Boston's Back Bay. Managing Director, Lauren Elias' keen eye for exceptional productions did not fail her with this hysterically funny play by internationally published and produced playwright, actor and comedian, Dave Hanson. It is a tongue-in-cheek parody of all that is theatrical as well as a subtle parallel to the goings on in Sameuel Becket's famous play, Waiting for Godot.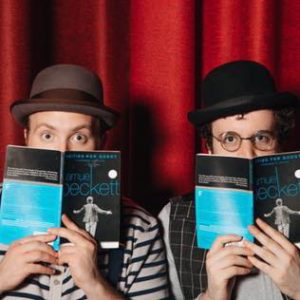 Two sad sack understudies, wait night after night after night, back stage, in the dismal dressing room 'waiting' for that magical moment when "something might happen" and they will be catapulted into stardom. Ester, played by IRNE nominated Robert Orzalli, along with Val, played by Gabriel Graetz, perform a continuous parade of blundering, slapstick comedy and incredibly funny dialogue that is so reminiscent of the greats, Laurel and Hardy and Abbot and Costello.. Their pristine comedic-timing, delightful comic expressions and ridiculous poses afford non-stop laughter as they attempt to ponder art, life, theater and Becket's play. Lauren Elias as the Assistant Stage Manager, Laurie, provides the perfect "straight-man" approach for this pair of bumbling characters. Noted actress, playwright as well as Elliot Norton and IRNE Award winner Paula Plum  directs this madcap theatrical romp. The show makes its Boston debut after enjoying critically acclaimed runs in New York and London. Witty, wise, endearing and ever so entertaining it has audiences rolling in the aisles as a spotlight falls on the seemingly absurd life of an actor. Hub Theater Company of Boston, founded in 2012, fosters creativity among Boston's emerging theatre artists. It is a 501(c)(3) non-profit theatre company committed to creating entertaining, captivating, socially aware and emotionally engaging theatre in intimate settings. In order to cultivate a diverse audience and break down barriers between audience and art, all tickets to all performances are Pay-What-You-Can.  For tickets to this show that The New York Times hailed as "delectable," visit www.hubtheatreboston.org
THROUGH JULY 29: BULLETS OVER BROADWAY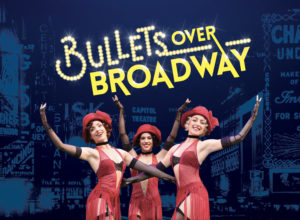 The Ogunquit Playhouse at 10 Main St. (Rte.1) in Ogunquit, ME presents this musical adaptation of Woody Allen and Douglas McGrath's madcap film Bullets Over Broadway. The 1920s come roaring to life with showgirls, gangsters and more in this hilarious musical comedy about the making of a Broadway show. Hailed by Time Magazine as "Musical Theatre Gold!," the show is filled with tap dancing gangsters, saucy showgirls, big laughs and colorful characters including an aging diva, a savant hit-man and features the incomparable Sally Struthers as the dog-toting Eden Brent. The story surrounds a young playwright who is in desperate need of financial backing for his next show. He accepts an offer he can't refuse from a mobster looking to please his ditzy, talent-less girlfriend. Loaded with songs that made the '20s roar, this six-time Tony-nominated musical features hits from the decedent decade, including "Let's Misbehave," "'Tain't Nobody's Biz-ness If I Do" and "There's a New Day Comin'!" This is one big, splashy and wildly entertaining show that is sure to knock 'em dead. **(There is no official rating system for live theatre but the theater encourages parents to use judgment based on a child's age and maturity level.) To obtain tickets go to www.ogunquitplayhouse.org
AUG. 3 – 13: 42nd STREET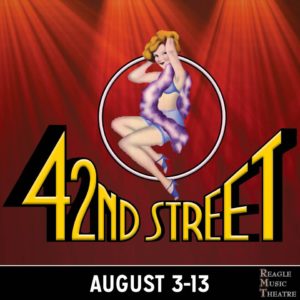 The Reagle Music Theatre of Greater Boston, located at the Robinson Theatre, 17 Lexington St. in Waltham closes their summer season of spectacular Broadway shows with this Tony Award-winner for Best Musical. It is the ultimate show-biz musical. Directed and Choreographed by Eileen Grace with Co-Choreographer Susan Chebookjian, the musical direction and conduction is by Daniel Rodriguez. Starring Rachel York as Dorothy Brock  and Tom Wopat as Julian Marsh plus featuring Mara Wilson as Peggy Sawyer and James Darrah as Billy, 42nd Street celebrates Broadway, Times Square, and the people who make the magic of musical theatre. Aspiring chorus girl Peggy Sawyer comes to the big city from Allentown, PA and soon lands her first job in the ensemble of a glitzy new Broadway show. The director, Julian Marsh, is mounting what he hopes to be a successful stage production of a musical extravaganza Under great stress, Julian is facing all odds as he is at the height of the Great Depression. But just before opening night, the leading lady breaks her ankle. Will Peggy be able to step in and become a star? Or will Julian's show go belly up? The score is chock-full of Broadway standards, including "You're Getting To Be A Habit With Me," "Dames," "We're In the Money," "Lullaby of Broadway," "Shuffle Off to Buffalo" and—of course—"Forty-Second Street." Gower Champion's original, award-winning and stunning choreography will be recreated for this production. The music was written by Harry Warren with Lyrics by Al Dubin along with Book by Michael Stewart and Mark Bramble. It is based on the novel by Bradford Ropes. Originally produced on Broadway by David Merrick, the use of all songs is by arrangement with Warner Bros., the owner of music publishers' rights. Tickets for this outstanding production are available at www.reaglemusictheatre.com
AUG. 8 – 19: GYPSY

The Cape Playhouse at 820 Main St.( Route 6A) in Dennis brings to their stage one of the greatest musicals ever created. Gypsy is based on the life of the notorious stripper, Gypsy Rose Lee The story surrounds the ultimate tale of an ambitious stage mother fighting for her daughters' success as she secretly yearns for her own. Set in America in the 1920s, when vaudeville was dying and burlesque was born, Arthur Laurents' landmark show explores the world of two-bit show business with artful humor, heart, and sophistication. The celebrated score, by Jule Styne and Stephen Sondheim, boasts one glorious hit after another, including: "Let Me Entertain You," "You Gotta Get A Gimmick," and "Everything's Coming Up Roses." Rose will be played by Julia Murney (Broadway and national tour, Wicked; The Wild Party, Drama Desk nomination); Louise is played by Caroline Bowman (Broadway: Wicked, Kinky Boots); while James Lloyd Reynolds (TV: The Blacklist, Odd Mom Out, Law and Order, Law and Order SVU) plays Herbie. Jane Blass (Gypsy starring Patti Lupone; national tours, Hairspray, 9 To 5) is Mazeppa; June will be played by Tess Soltau (Broadway: Wicked, Addams Family); Playhouse favorite Jennifer Cody (Broadway: Shrek the Musical, The Best Little Whorehouse in Texas, Pajama Game) plays Tessis/Cratchit. Amy Bodnar (Broadway: Oklahoma; Cape Playhouse: As Bees in Honey Drown) is Electra; and Garett Hawe (Broadway: Newsies; Mary Poppins, Matilda; national tour: Wicked) is Tulsa. Cape Playhouse Artistic Director Michael Rader directs, with choreography by Jason Sparks. Tickets for this winner of six Tony Awards, four Olivier Awards, and seven Drama Desk Awards are available at www.CapePlayhouse.com
AUG. 8 – 20: FINDING NEVERLAND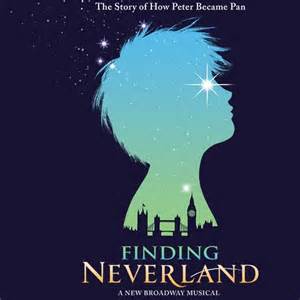 Broadway's biggest new hit and the winner of Broadway.com's Audience Choice Award for Best Musical comes to the Boston Opera House at 526 Washington St. This breathtaking, smash hit "captures the kid-at-heart," says TIME magazine. Vogue cheers, "It's a must-see you'll remember for years to come!" Directed by visionary, Tony®-winner Diane Paulus and based on the critically-acclaimed Academy Award®-nominated film starring Johnny Depp, FINDING NEVERLAND tells the incredible story behind one of the world's most beloved characters: Peter Pan. Playwright J.M. Barrie struggles to find inspiration until he meets four young brothers and their beautiful widowed mother. Spellbound by the boys' enchanting make-believe adventures, he sets out to write a play that will astound London theatergoers. With a lot of faith and a little bit of pixie dust Barrie takes this monumental leap, leaving his old world behind for Neverland, where nothing is impossible and the wonder of childhood lasts forever. The magic of Barrie's classic tale springs spectacularly to life in this heartwarming theatrical event. FINDING NEVERLAND is "far and away the best musical of the year!"stated NPR. Tickets are available at www.broadwayinboston.com
AUG. 11 – 27 (7:30pm): HAMLET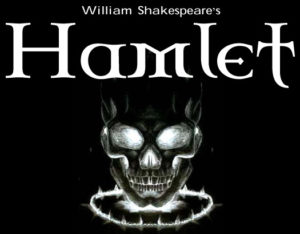 Free Outdoor Shakespeare returns with Brown Box's most ambitious production yet. Hamlet, Shakespeare's pivotal work, delves deep into the recesses of human consciousness in a raw and unforgiving examination of a treacherous political landscape and one Prince's struggle with the weighty consequences of action, inaction, pain, numbness, and the ever-terrifying unknown. Murder, treason, intrigue, and betrayal culminate to form this harrowing and timeless theatrical masterpiece. Hamlet will be performed outdoors and seating is on the lawn. For your comfort, feel free to bring a blanket or lawn chair. Performance Dates and locations are as follows…August 11-13 – Allston | Christian Herter Park; August 18 – Fort Point, Boston | Waterfront Plaza at Atlantic Wharf; August 19 – Fall River | Heritage State Park; August 20 – Plymouth | Pilgrim Memorial State Park; August 24 – Easton | Borderland State Park; 'August 25 – Assembly Square | Baxter Park Amphitheater; August 26 – Hopkinton | Center for the Arts ; and August 27 – Fort Point, Boston | Waterfront Plaza at Atlantic Wharf. For more information, including weather updates and rain locations, please visit www.brownboxtheatre.org
AUG. 15 – 27: YOUNG FRANKENSTEIN

   It's Alive! From the creators of Broadway's record-breaking musical comedy sensation, The Producers, comes YOUNG FRANKENSTEIN. This monster of a hit musical is presented by the North Shore Music Theatre, 62 Dunham Rd. in Beverly. Based on Mel Brooks' classic comedy film masterpiece, this wickedly inspired re-imagining of the legend of Frankenstein is the story of the bright young doctor Frankenstein (that's Fronkensteen) who travels to Transylvania to complete the masterwork of his grandfather by bringing a corpse to life. YOUNG FRANKENSTEIN is a monstrously good time at the theatre. with songs that include "The Transylvania Mania", "He Was My Boyfirend", "Puttin' On The Ritz", and many more. For tickets to this bizzarely funny show visit www.nsmt.org
THROUGH AUG. 20: BLOOD ON THE SNOW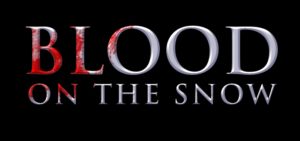 The Bostonian Society is dedicated to studying, and preserving Boston's uniquely important history that is embodied in materials, records, and structures such as the Old State House, and in sharing an understanding of the revolutionary ideas born here. Written by Patrick Gabridge and directed by Courtney O'Connor, the Old State House at 206 Washington Street, adjacent to Faneuil Hall Market Place, hosts, on Wednesday through Sunday, all performances that begin at 7:30pm. On March 6, 1770, four civilians lie dead, and eight more have been wounded by the King's soldiers. As tensions rise in the streets of Boston, Acting Governor Thomas Hutchinson faces an impossible choice. This play, dramatizes the events immediately following the infamous Boston Massacre.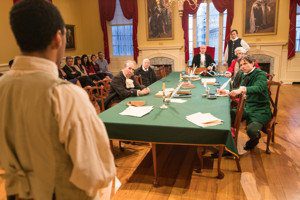 It is staged in the Council Chamber of the Old State House, the very room where the discussion took place nearly 250 years ago. It helped light the fuse of the American Revolution as the town's leaders desperately struggled to prevent more bloodshed that would lead to a decision that could save a city or tear apart an empire.This site-specific production sold out its critically-acclaimed World Premiere in the spring of 2016. Now, The Bostonian Society, has mounted an encore presentation for this summer. States Nathaniel Sheidley, Director of Public History for The Bostonian Society. "Audiences can feel the power of the room; the production brings urgent life to it and invites them to see the American founding in an entirely new light." For more information please visit: www.BloodOnTheSnow.com
AUG. 22 – SEPT. 2: MURDER FOR TWO

The Cape Playhouse at 820 Main St. (Route 6A) in Dennis wraps up the season with this perfect comedic blend of music, mayhem, and murder. In its Cape Cod premiere it comes to the Cape Playhouse following a smash-hit off-Broadway run. It is a witty and winking homage to old-fashioned murder mysteries. The hilarious show contains two performers playing thirteen roles along with the piano. Ian Lowe (Lincoln Center Theatre, NY Music Festival Theatre) plays Marcus while Jeremiah Ginn (Broadway: Anything Goes) performs The Suspects. They are reprising the roles they played on the national tour of Murder for Two. Directed by J. Scott Lapp, the book and music are by Joe Kinosian while the book and lyrics are by Kellen Blair. Tickets for this killer musical comedy are available at www.CapePlayhouse.com
AUG. 24 – 27: LATE NITE CATECHISM 2/ SISTER STRIKES AGAIN!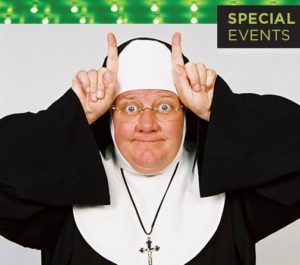 The Stoneham Theatre at 395 Main St. in Stoneham presents the return of this incomparable nun that comes wearing the traditional habit and bearing her own twisted version of religious philosophy. Sister is never hesitant to tell us where we've gone wrong. (Needless to say, excessive tattooing and piercing are right up there with pornographic websites and dining at Hooters.) And never doubt that she can provide a list of every celebrity currently sharing digs with the devil. No one is excused from Sister's firm belief that "sometimes we feel guilty because we are guilty."So sit up straight, spit out your gum and pay attention! No matter what your religious persuasion, this lady's wit is hilarious! For tickets go to www.stonehamtheatre.org
AUG. 26 – SEPT. 16: PLANK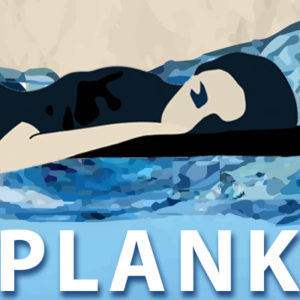 The Alley Cat Theater presents at the Calderwood Pavilion in the Boston Center for the Arts John Greiner-Ferris' funny, thoughtful, irreverent, sometimes sad story about a woman who is happy and content, adrift on a plank of wood in the middle of the ocean. Directed by Megan Schy Gleeson the story continues when she' is "rescued." Plank addresses some of the most important issues of our time including climate change, refugees, the TSA, Sponge Bob, and how certain political parties resemble swarms of killer bees. Plank is for anyone 14 and older who seeks intelligent, compelling stories that push the boundaries of theater. Tickets may be obtained at www.bostontheatrescene.com/season/Plank/
SEPT. 1 – OCT. 8: GYPSY

The Lyric Stage Company at 140 Clarendon St. in Boston presents this amusing as well as poignant musical by Jule Styne with lyrics by Stephen Sondheim and book by Arthur Laurents. Directed and choreographed by the award-winning Rachel Bertone, the NY Times stated that Gypsy was, "The greatest of all American musicals!" Featuring one show-stopping song after another such as the memorable "Everything's Coming Up Roses," "You Gotta Have a Gimmick," "Let Me Entertain You," and more, the show is based on the memoirs of famed Gypsy Rose Lee from her childhood start in burlesque to her rise to mega-stardom, all with her stage-mother, the iconic Mama Rose, behind the curtain pushing Gypsy to live Mama Rose's own unrequited love for stardom. Continuing their string of presenting Sondheim's work, Gypsy showcases the burgeoning lyric-writing abilities of the young Sondheim. In the tradition of My Fair Lady, Avenue Q, and Into the Woods, Gypsy will once again prove that the intimate Lyric Stage is the perfect place to experience the very best of American musical theatre. For tickets go to www.lyricstage.com
SEPT. 2 – 24: IDEATION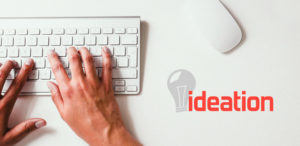 The New Repertory Theatre at the Mossesian THeatre, 321 Arsenal St. in Watertown presents the Boston-area Premiere of Aaron Loeb's satirical dark comedy. In this psychological thriller, a group of top-tier consultants are tasked with a mysterious project for an unnamed client. The team must come up with a solution to a morally and ethically ambiguous hypothetical situation…but one that threatens to tear them apart. Ideation is a captivating new work that will leave audiences on the edge of their seats. Tickets are available at www.newrep.org
SEPT. 7 – 24: DAMES AT SEA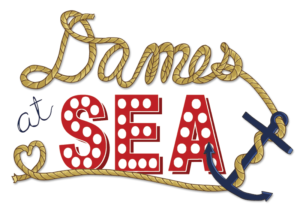 The Stoneham Theatre located at 395 Main St. in Stoneham presents Broadway's Biggest Little Musical! Within 24 hours, sweet little Ruby from Hometown, U.S.A arrives in New York, falls in love, and moves from the chorus to become a star on Broadway. A tap-happy celebration of the golden era of movie musicals, Dames at Sea features rollicking tap dancing, love at first sight, joyful music and a boatload of laughs. Tickets may be purchased at www.stonehmantheatre.org
SEPT. 8 – 23: OR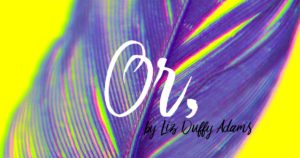 Maiden Phoenix and Simple Machine presents, at the newly-opened black box at Chelsea Theatre Works in Chelsea, Liz Duffy Adams' brilliant and bawdy play that proffers the following questions. Spy or poetess? Lust or love? Wrong or righteous? History or comedy? Aphra Behn is in for a wild night. She's fresh out of debtor's prison after leaving behind her life of cloak-and-dagger intrigue. A wealthy impresario has given her just a few hours to write the script that could launch her career in the theatre. The hottest actress in London is vying for a part in her play and a place in her bed. And her former lover, the drunken fugitive spy, comes to town mixed up in a plot to kill her current lover, the reigning King of England. She'll have to be quick with her quill and clever with her kisses for Aphra Behn to survive the night, thwart the assassins, get the girl, start a new life, and show the world that a woman's place is wherever she damn well pleases. Spy-turned-playwright Aphra Behn will be portrayed by Simple Machine co-founder and Maiden Phoenix alumna Anna Waldron. Actor Michael Poignand (Producing Director, Anthem Theatre Company) will play the dual roles of King Charles II and Aphra's former lover and colleague in intrigue William Scot. The three-person cast is completed by Kaylyn Bancroft (Sister Anonymous, Shit-faced Shakespeare), as legendary Restoration actress Nell Gwynne, enigmatic arts patron Lady Davenant, and Aphra's trusty and crusty servant, Maria. Director Adrienne Boris currently serves as the Artistic Associate and Co-Producer at OperaHub, and has directed with New Repertory Theatre, Boston Center for American Performance, Arts After Hours, Anthem Theatre Company, Opera North, Opera Providence, and NEMPAC Opera Project, as well as Exquisite Corps Theatre, of which she was a co-founder and Managing Director. Tickets are available at www.ortheplay.com or at www.simplemachinetheatre.com.
SEPT. 8 – OCT. 7: MEN ON BOATS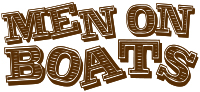 Speakeasy Stage at the Boston Center for the Arts on Tremont St. in Boston's South End presents this rollicking adventure tale brought thrillingly to life by a gender-bending cast of diverse performers. Written by Jaclyn Backhaus, the cast of characters use carefully exaggerated theatrics to tell the story of an actual 1869 expedition led by John Wesley Powell to chart the Colorado River. Directed by Dawn M. Simmons the production is comical but never camp, pointed but ever political. It is a rousing historical saga is a provocative meditation on gender and historical memory that offers a new lens through which to view our shared past. Tickets may be obtained at www.speakeasystage.com
SEPT. 6 – 24: REVERSIBLE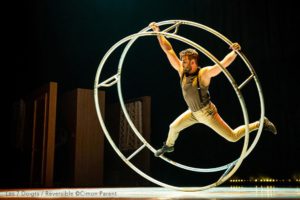 Arts Emerson presents, at the Emerson Cutler Majestic Theatre, 219 Tremont St. in Boston's Theatre District, the mind-blowing, 7 Fingers circus troupe's return to Boston! In the summer of 2016, Cuisine & Confessions wowed Boston audiences nightly with The 7 Fingers' trademark acrobatic and choreographic prowess combined with on-stage cooking. Directed by Gypsy Snider, the company returns with this U.S. Premiere of their whimsical and vibrant new production. Reversible represents the best of contemporary circus in this tale surrounding eight virtuosic performers who travel through time and space to honor their elders by shining a spotlight on the poetry of the human form, linking every ending to a new beginning, and showing that our past is always present. This electrifying mix of theatre, illusion, dance, music, and acrobatics is dedicated to former generations whose stories might hold the key to a better tomorrow. Tickets for an exciting and unique evening may be obtained at www.ArtsEmerson.org
SEPT. 8 – OCT. 15: MERRILY WE ROLE ALONG

The Huntington Theatre Company presents, at the B.U. Theater, 264 Huntington Ave. in Boston, Stephen Sondheim's legendary musical. Director Maria Friedman recreates her stunning, London production that received universal rave reviews as well as the most five star reviews in West End history plus the Olivier Award for Best Musical. The show premiered over 30 years ago and now is considered to be a legendary, cult-favorite musical. With book by George Furth, the story charts the relationships of close friends Franklin, Charley, and Mary while featuring some of Sondheim's most beautiful songs such as "Good Thing Going," "Old Friends," and "Not a Day Goes By." The Independent called this production, "One of the great musical productions of this or any other era," and The Guardian described it as, "A thrilling evening of musical theatre. Essential viewing!" Stephen Sondheim commented on Maria Friedman's London production stating, "This production of Merrily We Roll Along is not only the best I've seen, but one of those rare instances where casting, direction, and show come together in perfect combination, resulting in the classic ideal of the sum being greater than the parts." For tickets to this unforgettable musical go to www.huntingtontheatre.org
SEPT. 13 – OCT. 1: THE PHANTOM OF THE OPERA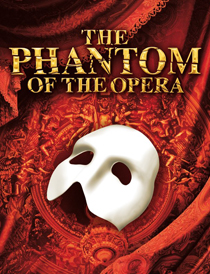 As part of the 2017 – 2018 Lexus Broadway In Boston Season, Cameron Mackintosh's spectacular new production of Andrew Lloyd Webber's THE PHANTOM OF THE OPERA makes its highly anticipated return to the Boston Opera House located at 523 Washington St. in Boston. With newly reinvented staging and stunning scenic design, this updated version of THE PHANTOM OF THE OPERA is performed by a cast and orchestra of 52, making this one of the largest productions on tour in North America. Based on the classic novel Le Fantôme de L'Opéra by Gaston Leroux, musical tells the story of a masked figure who lurks beneath the catacombs of the Paris Opera House and exercises a reign of terror over all who inhabit it. He falls madly in love with an innocent young soprano, Christine, and devotes himself to creating a new star by nurturing her extraordinary talents and by employing all of the devious methods at his command. Andrew Lloyd Webber said, "Having received great critical acclaim in the UK, I am really pleased that Laurence Connor's new production of PHANTOM is to tour the US again, which will play in tandem with the Broadway production which has recently celebrated 29 years." Cameron Mackintosh added, "I'm delighted that my new production of PHANTOM has proved to be as spectacular a success as the brilliant original which is still the reigning champion as the longest-running production on Broadway after 29 phenomenal years. This exciting new staging, retaining Maria Björnson's amazing costumes with a terrific new cast is thrilling audiences and critics alike and gaining a whole new generation of fans eager to see this version again and again. This new production of PHANTOM has now been seen by over 2 million people across North America since it opened in November 2013 and continues to take the music of the night to dazzling new heights." Tickets for this phenomenal Broadway show may be obtained at www.BroadwayInBoston.com
EVERY SATURDAY: IMPROV BOSTON'S NEW ALL AGES SHOWS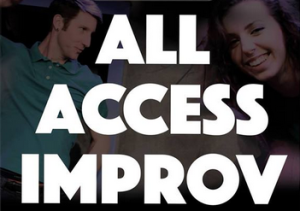 ImprovBoston at 40 Prospect St. in Cambridge expands its base of family-friendly shows with a brand new Saturday lineup. At 4pm each Saturday the theattre's cast presents THE FAMILY SHOW. It is an improv and music extravaganza that is completely made up on the spot. Every show is based on the audience's suggestions. From Minecraft to Star Wars no two shows are alike! Best for children ages 4-12, it is something the whole family will enjoy.. Extroverted children who want to participate have opportunities to be on stage and take part in the fun! The shows are ideal for family outings, birthday parties, and even school field trips. Following, at 6pm, is the ALL ACCESS IMPROV show when the newest, hippest resident cast members take the stage. Fast! Furious! Funny!This weekly event is a high-octane, completely off-the-cuff comedic force of nature. Held in the Main Theater the show is appropriate (all ages welcome) for anyone with a sense of humor. Sixty-five minutes long and jam packed with 100% improvised scenes, songs, and games, the shows are designed to make our professional comedians sweat hard and audiences laugh harder. The best improvisers from ImprovBoston's popular Family Show are combined with the fast-paced Face Off team and the renowned National Touring Company to form an All-Star cast that creates blazing quick-witted comedy, mind-melting improvised music and, of course, copious audience interaction. For tickets to these daring, athletic, immersive comedy shows for everyone go to www.improvboston.com
ONGOING: BLUE MAN GROUP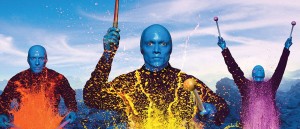 This show has become a global phenomenon! Funny, fun, extraordinary, eccentric…all rolled into one most memorable performance, This permanent, live performance is now installed in six cities as well as tours throughout the USA and Canada. It also has become a highly acclaimed show on Norwegian Cruise Line's Epic ship. The Charles Playhouse at 74 Warrenton St.in Boston's Theater District continues to pack in audiences, many repeaters, as it showcases three blue men, with the cleverest of ingenuity and technology, taking them on an exhilarating entertainment odyssey. This compilation of theater, music, art, science and hilarious humor is suitable for ages 7 to 100. For more information visit www.blueman.com/boston 
ONGOING: COMEDYSPORTZBOSTON
The Davis Square Theatre at 255 Elm St. in Somerville presents this delightful and hysterically funny improvisational, all suggestion based comedy show. It is fun and suitable for all ages. Two teams of "Actletes" get suggestions from the audience, create scenes, songs and games on the spot while onstage, and compete for your laughs! A referee calls the fouls and the audience gets to participate in the play. It is a fast paced comedy show that's as clean as a game of tennis. It is played by members of the World Comedy League that have performed throughout the US and England since 1984. Its fun for a date, a group of friends and even the whole family, and easily repeatable as it is different every time. For more information go to www.comedysportzboston.com
ONGOING: SHEAR MADNESS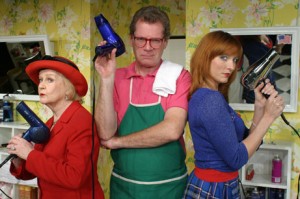 Now an international phenomena, this show has run non-stop for 35 years at The Charles Playhouse Stage II,74 Warrenton St. in Boston's Theater District. The original Boston company has given birth to 42 domestic productions across the country and has been translated into 10 foreign languages and performed on six continents. "Shear Madness" holds the title in the Guinness Book of World Records as the longest running play in US history and has been voted "Best Comedy of the Year" seven times by the Boston Globe, recognized as the "Best Play of the Year" by both the Chicago Sun-Times and the Philadelphia Enquirer, received the Raven Award from the Mystery Writers of America, and is the first play ever inducted into the Comedy Hall of Fame This unique comedy-whodunit takes place today in the "Shear Madness" hair-styling salon and is chock full of up-to-the-minute spontaneous humor. During the course of the action, a murder is committed and the audience gets to spot the clues, question the suspects, and solve the funniest mystery in the annals of crime. The outcome is never the same, which is why many audience members return again and again to the scene of the mayhem.  For tickets go to www.shearmadness.com
.