PRODUCTIONS ARE INITIALLY LISTED CHRONOLOGICALLY BY 'OPENING  DATE'…WHEN OPENING IS PAST THEY ARE THEN  MOVED DOWN THE LIST CHRONOLOGICALLY, INDICATING 'END DATE' BY THE NOTATION, "THROUGH"…AND THEN IS REMOVED WHEN SHOW HAS ENDED. SO EXPLORE AND MAKE PLANS………………………………..!

THROUGH NOV. 22: THE REVOLUTIONIST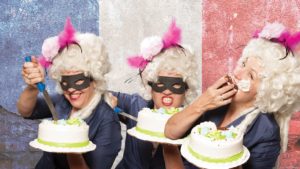 The Nora Theatre Compay at the Central Square Theater, 450 Massachusetts Ave. in Cambridge presents Lauren Gunderson's irreverent and fantastical comedy.. Directed by Courteny O'Connor, the tale takes place in Paris, France in 1793 during The Reign of Terror. Four bad-ass women conspire, plot murder, and resist extremist insanity to get the job done. The rebellions quartet consist of playwright Olympe de Gouges, assassin Charlotte Corday, Haitian activist Marianne Angelle and former queen Marie Antoinette who hang out together before each of them loses their… head. Lauren Gunderson, award-winning author of Emilie: La Marquise Du Châtelet Defends Her Life Tonight, examines feminism, extremism, art, and how we actually go about changing the world. Tickets may be obtained at www.centralsquaretheater.org
THROUGH NOV. 23: IN THE HEIGHTS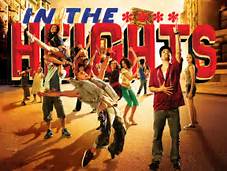 Wheelock Family Theatre at 180 Riverway in Boston launches their 37th season with this upbeat, exciting production. The book is by Quiara Alegria Hudes along with the music and lyrics by Lin-Manuel Miranda. The creative team for this production includes two IRNE Award-winners, Rachel Bertone as director and choreographer and Dan Rodriguez as musical director. Set in New York's Washington Heights neighborhood, In the Heights tells the universal story of a vibrant community full of hopes, dreams, and pressures. Produced by special arrangement with Dramatic Publishing, the show is suitable for ages 10 and above. Tickets may be obtained at www.wheelockfamilytheatre.org
NOV. 24  – DEC. 23: SHE LOVES ME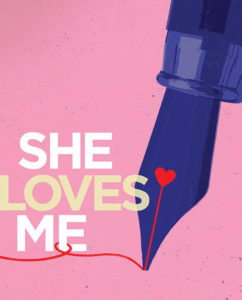 The Greater Boston Stage at 395 Main St. in Stoneham presents this sweeping romantic musical. Direct from a hugely successful Broadway revival, this delightful, romantic,Tony-Award winning, Broadway musical, with Book by Joe Masteroff, Music by Jerry Bock and Lyrics by Sheldon Harnick tells the story of Amalia and Georg, co-workers in a department store. Through anonymous 'lonely heart' letters, the pair fall in love with each other without knowing it. The show is based on a play by Miklos Laszio which was also the basis of the popular films, "The Shop Around the Corner" and "You've Got Mail". Directed and Choreographed by the award-winning Ilyse Robbins and featuring the Elliot Norton and IRNE award-winning Boston heartthrob, Jennifer Ellis* as Amelia and Sam Simahk* as Georg, along with a stellar ensemble of ten, hand picked singers and dancers, this show, with a dash of Christmas thrown in, will be sure to be a hit. Tickets are available at www.greaterbostonstage.org
NOV. 24 – DEC. 31: A CHRISTMAS CAROL
The Underground Railway Theatre and the Nora Theatre Company present this delightful collaboration for the holidays of Charles Dickens classic tale. Directed by Debra Wise and staged at the Central Square Theater, 450 Massachusetts Ave. in Cambridge, this production fills the theater with magic and brings all the trappings – sights, sounds, and scents – of a Victorian Christmas. Join us for a new incarnation of Dicken's classic tale of the miserly Scrooge, set in a city suspended between Victorian London and the vibrantly diverse London of today. Delight in puppetry, live music, dancing and intimate storytelling in the tradition of Central Square Theater's award-winning Arabian Nights. This is a celebration of generosity, compassion and personal transformation that will fill your overflowing heart with the desire to spread the glow of good cheer when you leave the theater. Tickets for this wonderful experience for the whole family may be obtained at www.centralsquaretheater.org
NOV. 24 – DEC. 24: A CHARLIE BROWN CHRISTMAS
Everyone's favorite holiday television special comes to life in Boston Children's Theatre;s new stage production of A CHARLIE BROWN CHRISTMAS. Join Charlie Brown, Snoopy, Lucy and all the Peanuts gang as they produce their own Christmas pageant and ultimately learn the true meaning of Christmas. Complete with the little Christmas fir tree, A CHARLIE BROWN CHRISTMAS is a present the whole family can enjoy! Directed by award-winning Burgess Clark, BCT's Executive Artistic Director. A CHARLIE BROWN CHRISTMAS is presented by arrangement with TAMS-WITMARK MUSIC LIBRARY, INC. and by special arrangement with Arthur Whitelaw and Ruby Persson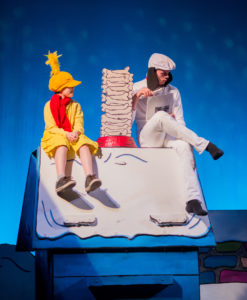 It was originally written by Charles M. Schulz and based on the television special by Bill Melendez and Lee Mendelson with stage adaptation by Eric Schaeffer. Performances are on Nov. 24 – Dec. 10 at The Larcom Theatre, 13 Wallis St. in Beverly…Dec 7 -Dec 24 at The Regent Theatre at 7 Medford St. in Arlington…and Dec. 21 – 23 at The Roberts Theatre in the Calderwood Pavilion at The Boston Center for the Arts on 527 Tremont St. in Boston's South End. Tickets may be obtained at www.bostonchildrenstheatre.org
THROUGH NOV. 26: DEATH OF A SALESMAN & SKELETON CREW …in Rotating Repertory
Trinity Repertory Theatre at 201 Washington St. in Providence, RI season kicks off with a poignant and powerful fall repertory schedule that focuses on The American Dream, then and now. They are featuring two plays whose themes harmonize through our history. The productions are Death of a Salesman by Arthur Miller and Skeleton Crew by Dominique Morisseau. Miller's masterpiece surrounds the perilously high cost of the American Dream. More than half a century after Willy Loman struggled for success in Death of a Salesman the play now explodes with moving relevance under the direction of Brian McEleney. Skeleton Crew, fresh from off-Broadway, features a makeshift family of four factory workers in 2008 Detroit struggling with their futures as their industry flirts with failure. Skeleton Crew is directed by Brown/Trinity Rep alum, Tiffany Nichole Greene. States artistic director Curt Columbus, "This next season is very much about the ways we communicate with each other when we're fighting for our dreams." Tickets are available online at www.trinityrep.com
NOV. 28 – DEC. 10: ELF / THE MUSICAL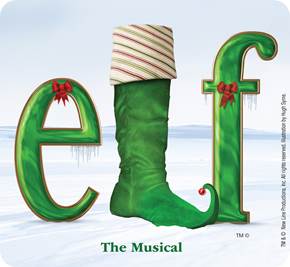 The Boch Center Wang Theatre at 270 Tremont St. in Boston's Theatre District along with The Madison Square Garden Company brings the return of this wonderful, family show. Directed by Sam Scalamoni with choreography by Connor Gallagher, ELF The Musical is the hilarious tale of Buddy, a young orphan child who mistakenly crawls into Santa's bag of gifts and is transported back to the North Pole. Unaware that he is actually human, Buddy's enormous size and poor toy-making abilities cause him to face the truth. With Santa's permission, Buddy embarks on a journey to New York City to find his birth father, discover his true identity, and help New York remember their inner ELF. Based on the beloved 2003 New Line Cinema hit, ELF, the Musical features songs by Tony Award nominees Matthew Sklar (The Wedding Singer) and Chad Beguelin (Disney's Aladdin, The Wedding Singer) with a book by Tony Award winners Thomas Meehan (Annie, The Producers, Hairspray) and Bob Martin (The Drowsy Chaperone).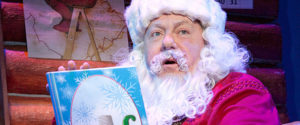 George Wendt as Santa in the Original Broadway Production of ELF The Musical. Photo by Joan Marcus.        The production features George Wendt, from the long-running television series Cheers, where he played the beloved. Norm Peterson. Wendt will perform in the role of Santa. Says George Wendt. "ELF has become a holiday staple since the movie was released in 2003 and having been part of the original Broadway cast, I witnessed firsthand the joy this hilarious musical interpretation brought to fans," "Having the opportunity to bring this 'real life' Santa to the stage once again is exciting and I can't wait to share the laughter with audiences of all ages." "We are thrilled to welcome George back to the production as Santa," says Mark Kaufman, Executive Vice President, Warner Bros. Theatre Ventures. "He originated the role on Broadway and brought such fun and laughter to the role. We look forward to having him return to this beloved character once again." Tickets for this magical and family fun event available at www.Bochcenter.org
NOV. 29  –  DEC. 17: WHITE CHRISTMAS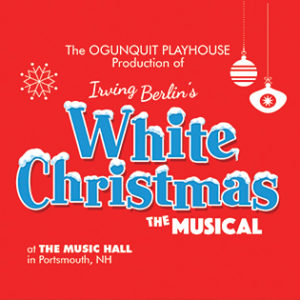 Just in time for the holidays, the Ogunquit Playhouse at The Music Hall at 28 Chesnut St. in Portsmouth NH brings by popular demand, the return of their production of Irving Berlin's classic White Christmas. Stated the New York Times, "this cozy trip down memory lane should be put on your wish list." The show promises stellar actors straight from Broadway as they perform dazzling dance numbers and sing iconic songs such as "Count Your Blessings Instead of Sheep," "Happy Holiday," "Sisters," "Blue Skies," as well as the beloved "White Christmas". Irving Berlin's classic musical has captured the heart of millions through the decades. WHITE CHRISTMAS tells the story of a song-and-dance team putting on a show in a magical Vermont inn and falling for a stunning sister act in the process. This "holiday card come to life" traditionally sells out so get your tickets early at www.ogunquitplayhouse.org
NOV. 29 – DEC. 24: A CHRISTMAS CAROL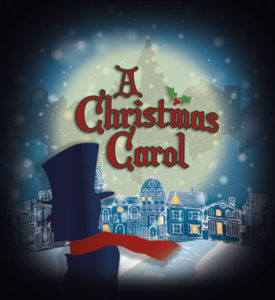 Adapted by Tony Brown and Directed by Megan Sandberg-Zakian, The Merrimack Repertory Theatre at in Lowell presents Charles Dickens classic holiday story. This is one of the greatest Christmas tales of all time and it returns to MRT for the first time in 21 years: Joel Colodner (It's a Wonderful Life: A Live Radio Play, Going to See the Kid) uses his dexterous voice and inventive acting to bring Ebenezer Scrooge and the rest of your favorite characters to life. Inspired by Charles Dickens' own live storytelling performances—and with your favorite carols played by live onstage musicians—we'll remind you of the true meaning of Christmas… the singular joy of fellowship and compassion. FREE CHILD CARE: December 9, 4:00 PM MRT will offer Free Child Care provided by licensed professionals from Acre Family Child Care at the 4:00 pm performance. (Reservations required, visit www.mrt.org/child-care for more information.) To obtain tickets go to www.mrt.org
NOV. 30 – DEC. 10: NEVA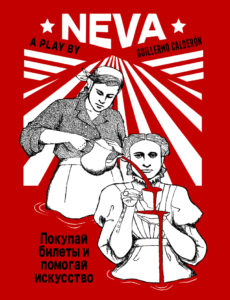 The Brown/Trinity Rep MFA Program presents its December thesis show at the Pell Chafee Performance Center, 87 Empire St., Downtown Providence. Directed by Kate Bergstrom (Brown/Trinity Rep MFA '18), the play was written by Guillermo Calderón, and translated into English by Andrea Thome. The story follows the rehearsal of three actors in 1905 St. Petersburg, who humorously dance around the topics of love and revolution while a labor riot rages outside. Neva is set in St. Petersburg in 1905, with the Bloody Sunday riots happening in the space just beyond the stage. Anton Chekhov's grieving widow arrives at a rehearsal room and is joined by two actors–an art-loving son of a wealthy family, and a revolutionary- minded young woman. Their passion, performances, and politics stir up a whirlwind of contradictions and memories amidst sex, love, and humorous self-loathing, as they wait for the unknown Russia to come. Director Kate Bergstrom was drawn to the piece for its unusual blend of comedy and existential crisis. "The characters are obscene, but I love them. I identify with all three of them," said Kate. "They are presences. But with the humor, Calderón wrote the play to ask 'What is art in the time of political unrest? What is art in a time when people are dying on the street?' The characters are asking 'How do I deal with myself as a political body and as an artist? And as a human?' That's something I'm grappling with now, in our current political climate." Tickets are on sale at www.TrinityRep.com.
DEC. 1 – 17: NURSE PLAY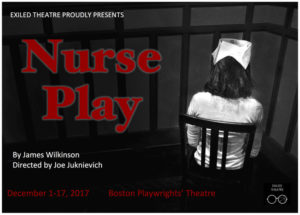 Exiled Theatre presents at: Boston Playwrights' Theatre, 949 Commonwealth Ave. in Boston James Wilkinson's world premiere black comedy. Directed by Joe Juknievich, the tale is set in a boarding house at the edge of the world. Tucked away in obscurity, Nurse sits in a dark room caring for her patient, Joe. Her eyes were gouged out years ago, but she won't let a little thing like that slow her down. Joe has been diagnosed with a degenerative disease that keeps him bed bound, out of the light and doped up. He also appears to be missing a limb or two. The pair cannot leave their room and have been left to their own devices for far too long. Then one day, Joe disappears and Nurse is left alone to contend with the surrounding darkness. The production features Susannah Wilson and Cody Sloan. *Please note that this production is not recommended for children under the age of 14 Tickets can be purchased online at www.exiledtheatre.com
DEC. 1 – 24: MAN OF LA MANCHA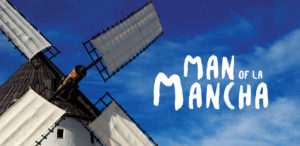 The New Repertory at the Mossesian Center for the Arts , 321 Arsenal St. in Watertown presents this stunning, Tony-award winning musical by Mtich Leigh with Book by Dale Wasserman and Lyrics by Joe Darion. Directed by Antonio Ocampo-Guzman, this spirited revival features IRNE award-winner Maurice Emmanuel Parent (Ragtime, Cabaret, Camelot) as the eponymous knight errant, Don Quixote, on his quest to dream the impossible dream."It has become a New Rep tradition during the holiday season to present a play that invites audiences of all ages to revel in this celebratory time of year," says Artistic Director Jim Petosa. "This year we dream the impossible dream as we present the Tony-award winning musical Man of La Mancha. This classic musical adventure recounts the boundlessly idealistic tale of Don Quixote, epitomizing our season's theme of resilience. We're thrilled to bring this spirited revival to New Rep this winter."Experience this classic musical adventure with the entire family. Tickets may be obtained at www.newrep.org
DEC. 1 – 31: HOLD THESE TRUTHS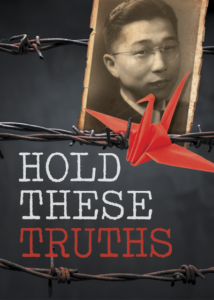 Lyric Stage Company at 140 Clarendon St presents Jeanne Sakata's politically driven play. Directed by Benny Sato Ambush, the production is "Absorbing, rewarding, surprisingly humorous and openhearted!"stated the Seattle Times. The Chicago Star Tribune commented that the show has, "An extraordinarily relevant message for today!" Hold These Truths is the true story of Gordon Hirabayashi, the American son of Japanese immigrants, who resisted internment during World War II, a policy which continues to be noted and debated today.. Michael Hisamoto (Stage Kiss) plays Hirabayashi, a college student and a Quaker, whose hope and unquenchable patriotism over 50 years will leave audiences cheering. He is joined by  Khloe Alice Lin, Gary Thomas Ng*, Samantha Richert.*Tickets for this stirring production may be obtained at www.lyricstage.com
DEC. 2 – 10: CHRISTMAS TIME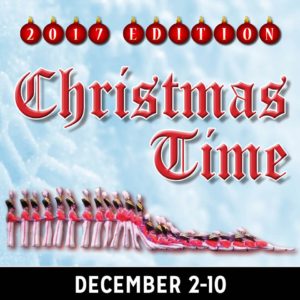 The Reagle Music Theatre of Greater Boston presents their ​​annual Christmas ​stage ​spectacular at the Robinson Theatre, 617 Lexington St. in Waltham. Reagle's beloved Christmas show, filled with Yuletide magic, has been delighting children and adults for 35​ years.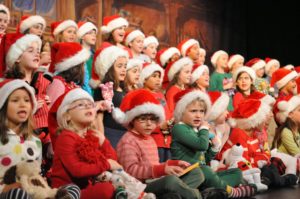 From the delightful Teddy Bears' Nutcracker, Parade of the Wooden Soldiers, Precision Dancers, and Victorian Christmas, to the inspirational Living Nativity that captures the true meaning of the season, families of all ages enjoy this memorable holiday event.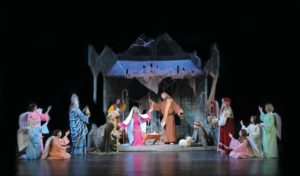 The show is all gift wrapped for the season with a regional cast of 200, along with fabulous Christmas sets, costumes and of course, a visit from Santa Claus. Backed by a full, professional orchestra and directed by Robert J. Eagle with choreography by Susan M. Chebookjian, ChristmasTime makes the perfect holiday gift! For tickets and also to obtain Gift certificates for the show, visit www.reaglemusictheatre.com
DEC. 2 – 17: THE VELVETEEN RABBIT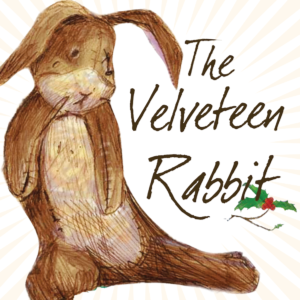 The Boston Children's Theatre brings this popular production to The Roberts Theatre in the Calderwood Pavilion at 527 Tremont St in Boston's South End . Now in its 9th magical season, THE VELVETEEN RABBIT has become one of Boston's most cherished holiday traditions. With beautifully hand-crafted puppets by Marjorie Tudor of the Tasha Tudor Family, this annual production will delight audiences of all ages with its story of a young boy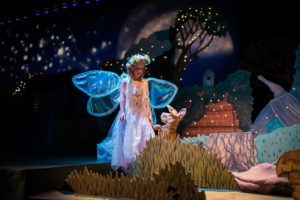 and the endearing velveteen rabbit that changes his life. Based on the beloved children's book by Margery Williams, THE VELVETEEN RABBIT promises to warm the heart, even during the coldest season. Tickets may be purchaed at www.bostonchildrenstheatre.org
DEC. 7 – 10: CRYSTAL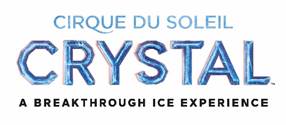 The wonder that is Cirque du Soleil brings their first ever On Ice Production. The DCU Center at 50 Foster St. in Worcester hosts this magical event for just 6 performances. Crystal is a lonely and misunderstood girl who is looking for more in life. When he ventures out on a frozen pond she falls into an imaginative world of her own creation which takes her toward a sense of empowerment.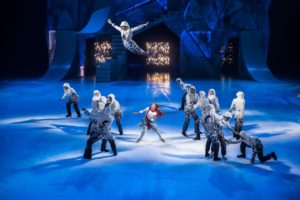 The story is brought to life on ice as the audience enters a dreamlike world powered by creativity that transforms the everyday into something extraordinary. Crystal invites you to suspend reality and glide into her world that springs to colorful life with astounding visual projections, fascinating characters and an original score that seamlessly blends popular music with the signature sound of Cirque du Soleil.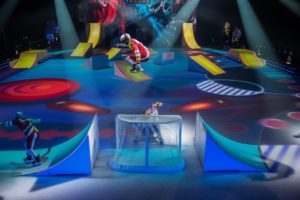 As with all Cirque du Soleil productions viewers will be awe struck with the level of athleticism. For more information and to obtain tickets for this marvelous experience for the whole family go to www.cirquedusoleil.com/crystal
DEC. 8 – 23: A CHRISTMAS CAROL, A MUSICAL GHOST STORY

     The North Shore Music Theatre located at 62 Dunham Rd. in Beverly brings the return of their annual production of A CHRISTMAS CAROL. Celebrating its 27th year the show has become one of New England's brightest holiday traditions! Based on the Charles Dickens classic, this brilliant musical is an original adaptation written specifically for North Shore Music Theatre by former Artistic Director, Jon Kimbell. It is a musical ghost story that follows Scrooge as he is led by a series of three outer-world Spirits to view his past, present and future.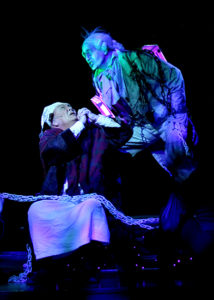 Scrooge's magnificent transformation comes about as a result of these three spirits who visit him after midnight First to take him in hand is the spirit of Christmas Past, then arrives Christmas present and ultimately the ominous and dark Christmas Future where Scrooge finally discovers the true spirit of the holiday season… the one that lives within his own heart. The tale is set in London in the early 1860s. As the story unfolds and the Narrator takes us back in time, settings include a London street, Scrooge's chambers and counting house, as well as various locations from Scrooge's realities.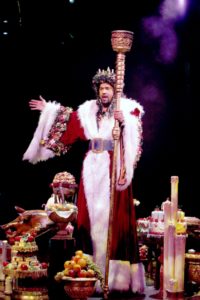 With dazzling special effects that have grown even more exciting over the years, plus traditional and original songs, and colorful costumes, this award-winning production of A CHRISTMAS CAROL has been seen by more than one million people since its debut in 1989. Once again, the show features the incomparable and ever popular David Coffee as the enigmatic Mr. Scrooge. Due to some loud and scary affects parents should use discernment and any child under 4 will not be admitted. Tickets may be obtained at www.nsmt.org
DEC. 8 –31: A CHRISTMAS CAROL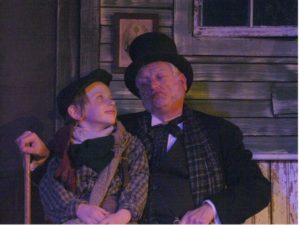 The Cape Cod Theatre Company at 105 Division Street in West Harwich, present Charles Dickens classic holiday story. Adapted for the stage by Eric Hill, the production celebrates the timeless holiday tradition . A Christmas Carol will delight the whole family as they revel in the joy and redemptive power of Christmas in this timeless tale of Ebenezer Scrooge, the infamous miser shown the error of his ways and reformed by four spirits. Journey back to Victorian England and experience the classic story filled with holiday carols and the wonderment of the season. Tickets may be obtained at www.capecodtheatrecompany.org/
THROUGH DEC. 9: 39 STEPS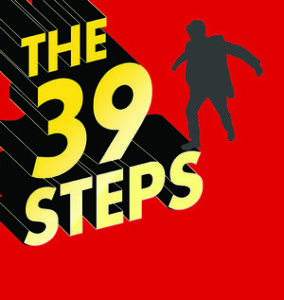 A fast, far-flung, frenzied, farce filled with nonstop, hilarious humor.  Moonbox Productions. at the BCA Plaza Theatre at the Boston Center for the Arts, 527 Tremont St. in Boston's South End. presents actor, comedian and playwright, Patrick Barlow's adaptation of this Tony- and Olivier-award-winning play. Alfred Hitchcock and Monty Python deliciously meld In this part World-War-II spy thriller filled with hilarious and wonderfully ridiculous parodies.. Directed by multiple IRNE award-winner Allison Olivia Choat ,the story surrounds an ordinary, British citizen, Richard Hanney. Cooley played by Kevin Cirone*,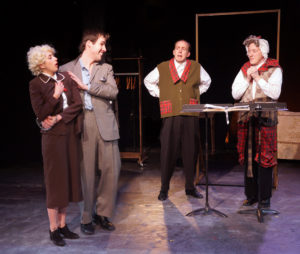 Richard becomes a hunted fugitive.Throughout the story  he is constantly pursued with narrow escapes and  finds himself racing against the clock to clear his name as well as foil a ring of Nazi spies.led by the "man with the missing finger."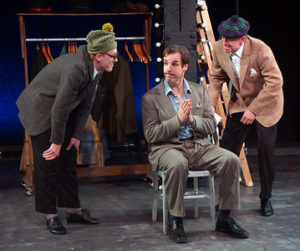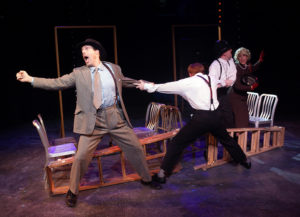 Richard is the static protagonist who interacts with a brilliant trio of energetic, Chameleon-like actors who each play dozens of characters through out the adventure. This supporting team consisting of two time IRNE award-winner, Matthew Zahnzinger,  IRNE award-winner Sarah Gazdowicz and popular local actor, Bob Mussett dazzle the audience with their British accents, comedic-timing, along with the non-stop stream of costume and personality changes. As the momentum of the action increases this talented group revs up as they run through and behind sets, appearing and reappearing as various individuals.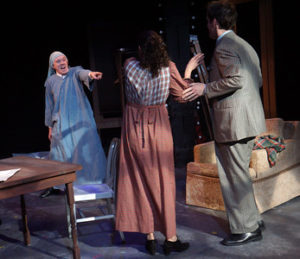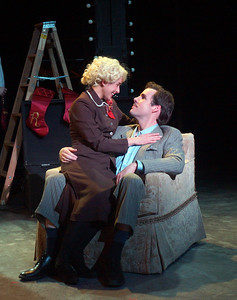 It is a delightful production filled with ridiculously silly and very funny moments of  suspense and romance. As with each show, Moonbox Productions partners with a local non-profit giving them visibility on their website and in their promotional materials, as well as giving them access to their audiences in order to raise awareness of their cause, create connections within the community, and increase the reach and impact of their work. For the production of The 39 Steps, Moonbox is partnering with  Y2Y Harvard Square, the nation's first student run homeless shelter for young adults. The organization employs a youth-to-youth model to provide a safe and affirming environment for young adults experiencing homelessness. To learn more about Y2Y and how you can help visit  www.y2yharvardsquare  Tickets for this kick-back, relax, without any political agenda other than having a great time play may be obtained at www.moonboxproductions.org
DEC. 14 (8pm): MARGA GOMEZ: LATIN STANDARDS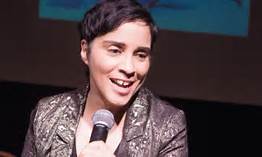 Afterglow Festival and OBERON continues its collaborative series Glowberon at the American Repertory Theater's second stage and club theater OBERON located on the fringe of Harvard Square at 2 Arrow St. in Cambridge . Directed by David Schweizer, this is a New York Times Critic's Pick from the Under the Radar Festival. Gomez's new solo piece is a loving, funny, and true story of perseverance and creative addiction passed down from immigrant father to lesbian daughter. Mixing nostalgia, urgency, and comic edge Marga Gomez (2017 Glow Festival) portrays herself and a collection of vivid portraits of characters from 1960s Manhattan to present-day San Francisco as she ponders the ballads (or Latin standards) penned by her late father, comedian, producer, entrepreneur, and songwriter Willy Chevalier. Gomez describes Latin Standards as "a father-daughter story intended as a survival comedy for everyone." The New York Times says, "Gomez draws an engrossing portrait of her father and his work." Gomez is the GLAAD Award and LA Theater Ovation Award winning writer/performer of twelve solo plays which have been presented at The Public Theater, La Mama ETC, Dixon Place, Highways, Bootleg Theater and internationally. The SF Weekly named Gomez one of "2016's Artists to Watch," and HuffPost named her an "Agent of Change" in 2015. She was an original member of the Latino ensemble Culture Clash. Her acting credits include Off-Broadway and national productions of The Vagina Monologues with Rita Moreno and Vicki Lawrence, HBO's "Tracey Takes On…", and Warner Brothers films Batman Forever and Sphere. Gomez can be seen in season two of the Netflix series "Sense 8." Tickets may be obtained at www.cluboberon.com
DEC 19 –20: BANGSOKOL: A REQUIEM FOR CAMBODIA

ArtsEmerson at the Emerson Paramount Center, on the Robert J. Orchard Stage at 559 Washington St. presents this stunning production. Survivors of the Khmer Rouge have collaborated on this stunning musical experience that creates space to heal. A Requiem for Cambodia is an extraordinary new composition fusing music, film, voice and movement. It is the first major symphonic work that addresses the traumas that occurred in Cambodia in the late seventies. It is the first collaboration between the Oscar®-nominated director Rithy Panh and lauded composer Him Sophy — both survivors of the Khmer Rouge and now at the forefront of Cambodia's cultural renaissance. Rithy Panh and Him SophyCambodia Bangsokol: Anchored in "bangsokol" — a ritual for the dead or soon to be deceased — the performance intertwines traditional Khmer instrumentalists and vocalists with Western chamber orchestra and chorus to create something innately Cambodian but relatable to audiences everywhere. Bangsokol is an act of cultural renewal, aiming to return the arts to their place at the heart of Cambodian society. While the world continues to witness new genocides, wars and destruction, Bangsokol urges us to express our scars from the past in order to forge a new path forward. For tickets visit www.artsemerson.org
DEC. 9 – 23: TWAS THE NIGHT BEFORE  CHRISTMAS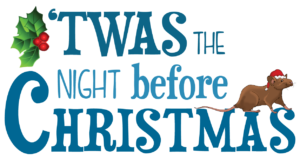 The Greater Boston Stage Company at 395 Main St. in Stoneham presents Ken Ludwig's wild holiday adventure. Directed by Sarah Elizabeth Bedard with special arrangement by SAMUEL FRENCH, INC., the story surrounds a mouse, an elf, and a spunky little girl who just won't take "no" for an answer. They are on a quest to find out why Santa missed their house last year. "Such a playful spirit romps through 'Twas the Night Before Christmas, you might think the show itself was a product of Santa's workshop." – The Washington Post. Tickets for this joyful tribute to the holiday season may be obtained at www.greaterbostonstage.org
DEC. 10 – JAN. 14: BEDLAM'S SENSE AND SENSIBILITY
The American Repertory Theatre at the Loeb Drama Center, 64 Brattle Street in Cambridge presents Eric Tucker's exuberant, inventive staging and direction of Jane Austen's classic novel.Adapted by Kate Hamill. the story follows the adventures (and misadventures) of the Dashwood sisters. After their sudden loss of fortune the sensible Elinor and hypersensitive Marianne must get creative to maintain station and acceptability.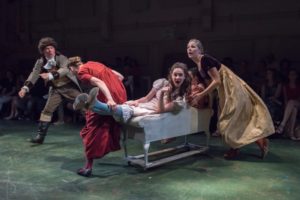 Let the hilarious games of courtship and marriage begin! Bursting with humor, emotion, and bold theatricality, Sense and Sensibility bodes the question, "When reputation is everything, how do you follow your heart?" Bedlam's imaginative adaptation has been called "Blissfully delightful" (Huffington Post), "Goofy, joyous, and deeply moving" (The Daily News), and "By far the smartest Jane Austen adaption to come along since Clueless" (The Wall Street Journal). Tickets may be obtained at www.americanrepertorytheater.org
THROUGH DEC. 31: A CHRISTMAS CAROL
Trinity Repertory Theatre in the Chace Theater at 201 Washington St. in Providence Rhode Island presents their annual production of Charles Dickens' classic story of holiday spirit and redemption. The original score is by Richard Cumming. Directed by Angela Brazil and Stephen Thorne, the show stars Joe Wilson, Jr. in the role of Ebenezer Scrooge. Trinity Rep's annual production of this holiday classic has completely sold out the past six years. Celebrating 40 years at Trinity Rep, Rhode Island's family holiday tradition brings Ebenezer Scrooge, Jacob Marley, Tiny Tim, and the ghosts of Christmas Past, Present, and Future to the stage in a glorious re-telling of the classic story that has delighted and inspired millions. Tickets may be obtained at www.trinityrep.com
THROUGH DEC. 10: TARTUFFE

   The curtain rose and the audience erupted with spontaneous applause at the exquisite and expansive scenic design by Alexander Dodge.Written in the 17th century, this production is a cleverly modernized presentation including cell phones and selfies..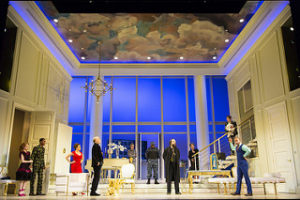 But, sharpening your hearing and focus is a must  as the staccato,delivered pentameter translation by Ranjit Bolt is fired at a mind boggling speed from each performers mouth. There is no opportunity to doze or would one want to as it  would mean missing the myriad of humerus lines, that at times were reminiscent of the style of Dr.Seuss. Noting that this play was written over three hundred years ago, The  Huntington Theatre Company presentation of Molière's biting and brilliant classic comedy on their stage in the B.U. Theatre at 264 Huntington Ave.is a delight.. Slapstick comedy is rife throughout ,especially via Sarah Oakes Muiehead, playing Mariane, Orgon's daughter, when she finds out that her father intends for her to marry Tartuffe.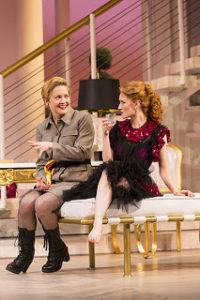 Jane Pitch (Maid)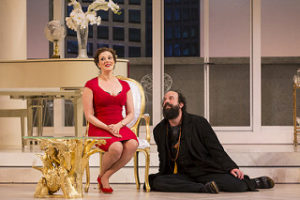 Considered to be one of the world's great plays, Molière spins religious piety and hypocrisy into high comedy. Directed by Huntington Artistic Director Peter DuBois, this hilarious satirical farce  surrounds the devious, religious zealot, Tartuffe played by Stage, screen and TV actor Frank Wood, who, through faux piousness, charms his way into Orgon's household.. He  schemes to marry Orgon's daughter while he seduces Orgon;s wife, played by Mellisa Miller and additionally plots to run off with the family's fortune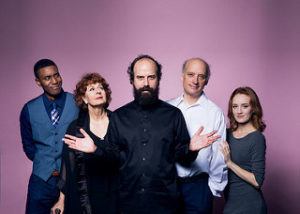 Gabriel Brown ((Valere/ engaged to Orgon's Daughter); Paula Plum (Orgon's mother), Brett Gelman (Tartuffe); Frank Wood (Orgon) and Sarah Oakes Muirhead (Mariane/Orgo's daughter) Despite the protests by the members of the household and the appalling evidence of Tartuffe's behavior, as well as the intense efforts made by Orgon;s outspoken maid Dorine,, brilliantly played by Jane Pfitsch,, Orgon remains naive and certifiably insane in his devotion to Tartuffe.Thus, will the family awaken Orgon to Tartuffe's con in time. "A classic gem. Laugh-out-loud funny," says The New York Times. .Tickets for this comedic romp may be obtained at www.huntingtontheatre.org
NOV. 24  – DEC. 23: SHE LOVES ME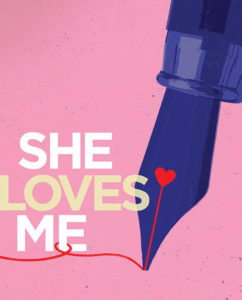 The Greater Boston Stage at 395 Main St. in Stoneham presents this sweeping romantic musical. Direct from a hugely successful Broadway revival, this delightful, romantic,Tony-Award winning, Broadway musical, with Book by Joe Masteroff, Music by Jerry Bock and Lyrics by Sheldon Harnick tells the story of Amalia and Georg, co-workers in a department store. Through anonymous 'lonely heart' letters, the pair fall in love with each other without knowing it. The show is based on a play by Miklos Laszio which was also the basis of the popular films, "The Shop Around the Corner" and "You've Got Mail". Directed and Choreographed by the award-winning Ilyse Robbins and featuring the Elliot Norton and IRNE award-winning Boston heartthrob, Jennifer Ellis* as Amelia and Sam Simahk* as Georg, along with a stellar ensemble of ten, hand picked singers and dancers, this show, with a dash of Christmas thrown in, will be sure to be a hit. Tickets are available at www.greaterbostonstage.org
EVERY SATURDAY: IMPROV BOSTON'S NEW ALL AGES SHOWS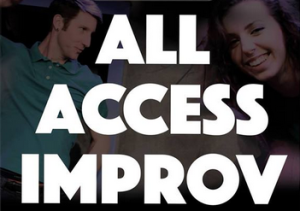 ImprovBoston at 40 Prospect St. in Cambridge provides 25 shows, 5 nights a week, surrounding a variety of current events, holidays, etc. through Improvisation, sketches and standup comedy. It has expanded its base of family-friendly shows with a brand new Saturday lineup. At 4pm each Saturday the theattre's cast presents THE FAMILY SHOW. It is an improv and music extravaganza that is completely made up on the spot. Every show is based on the audience's suggestions. From Minecraft to Star Wars no two shows are alike! Best for children ages 4-12, it is something the whole family will enjoy.. Extroverted children who want to participate have opportunities to be on stage and take part in the fun! The shows are ideal for family outings, birthday parties, and even school field trips. Following, at 6pm, is the ALL ACCESS IMPROV show when the newest, hippest resident cast members take the stage. Fast! Furious! Funny!This weekly event is a high-octane, completely off-the-cuff comedic force of nature. Held in the Main Theater the show is appropriate (all ages welcome) for anyone with a sense of humor. Sixty-five minutes long and jam packed with 100% improvised scenes, songs, and games, the shows are designed to make our professional comedians sweat hard and audiences laugh harder. The best improvisers from ImprovBoston's popular Family Show are combined with the fast-paced Face Off team and the renowned National Touring Company to form an All-Star cast that creates blazing quick-witted comedy, mind-melting improvised music and, of course, copious audience interaction. For a complete schedule and to obtain tickets to a numerous variety of  daring, athletic, immersive comedy shows for everyone go to www.improvboston.com
ONGOING: BLUE MAN GROUP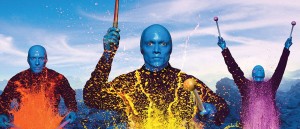 This show has become a global phenomenon! Funny, fun, extraordinary, eccentric…all rolled into one most memorable performance, This permanent, live performance is now installed in six cities as well as tours throughout the USA and Canada. It also has become a highly acclaimed show on Norwegian Cruise Line's Epic ship. The Charles Playhouse at 74 Warrenton St.in Boston's Theater District continues to pack in audiences, many repeaters, as it showcases three blue men, with the cleverest of ingenuity and technology, taking them on an exhilarating entertainment odyssey. This compilation of theater, music, art, science and hilarious humor is suitable for ages 7 to 100. For more information visit www.blueman.com/boston 
ONGOING: COMEDYSPORTZBOSTON
The Davis Square Theatre at 255 Elm St. in Somerville presents this delightful and hysterically funny improvisational, all suggestion based comedy show. It is fun and suitable for all ages. Two teams of "Actletes" get suggestions from the audience, create scenes, songs and games on the spot while onstage, and compete for your laughs! A referee calls the fouls and the audience gets to participate in the play. It is a fast paced comedy show that's as clean as a game of tennis. It is played by members of the World Comedy League that have performed throughout the US and England since 1984. Its fun for a date, a group of friends and even the whole family, and easily repeatable as it is different every time. For more information go to www.comedysportzboston.com
ONGOING: SHEAR MADNESS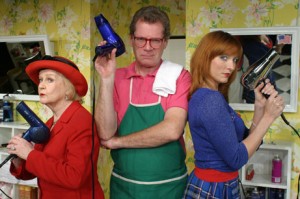 Now an international phenomena, this show has run non-stop for 35 years at The Charles Playhouse Stage II,74 Warrenton St. in Boston's Theater District. The original Boston company has given birth to 42 domestic productions across the country and has been translated into 10 foreign languages and performed on six continents. "Shear Madness" holds the title in the Guinness Book of World Records as the longest running play in US history and has been voted "Best Comedy of the Year" seven times by the Boston Globe, recognized as the "Best Play of the Year" by both the Chicago Sun-Times and the Philadelphia Enquirer, received the Raven Award from the Mystery Writers of America, and is the first play ever inducted into the Comedy Hall of Fame This unique comedy-whodunit takes place today in the "Shear Madness" hair-styling salon and is chock full of up-to-the-minute spontaneous humor. During the course of the action, a murder is committed and the audience gets to spot the clues, question the suspects, and solve the funniest mystery in the annals of crime. The outcome is never the same, which is why many audience members return again and again to the scene of the mayhem.  For tickets go to www.shearmadness.com
.